Well-planned storage system impresses at vehicle audit
Whether she's at work or home, Invercargill CrestClean franchisee Van Nguyen loves to tidy.
So, when she joined CrestClean, once of the first things she did was to make sure her vehicle was kitted out with storage compartments to keep everything in its place.
After coming up with a carefully thought-out design, Van then got her handyman husband Johnny to build and install the shelving and fittings.
"I discussed it with Johnny and told him what I wanted to do. He's very handy — he often builds things for me at home. I tell him 'I want this and I want that' and he's like, 'okay'. He can just follow my ideas and design what I want," says Van.
"I love it because everything's ready when I get to work. I don't have to rearrange it; everything is kept in order."
Van says if she sees mess, she just has to tidy it up.
"I enjoy my work. At home I love cooking and cleaning the house. I tidy up everything. Sometimes I tidy up Johnny's tools in the garage and he comes in and says 'I can't find anything'," she laughs.
The vehicle's shelving system caught the attention of CrestClean's General Manager of Franchise Services, Sam Lewis, during a recent vehicle audit.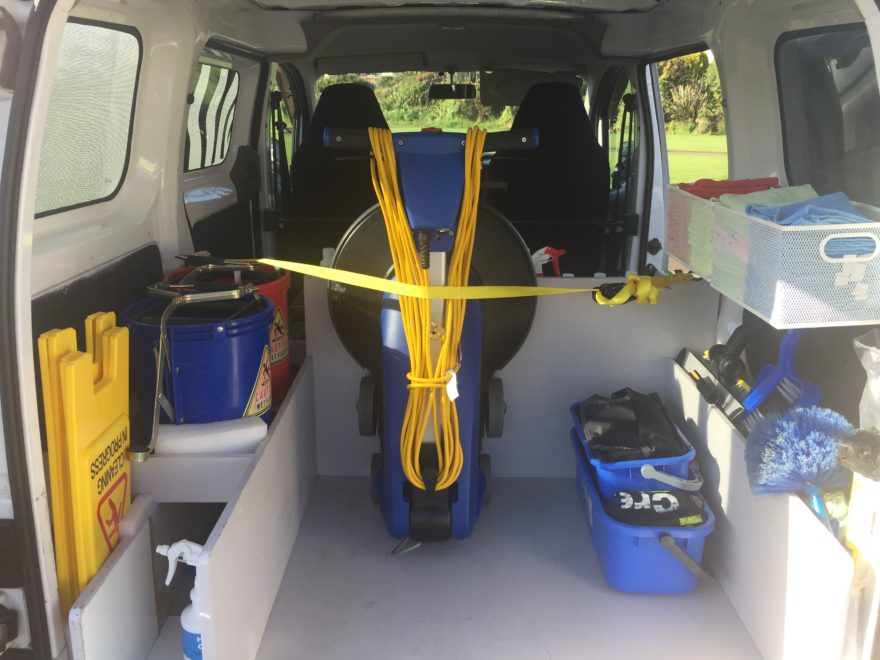 "It's one of the best set out vehicles I've seen. Not only does it mean everything is easily accessible, it is also well secured, which keeps both the driver and the equipment safe," says Sam.
"Having a van this well organised ultimately leads to a more efficient cleaning operation. We are seeing more and more franchisees setting up shelving in their vehicles — it just makes sense."
Van and Johnny, who works as an electrician but helps out with cleaning in the evenings, joined CrestClean in March 2021, not long before New Zealand went into lockdown.
"They quickly stepped up to the mark with a number of new clients and their extensive training came to the fore as they took on board the sanitising and procedures required to keep not only themselves, but also all of their customers, safe," says Invercargill Regional Manager Glenn Cockroft.
"I've had great feedback about the service that they provide and they have also been the recipient of a number of Certificates of Excellence."