Amputee turns life around with CrestClean franchise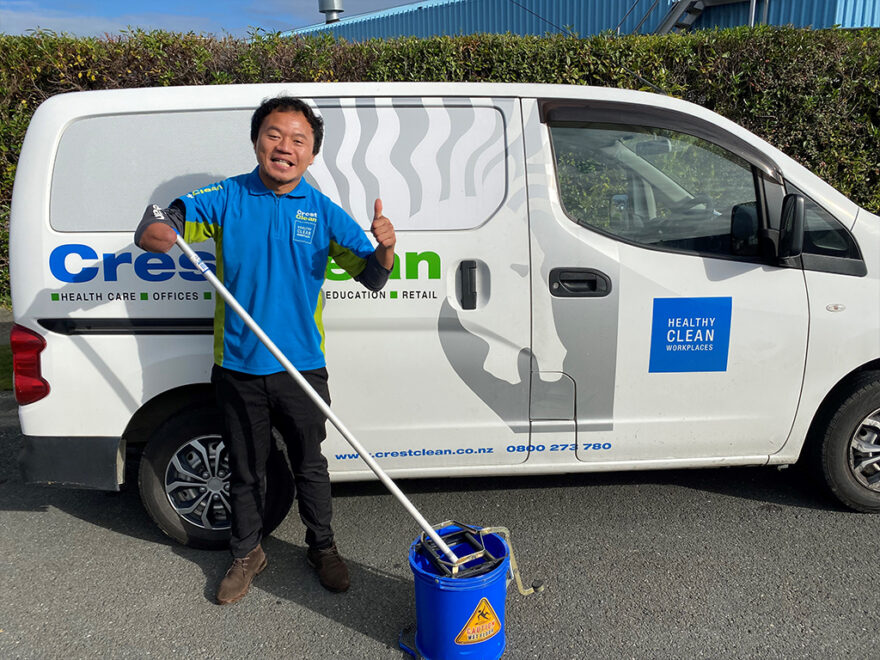 Khua Zanniat was just 17 when he lost his arm in a workplace accident in Malaysia.
With no government assistance and little hope of finding a job to support himself, he faced a bleak future.
But, 10 years later, having moved to New Zealand as a refugee, he owns his own business and is living his childhood dream of being in a rock band.
"I lost my dream, but now my dream has come back," says Khua.
The Nelson CrestClean franchisee arrived in New Zealand in 2013 and spent the first six years looking for work.
"I needed to find a job to look after my family back in Myanmar. It was on my mind all the time, so it made me a little bit depressed," he says.
After having multiple job applications turned down, he sought assistance from Workbridge who helped him to get a job in a service station, and for two years he worked night shifts, sending money home and putting savings aside.
"It was a long time. I had to move on to a day job," says Khua.
When a friend told him that he was selling his CrestClean franchise, he saw it as the perfect opportunity.
While he's had to adapt his cleaning techniques, Khua says he enjoys the work and the independence it brings.
"Generally, it's fine for me cleaning with only one hand. I just have to work differently," he says.
"I never thought I would own my own business. I will keep doing it for as long as I can."
When he's not working, Khua enjoys playing football for a local team and singing as the lead vocalist in 'Burmese Rock Band', which recently played at a fundraising concert to raise money for Myanmar.
"As a child I wanted to be a singer-songwriter. There was a competition and people from my village tried to enter me in it, they gave me encouragement."
Looking back, Khua, who gained New Zealand citizenship in 2019, can't believe how much his life has changed.
"In Malaysia I was afraid to speak to some people, even my friends. I was young and shy, so I stayed home every day, except Sunday when I went to church. It was really hard for me. In Malaysia if you don't have a job then nobody will give you money," he says.
"Now I have my own business — one day I hope to have my own home and maybe even a family!"
CrestClean's Nelson Regional Manager Barbara de Vries says Khua is eager to be successful in his business and has taken on board all the training provided to deliver a great cleaning service to his customers.
"He has customers who are schools, early childcare centres and offices. Being new to business ownership he asks questions when he is unsure of anything, which is both a necessity and an opportunity for learning," says Barbara.
"I am proud of how Khua receives and reacts to feedback in such a positive and constructive manner. He is a strong part of our franchise team here in Nelson and I look forward to seeing him continue to achieve his goals."