First home dream becomes a reality for New Plymouth franchisees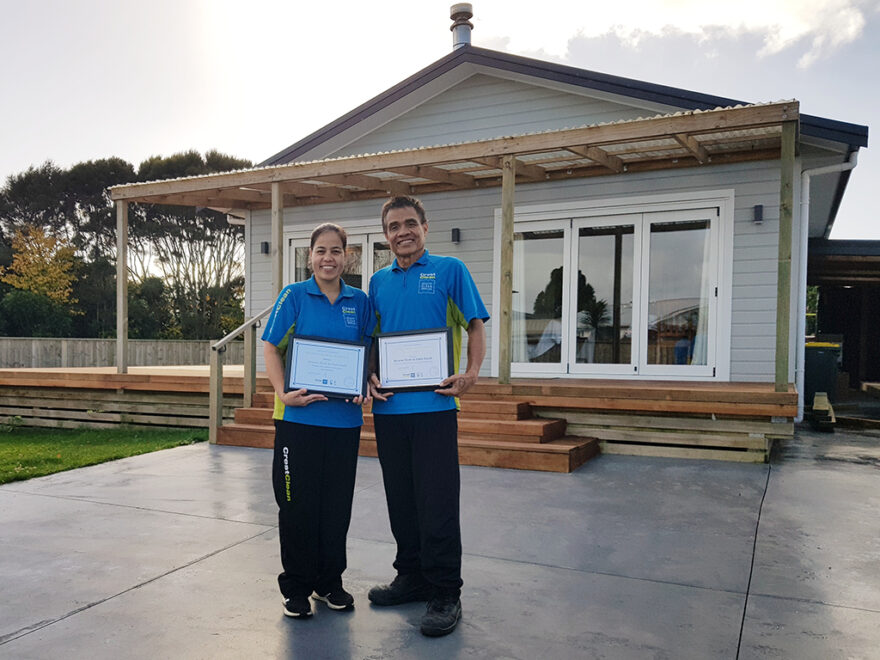 When Kiraren Tirate and Linda Etuati moved to New Plymouth from the remote Pacific nation of Kiribati, they never dreamed they would own their own business or their own home — but six years later they have both.
The couple came to New Zealand seeking better healthcare and education opportunities for their two youngest children, Donnie and Cross, who are now in high school.
They had originally planned for Kiraren to return to his job on Christmas Island, working for the Kiribati National Tourism Office, and to re-join the family in his retirement.
"But when I arrived here, I changed my mind and I wanted to stay. So, I resigned from my job," says Kiraren.
Initially Kiraren worked on a capsicum farm, but one day when he was scrolling through Facebook, a CrestClean business opportunity advertisement caught his eye.
"When I read about CrestClean I thought 'that's what I like, the ability to be my own boss, to do whatever I want without somebody telling me what to do'. That's the thing that made me really want to join CrestClean," says Kiraren.
Since buying the franchise three years ago, Linda, who previously worked full time as a caregiver in a retirement village, has joined Kiraren in the business, while continuing to pick up casual caregiving shifts.
"Working with my wife is very enjoyable and fun," says Kiraren.
The couple have been so successful in their busines that they have been able to buy their own home, something they never thought would be possible.
"When we arrived here, I read the papers and houses were very expensive. I thought I wouldn't be able to get a house here, but thanks to CrestClean I have," says Kiraren.
"I'm very happy. Now I don't have to deal with rent and a landlord."
Not only that, they were recently named Franchisees of the Year for the Taranaki Region.
"It's amazing, I couldn't believe it. Receiving the award is very special," says Kiraren.
Having convinced three other Kiribati families to also join CrestClean, he is proud to be setting an example and inspiring others to work towards their dreams.
"I want others to experience the same success and be able to get their own homes just like me. That's the thing I'm really happy about, motivating others."
CrestClean's Taranaki Regional Manager Naresh Mani congratulated Kiraren and Linda on their award and their new home.
"They are really lovely, down-to-earth people. They are always keen to work and all their customers love them," says Naresh.
"It is amazing what they have been able to achieve in such a short time."