Former bank manager gets his life in balance with CrestClean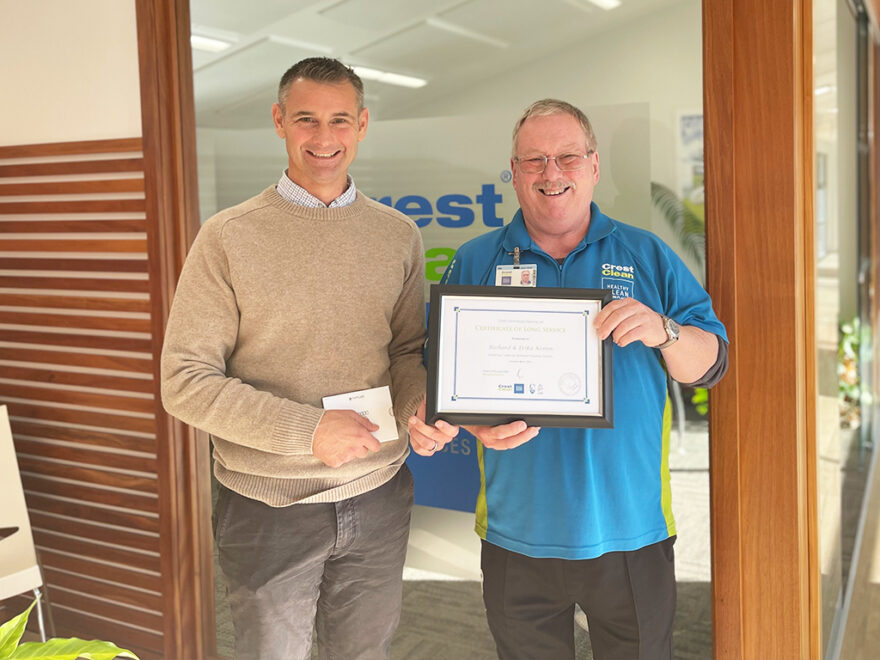 After 30 years in the adrenalin-fuelled world of banking, Richard Kemm craved a different pace of life.
With the pressure of long hours and a never-ending workload, he was looking for a change that would carry him through to his retirement — he found it in CrestClean.
"The mental stress in banking was huge. I'm a person that when I go home I like to make sure that I've done my job, but in a clerical environment you never finish your job. With cleaning when you set the alarm and close the door you know you're done for the night," says the Tauranga franchisee.
"The difference between cleaning and banking is that you can do cleaning at a certain pace, but banking was always at full throttle."
Richard, who was recently presented with a 7-Year Long Service Award, says in owning a CrestClean franchise he has been able to match his previous income, while achieving a less stressful lifestyle.
He and his wife Erika have also been able to support their son and daughter in buying an investment property at Papamoa.
"As you go through life your goals change all the time. You want a more relaxed environment to earn your money and get by in life. You've achieved your goals you've previously set and now it's time to look in another direction," says Richard.
South African-born, Richard and Erkia moved to New Zealand in 2000, seeking better opportunities and a safer environment for their children.
"It was good to get away," says Richard.
They settled in Auckland, moving to Hamilton seven years later, where they remained for another seven years, with Richard working as a business banking manager.
During that time he helped arrange finance for numerous business owners, amongst them CrestClean franchisees.
As part of the due diligence required, it became apparent to him that not only was CrestClean one of the largest cleaning companies in the country, it also offered sound business opportunities.
So, when the time came to leave banking, he travelled over the Kaimais to see CrestClean's Tauranga Regional Manager Jan Lichtwark.
"We often used to come to the beach in summer and, being born and bred in Cape Town, I was always pretty close to the sea, so I wanted to make that final move, that journey towards the sea," says Richard.
Soon after meeting with Jan, Richard resigned from the bank, using his superannuation funds to purchase a CrestClean franchise, and moved to Tauranga.
And, with a home near the beach and greatly reduced stress levels, Richard is confident he made the right choice.
"To have peace of mind and security is a blessing."
Jan says one of the best things about being a regional manager with CrestClean is seeing people achieve their goals through owning a franchise.
"For some people those goals are financial, and for others it's more about lifestyle. Richard and Erika have been able to achieve both," says Jan.
"I would like to congratulate them on a successful seven years with CrestClean and look forward to continuing to support them in their business."