Move south brings success for CrestClean franchisee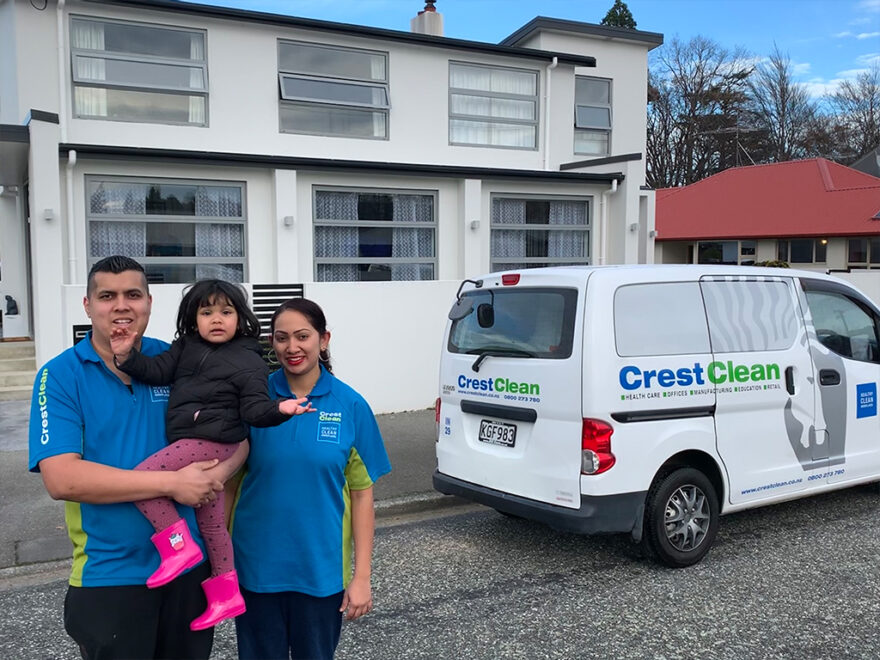 When Richard Chand left Auckland for a new life in Invercargill, he wondered what he was getting himself into.
"I didn't know anyone. When I got to the airport, I didn't even have a place to stay," says Richard.
But now, with a family, three properties and an accounting degree, he says it's the best move he ever made!
Richard was 21 and washing cars to fund his accounting studies when a friend suggested he join CrestClean.
"I couldn't afford the fees so I had to stop studying after the first year," says Richard.
"Then a friend recommended CrestClean, so I looked into it."
At that time, there was a Move to the Regions opportunity in Invercargill, with $4000 provided towards relocation costs.
Richard also discovered that the Southern Institute of Technology (SIT) had a Zero Fees Scheme, which would allow him to finish his accounting degree, while saving around $30,000 in fees.
"It was a double windfall," says Richard.
Excited by the prospect of being able to build a business while completing his studies, he jumped at the opportunity — and nine years later there is no looking back.
Having recently celebrated his 30th birthday, Richard says he doubts he would have enjoyed the same success if he had stayed in Auckland.
"House prices are sky-high in Auckland so it wouldn't have been possible. Plus, the rent is so high, it would have taken me ages to save up," he says.
After growing a successful cleaning business in Invercargill and purchasing two rental properties, Richard transferred to Gore five years ago where he has just bought a beautiful, new, four-bedroom home.
His Gore franchise has more than tripled in size and, having completed his accounting degree in 2018, he is now working as a senior accountant for a local firm.
Richard's wife, Devina, who he married in 2016, works in the cleaning business during the day and he joins her in the evenings.
"Cleaning, it refreshes the mind and I get to spend time with my wife as well," he says.
The couple have a daughter, Richelle, 3, and say the small-town pace of life is great for family life.
"You hardly ever hear of any wrong-doing or crime here. The people are friendly, and everyone knows me," says Richard.
"I live about two minutes from work and all my cleaning sites are five minutes apart, I don't have to travel far for any of my jobs."
And, he's also convinced his parents and brother to make the move south too.
"They have all moved down from Auckland and now my brother is studying at SIT."
Richard thanked CrestClean's Invercargill Regional Manager Glenn Cockroft for helping him make the move nine years ago.
"He is the one who got me here, talking to me over the phone and saying it was a nice place to be. He helped me a lot, he's pretty cool."
Glenn says Richard has always been one of the first to put his hand up for new opportunities, expanding the size of his client base and turnover many times over.
"He's always happy to step in and give other franchisees a hand when needed and during the nationwide lockdown he provided exceptional service to a number of his essential service clients who wanted to ensure that they had a completely safe environment for their production and services to be provided for their own client base," says Glenn.
"One of the great things I enjoy in my role as Regional manager for CrestClean is seeing our franchisees grow and succeed in both life and business. Richard has certainly succeeded in both."