Triple excellence for Nelson franchisees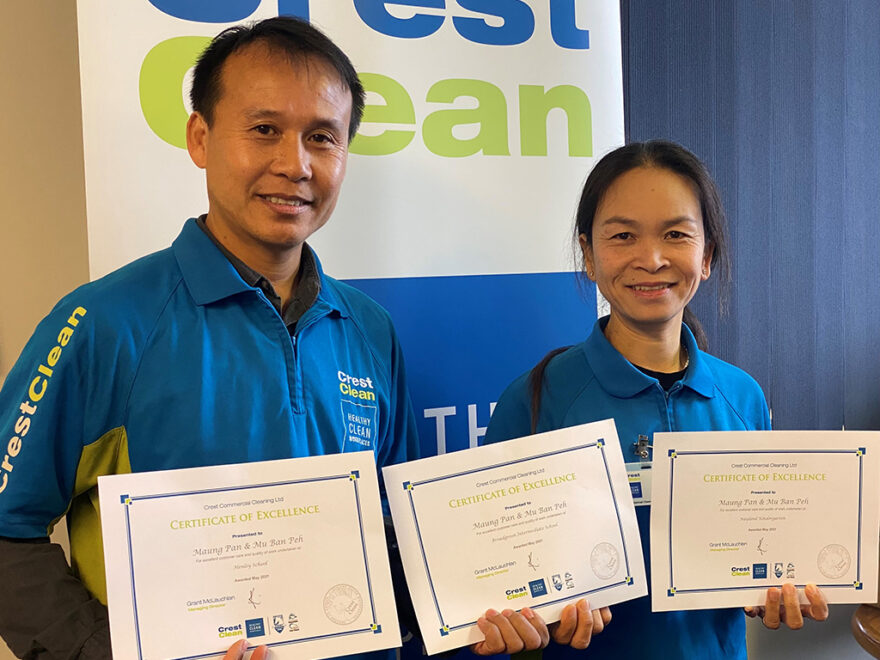 They say good things come in threes and that is certainly true for Nelson franchisees Maunghla Pan and Mu Ban Peh.
The couple were awarded three Certificates of Excellence in a month, for their 'excellent customer care and quality of work' at the kindergarten and two schools that they clean.
"It makes me feel really good… happy," says Maunghla.
The husband and wife team have been CrestClean business owners for the past 18 months, something they once thought would never be possible.
"I never, ever thought I would own my own business," says Maunghla.
Maunghla and Mu Ban came to New Zealand as refugees 12 years ago, having met, married and had four children together in a refugee camp in Thailand.
They both fled from Myanmar in the 1990s — Maunghla when he was 21 and Mu Ban when she was 14, with her parents. Maunghla spent 15 years of his life in the camp, and Mu Ban, 19.
"It was like a prison, we couldn't go outside the camp," says Maunghla.
Since resettling in New Zealand, they have worked in a variety of jobs from orchard and factory work, to selling fruit and vegetables and making curtains.
Seeking a better work-life balance, they decided to buy a CrestClean franchise on the recommendation of a friend.
"She said it was a really good business," says Maunghla.
At the time he was working shifts at a cross-laminated timber factory, which meant his day started at 4am. Now his day starts after the school day finishes, at 3.30pm.
"Now I get to sleep in!" he says
Maunghla and Mu Ban love the lifestyle in 'Sunny Nelson' and are grateful for the opportunities that New Zealand has provided them with.
"I like living in Nelson because it is a small city and everything is close by — and it has nice views. We are very lucky to live here."
CrestClean's Nelson Regional Manager Barbara de Vries says Maunghla and Mu Ban are a warm, caring couple with infectious smiles.
"They are a hardworking, family orientated couple and a great example of a successful franchise team."