Canterbury principals show healthy interest in Anti-Viral Sanitiser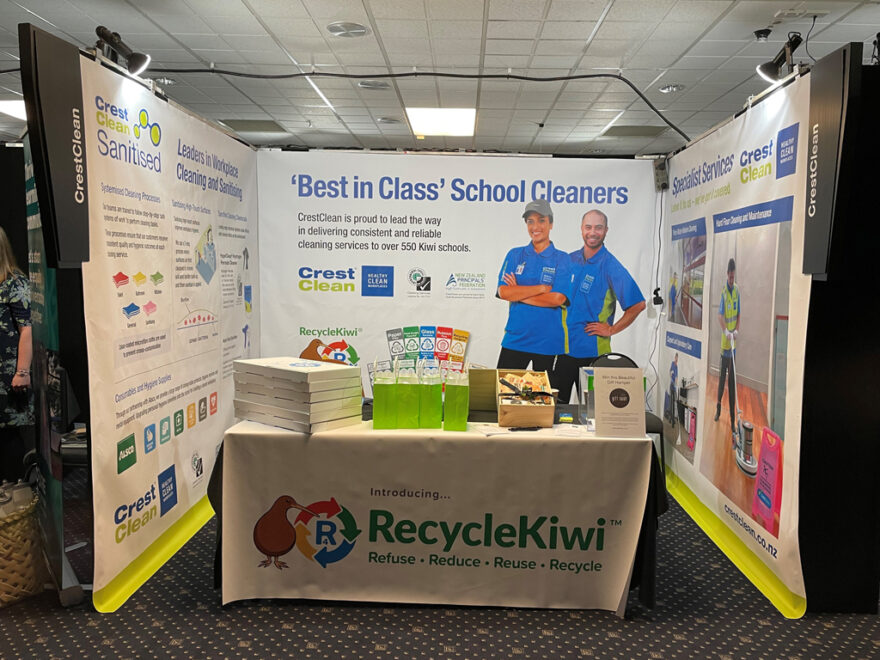 With winter bugs starting to make their presence known, CrestClean's Anti-Viral Sanitiser was a winner at the recent Canterbury Primary Principals' Association Leadership Conference.
Samples of the Anti-Viral Sanitiser were included in CrestClean goodie bags, together with hand sanitiser and microfibre cloths.
"We gave out 200 goodie bags and people were especially interested in the Anti-Viral Sanitiser — what you can use it on and how you apply it to surfaces," says Christchurch North Regional Manager Yasa Panagoda.
The pH neutral, hard surface cleaner and sanitiser is a wide spectrum bactericide, fungicide and virucide that is registered with the US Environmental Protection Agency for use against viruses, including influenza and the virus that causes COVID-19.
Used in CresctClean's Sanitising Service, it has a residual effect, adding a layer of protection to surfaces that people touch frequently.
"Cold and flu germs can live on surfaces for up to 48 hours. Keeping things like door handles clean and sanitised can help stop the spread of winter bugs," says Yasa.
CrestClean's RecycleKiwi resource packs, containing waste separation bin stickers, posters and colouring in pages, were also popular with conference delegates.
"They were a big hit — we handed out a lot of packs and explained how the stickers can turn any bin into a recycling bin. I think there will be a few schools streamlining their recycling systems following the conference!" says Yasa.
CrestClean also held a prize draw, with a gift hamper containing a selection of New Zealand-made specialty foods won by Danny Nicholls, the principal of Te Matauru Primary.
Christchurch South Regional Manager Gina Holland says it was a successful day, and a great opportunity to reconnect with school leaders.
"As always, the CPPA conference is a great opportunity to catch up with our many customers in the primary school sector. It's great to be able to support such a fantastic organisation."