RecycleKiwi popular with Waikato principals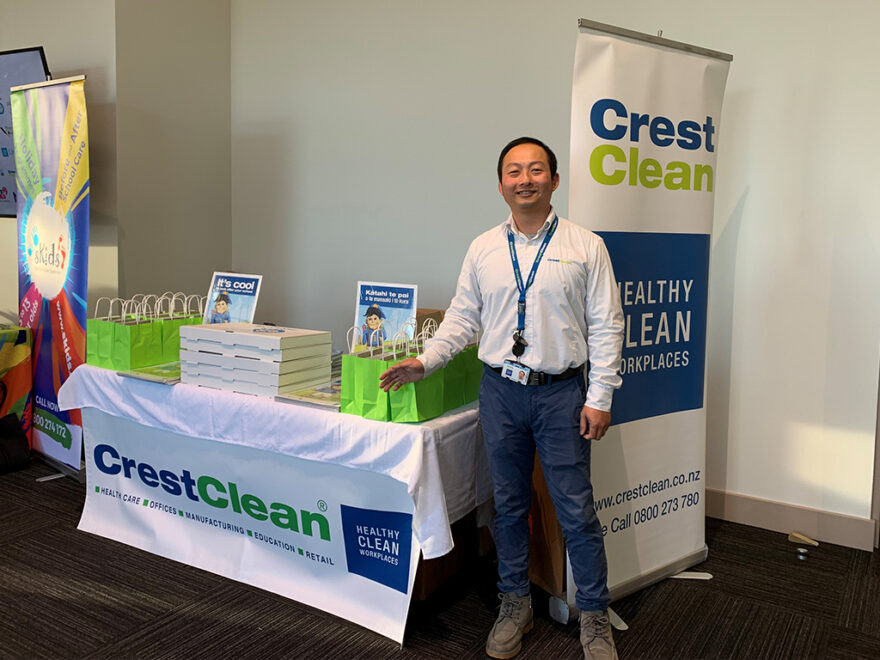 CrestClean's free RecycleKiwi resources were a big hit at the latest Waikato Principals Association's quarterly conference.
"RecycleKiwi is quite a hot cake at the moment. All the resource packs we took to the conference were snapped up!" says Waikato Regional Manager Nivitesh Kumar.
The packs, which contain waste separation bin stickers, posters and colouring in pages, were gratefully received by customers and non-customers alike.
"They think it's a great idea, and a way of promoting recycling awareness in schools," says Nivitesh.
"We've had feedback that some schools will be using our RecycleKiwi resources as part of the curriculum."
Goodie bags containing CrestClean's Anti-Viral Sanitiser and microfibre cloths were also popular at the conference, which is sponsored by CrestClean.
"It was a very good day. There were a lot of principals there and we got the opportunity to meet with existing customers who we hardly get to see."
The conference was also attended by CrestClean's Waikato Quality Assurance Co-ordinator Jason Cheng, who says it was the largest yet.
"About 150 people attended, and our stand was very popular — there were lots of people coming through and talking to us," says Jason.
"They were wanting to know about our processes, how we look after schools and the programmes we run, like RecycleKiwi and Cleanest Classroom. And there was a lot of interest in the products we use. As we head into the flu season, they want to make sure the children are safe."
With CrestClean servicing 32 schools in the Waikato region, there was plenty of positive feedback from happy customers, adds Jason.
"These conferences are a great way to maintain relationships and build new ones."