School celebrates CrestClean franchisee on 'Support Staff Day'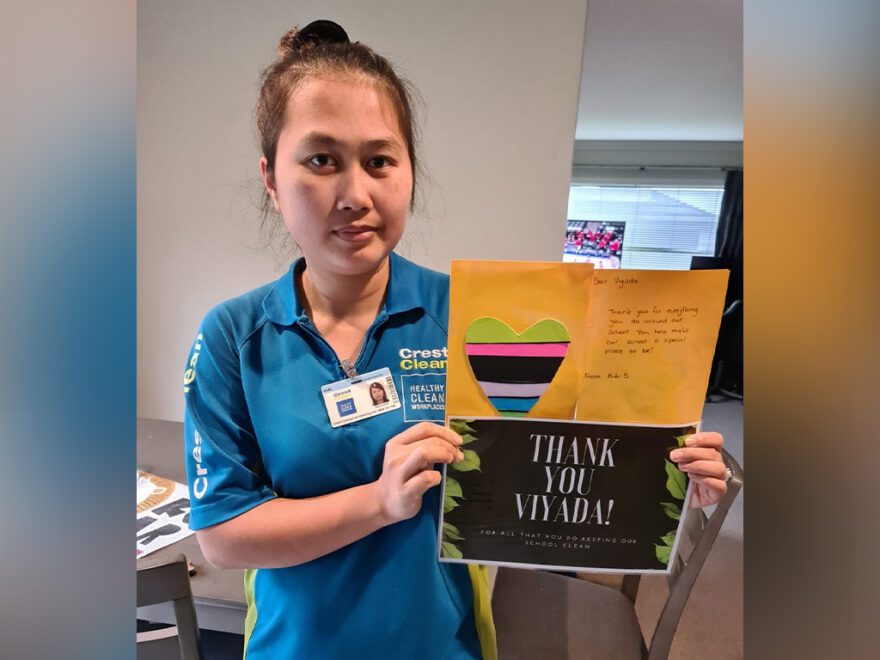 "To sum her up in one word — outstanding!"
That's what Bellevue School's acting principal Annette Borgonje had to say about CrestClean franchisee Viyada Corbett.
Viyada has been cleaning at the Wellington primary school for the three years and Annette says she "can't fault her on a thing".
"The cleaning is always done to a really thorough standard and she communicates really effectively with us. If she's unable to do something for some reason, she will always let me know, and if there's an issue that needs addressing she attends to it straight away," says Annette.
"She relates to the teachers well, she's very polite and fantastic to work with. She comes in, does the job and is kind and gentle to everybody."
To show Viyada how much she is valued, the school gifted her chocolates and made her a special card for Support Staff Day.
"When you have these special people who go above and beyond because they take pride in their jobs, it's really worth celebrating."
Viyada says it's not the first time the school has shown their appreciation — she also received gifts at Christmas and on Thank Your Cleaner Day.
"All the teachers are really nice, really kind. They are easy to talk with and they understand and appreciate what I've done," she says.
Viyada joined CrestClean four years ago, after impressing Wellington Regional Manager Zainab Ali, whose home she was cleaning privately.
"I didn't know she was the regional manager for a cleaning company!" says Viyada.
"She talked to me about buying a franchise business and gave me the confidence to do it."
Eight months after buying the franchise, the business had grown to the extent that her husband Aaron gave up his six-figure management job of 25 years to join her.
"He saw what a good opportunity it was — it was less stressful and more money."
Zainab says Viyada's high standard of cleaning stood out from the beginning.
"After she cleaned my house I went into the bathroom and I looked at the sink and for the first time since I moved in the plughole was sparkling like gold," she says.
"She is one of the hardest working and loyal people I have ever met, and she's very confident in what she does. I can rely on Viyanda and Aaron for anything."