All-of-Government pricing, recycling and fogging are hot topics at principals' conference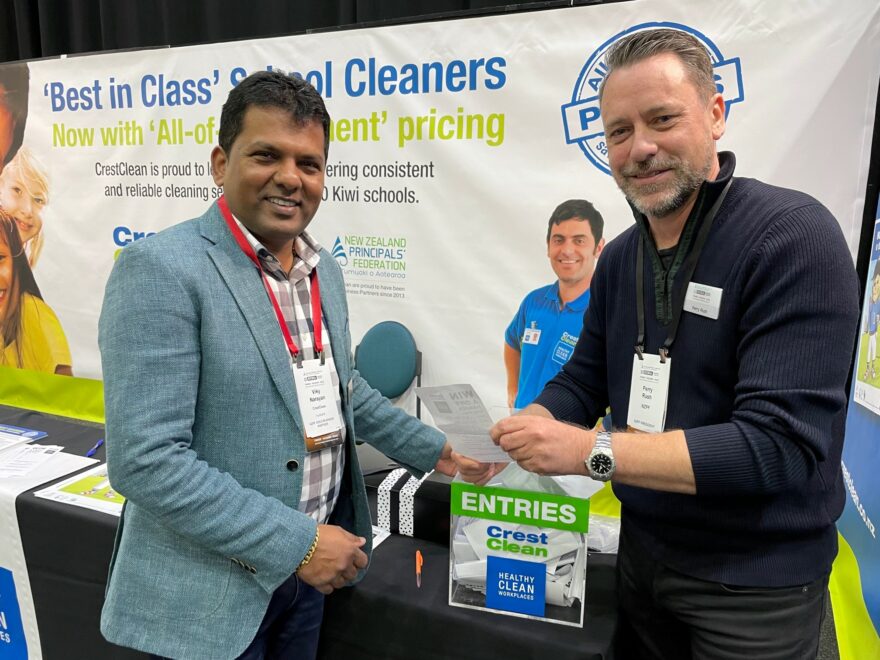 CrestClean was warmly received at the New Zealand Principals' Federation's Conference 2021 in Rotorua this week.
It was the 13th year CrestClean had attended the conference, having provided sponsorship since 2008, and been a Gold Business Partner since 2014.
Managing Director Grant McLauchlan says it was a great atmosphere, with many of the 550 principals and school leaders who attended visiting the CrestClean stand to both catch up and gather information.
Hundreds of goodie bags were distributed and delegates were eager to go in the draw for the CrestClean gift hamper, containing wine and specialty foods, which was won by Ararira Springs Primary School principal Claire Howison.
Grant was interviewed on stage at the conference by MC and television journalist Jehan Casinader, where he spoke about the introduction of All-of-Government pricing, CrestClean's RecycleKiwi programme the practice of fogging.
"For a long time, we've offered a bundled service of cleaning and consumables to our commercial clients, but we stood back from the All-of-Government pricing because it was quite a complicated process," Grant said.
"But we now feel, with the Generation 3 and our partnership with Alsco, that we demystify that whole sign-up process… and we now offer that out to schools and, subject to what your set up is at the moment, I think there are some savings for schools to achieve."
Grant also took the opportunity to educate delegates on the limitations of 'fogging' as a means of sanitising.
"Fogging's been around for a long time and it's typically been used for fogging factories, so it gets up in the ceiling and over the pipes and everything, but there's been a trend of late that companies are offering a fogging solution that overnight will magically clean your premises," he said.
"I think there's someone out there promoting fogging, where the fog eats dirt. Now I'm not sure how that works, there's no science behind it. You can't avoid a good old-fashioned wiping down of surfaces to keep it clean and to keep the dirt away, which is where bacteria survives."
He pointed out concerns around exposure to chemicals that lingered on surfaces.
"I think you've got to be very careful about fogging an environment where there are children because that fog does sit around."
RecycleKiwi update
Having launched CrestClean's RecycleKiwi educational programme at the last conference in 2019, Grant also gave an update on its progress.
"As a large training organisation for our operational people, we thought we could extend that to an educational programme for children about recycling, so we set up this programme… and it's gone incredibly well.
"In the last two years we've sent out 3,500 of these packages… and we've been really pleasantly surprised that not only are schools picking up on this but a lot of our corporate customers as well," he said.
Power, Passion, Pace
The New Zealand Principals' Federation represents more than 2000 principals, providing support and resources for members.
This year's three-day conference, at Rotorua's Energy Events Centre, was titled 'Power, Passion, Pace; Pai tu hinga! Whakamaua kia tina!' to signify the need to renew, refresh and move ahead after 2020.
"We have been cleaning in schools for 24 years and enjoy a long-term relationship with many of our school customers," says Grant.
"The NZPF conference is an important date on our calendar. It's a chance to show our support and connect. It was great seeing everyone again, after a year's hiatus due to Covid restrictions."