North Harbour franchisees power into cleaning at Electrix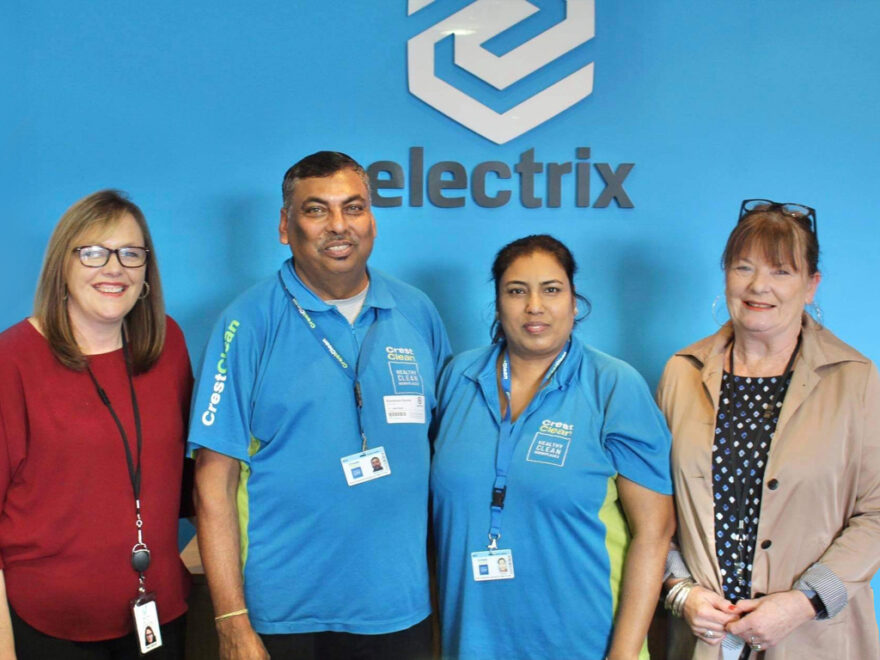 Electrix Ltd has an important role to play in powering New Zealand, but when it comes to keeping their offices spic and span their cleaning powerhouse is husband-and-wife team Rameshwar Sharma and Rasmi Lata.
The North Harbour CrestClean franchisees have been cleaning Electrix's Auckland offices for the past three years and Administration Co-ordinator Sarah Thorstensen says she couldn't be happier.
"Rameshwar and Rasmi do a great job and are very proactive. If there is a concern, they are straight onto it."
Sarah says she chose CrestClean because of the high level of customer service provided, which is "extremely important" to the company.
Rameshwar says he and Rasmi really enjoy cleaning at Electrix, where they are always given a warm welcome.
"They are very friendly people. When I go there, more than half the people know me, and they treat me like a friend," he says.
Originally from Fiji, Rameshwar and Rasmi moved to New Zealand in 2009 and bought their CrestClean business in 2012, after talking to a friend who owned a successful franchise.
Since then they have grown their business and upskilled to add Pure Water Window Cleaning, Carpet Cleaning and Hard Floor Care to their suite of cleaning services. Rameshwar has also become an Induction Trainer, for CrestClean's Master Cleaners Training Institute.
Rameshwar and Rasmi did their initial training under Neil Kumar, who has since become the Regional Manager for North Harbour, the same region in which they have their franchise.
"Rameshwar and Rasmi have been committed to providing a high-quality cleaning service from the outset," says Neil.
"It has been gratifying to watch their business grow, alongside a growing number of happy customers."