Professional, environmentally responsible cleaning service praised by The Hearing House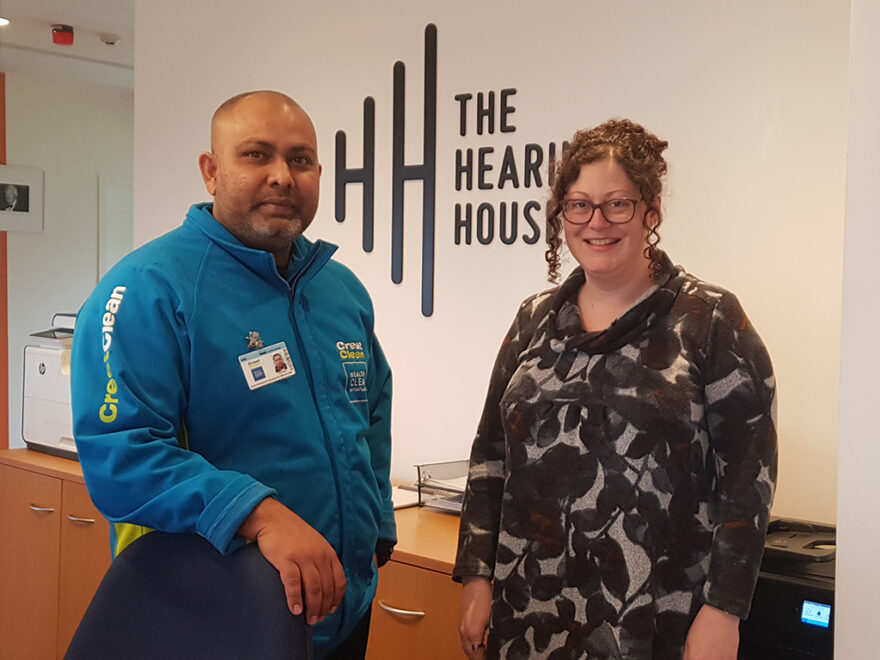 When The Hearing House moved into their new $8 million purpose-built premises, they wanted a cleaning company that would be able to maintain a high standard of cleanliness and hygiene.
They approached CrestClean and have not been disappointed! Central Auckland franchisee Fiza Rahiman and his team have been providing cleaning and floor care services for the Greenlane site since it opened at the end of 2017.
"We love the CrestClean team! We approached Fiza when we were looking for an environmentally conscious, professional team to look after our new premises, The Stichbury Bidwill Centre," says clinical receptionist Jess Thornton.
"The building is a hub for The Hearing House and other hearing and speech therapy services, and features world-class audiology booths, clinic and meeting rooms, kitchens and open plan office space," she explains.
"Fiza and his team are professional, approachable, very easy to communicate with — and lovely people! We have worked together for three years and we hope many more to come. They take care of our interior and exterior cleaning, resurfacing of kitchen and bathroom floors, carpet care, and ad-hoc jobs."
Fiza, who has owned a CrestClean franchise business for 14 years and is also a regional trainer with the Master Cleaners Training Institute, says, being a healthcare facility that works with both children and adults, it is especially important to maintain a high standard of cleaning.
"Like all our sites, we adhere to SafeClean®, our Health, Safety and Environmental Management System, when we are cleaning at The Hearing House, and we use products and processes that have been licensed by Environmental Choice New Zealand," he says.
"They are great people to work for. They are particular about the cleaning and want to make sure it is up to standard all the time. The fact that they are happy with the job we are doing reflects on our team."
The positive feedback has been very motivating for his team, he adds.
"When I passed on Jess' comments to the team, it really motivated them. We love to go and clean for someone who acknowledges the hard work we put into the site. It was really helpful to my team.
"I have a great relationship with Jess. She has never treated me as a cleaner, she has always treated me as 'Fiza' which I really appreciate."
CrestClean's Auckland Central Regional Manager Dries Mangnus says: "This a fantastic example of the CrestClean system working — a superb standard of cleaning, the latest industry techniques and standards, along with a very sound relationship between CrestClean and our valued customer."