Amandeep's time to shine as new machine enables business growth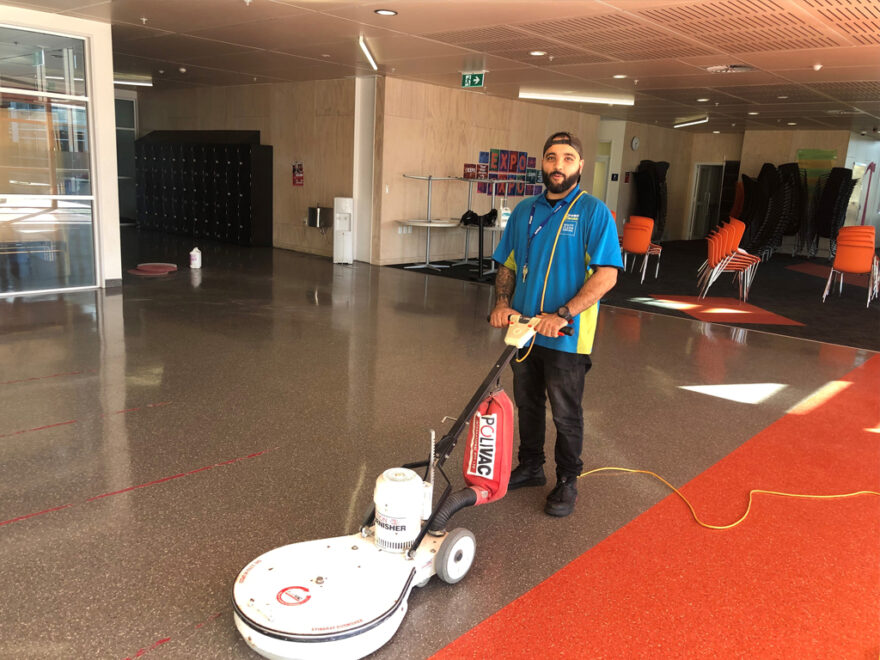 East Auckland franchisee Amandeep Singh Kareer is facing a gleaming future after the purchase of a new floor care machine.
Since investing in a burnishing machine, Amandeep says he is able to work more efficiently, allowing him to grow the Hard Floor Care arm of his business.
Compared to his smaller stripping and polishing machine, which works at a slower speed, the new machine does a better job of buffing the floors, in half the time, says Amandeep.
"The other one couldn't take all the scratches out. It makes a big difference. If you're in the cleaning business, it's better to have both machines," he says.
"Another good thing about it is it's got a vacuum as well, so it sucks the dust out of the floor while it's buffing. It's really useful."
Amandeep polishes the floors at a large high school on a monthly basis, and is now able to achieve a much smoother, shiner finish, which is particularly important for the large entrance area where there is a high volume of foot traffic.
"With the bigger machine, it really gets the shine up and that's what it's all about, shiny floors. The customer is really happy with the floor, they love it."
He says he had wanted a burnishing machine since completing his Hard Floor Care training with CrestClean's Master Cleaners Training Institute.
"That's where I learnt how useful a burnisher is — the difference it makes to the floor and how it makes the job easier."
East Auckland Regional Manager Linda Hill says the burnishing machine is a very worthwhile investment and she is looking forward to seeing Amandeep's business grow.
"Amandeep already cleans large floor areas for his existing customers. Not only has the new machine made his job easier, it has freed up his time take on additional work," says Linda.
"And, importantly, the customers are really happy with the professional finish he is able to achieve."