Christina takes the lead with top payroll qualification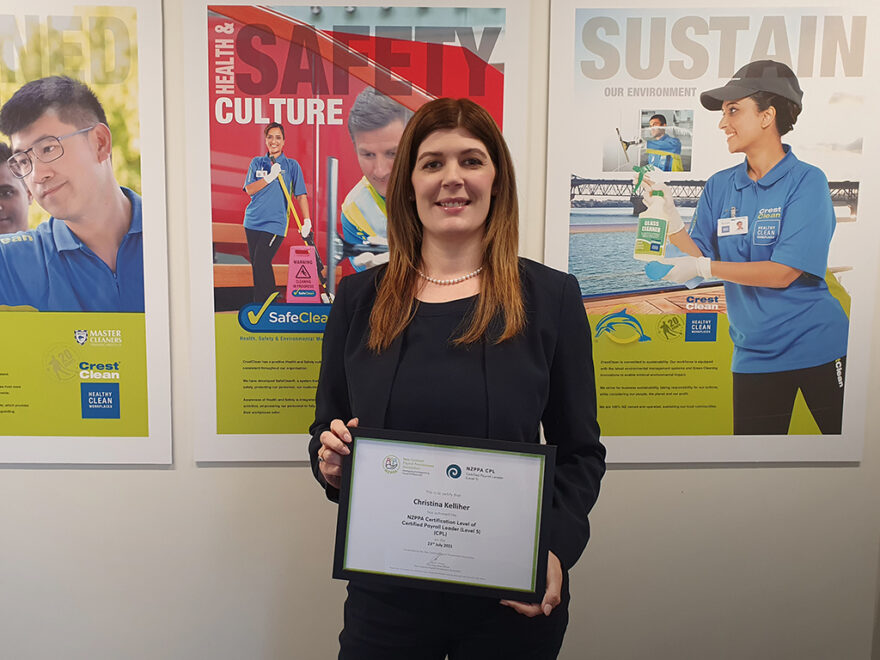 CrestClean's Payroll and Human Resources Leader Christina Kelliher has qualified as a Certified Payroll Leader — achieving the highest Payroll Accreditation possible in New Zealand.
The New Zealand Payroll Practitioners Association (NZPPA) is the country's largest payroll professional body and is focused on developing payroll as a recognised profession in its own right.
Three years ago, Christina became one of the first professionals in the country to become a Certified Payroll Specialist, after the NZPPA launched a certification framework.
Now she has achieved the highest certification on the framework, which is based on skills, knowledge and experience.
"It's a culmination of all of the years I've been working and keeping up to date," says Christina.
Over the past year Christina has been instrumental in establishing the Franchisee Payroll Advisory Service, a nationwide education and support service for CrestClean's 650+ franchisees.
The service helps the many Franchise business owners, who have employees, to understand the complexities of payroll and employment standards, providing regional training sessions on minimum employment standards, record keeping and Holidays Act compliance.
The Franchisee Payroll Advisory Team, headed by Christina, also provides helpdesk support for specific payroll issues (including COVID-19) and proactive advice for new employer franchise owners.
"The Help Desk service has been really successful. It's important that franchisees know they have someone who's there to support them, who knows what they're doing," says Christina.
CrestClean Managing Director Grant McLauchlan congratulated Christina on both her accreditation and the success of the advisory service.
"This third-party accreditation confirms what we already knew — that Christina is an exceptional leader in payroll. Through Christina's efforts, our company has built a strong reputation as an industry leader for best practice in payroll," says Grant.
"She can be extremely proud of her achievements both on paper and in practice."