CrestClean teams happy to return to Cambridge Middle School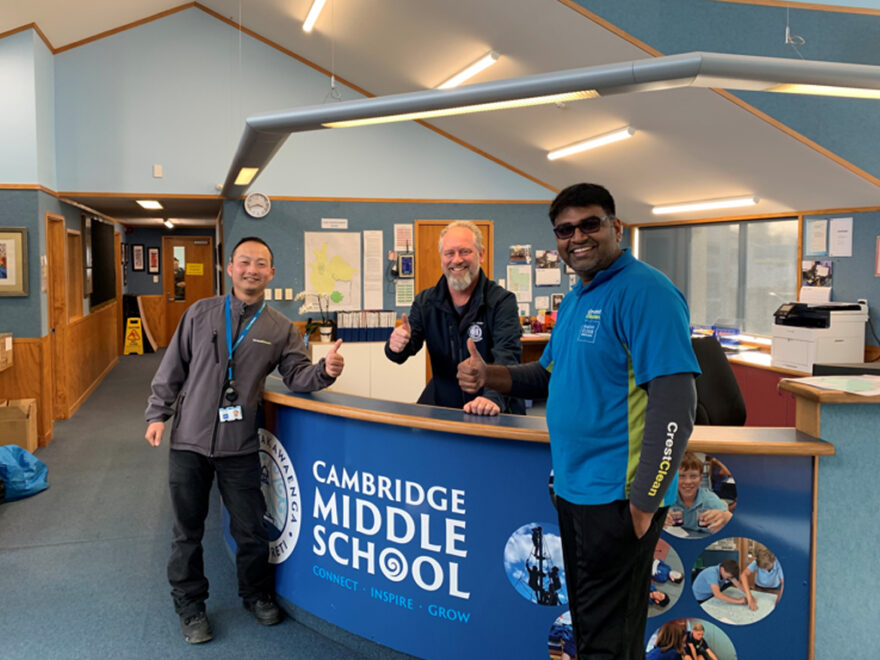 New brooms don't always sweep clean, as Cambridge Middle School found when they recently changed cleaners.
After just three days of unsatisfactory service, they were quick to reinstate CrestClean — and they couldn't be happier!
CrestClean had been cleaning the school for several years, in conjunction with the school's own in-house cleaners, when the contract came up for renewal.
Although happy with the standard of service provided by CrestClean, the school opted for another cleaning company due to budget considerations.
However, when the new cleaners failed to turn up on the first day it "went downhill really fast from there", says the school's property manager Colin Hatton.
"I thought, if they don't deliver, we're not going to muck around. So, after a few days we got back in touch with CrestClean and got them back on board."
With the school's two in-house cleaners having since left, CrestClean was invited to pick up the additional work, and is now contracted to clean the entire school, sharing the work between two franchise teams — Simis James, and Elvira and Robert Mendoza.
"We are really happy. I guess after having three days without the school being cleaned at all, you realise how lucky you are to have someone who does turn up every day and does do a good job," says Colin.
"Around the Covid issues as well, it's nice that I can give them specifics about which rooms need to be cleaned and which surfaces need to be wiped down, and I can call them with two days' notice and ask them to come and do a deep clean of the school if needed."
Being a large school, with 730 students, Colin deals directly with CrestClean's Waikato Regional Manager Nivitesh Kumar and Quality Assurance Co-ordinator Jason Cheng, if he has any requests or concerns.
"It makes my life so much easier having them as points of contact. Whether I email or text them, Jason and Nivitesh always respond to me."
Jason says the franchise teams were really pleased to be back cleaning at the school.
"We've always had a good relationship with the school, they are a really good customer. We started with one block, which was a third of the school, and later they gave us another block because we were doing a good job — now we are cleaning the whole school," says Jason.
"We pride ourselves on providing a high standard of service and it's always gratifying to have that recognised."