CrestClean's Sanitising Service adds extra layer of protection for essential services workers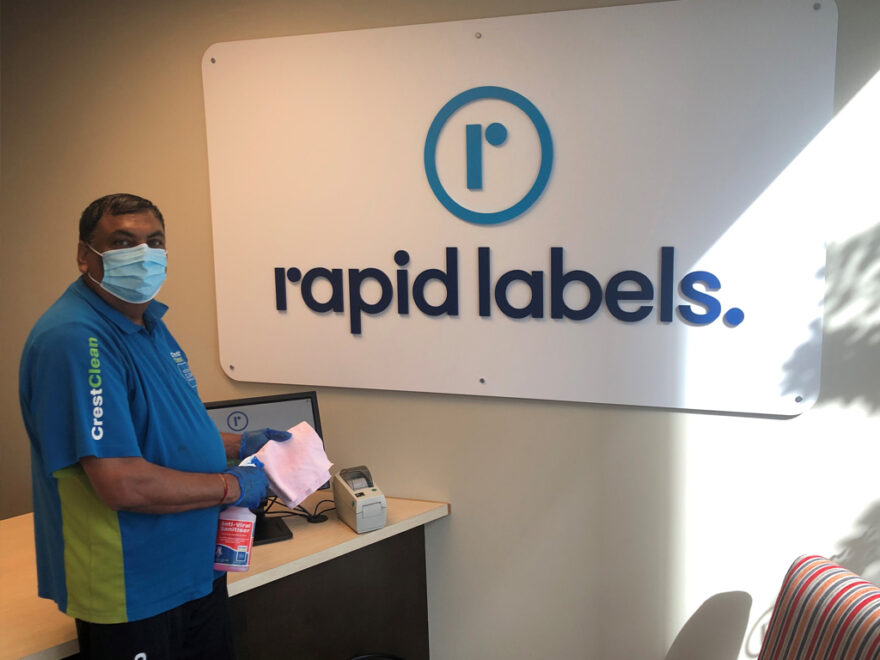 CrestClean is proud to be providing an extra layer of protection to essential services businesses operating under Level 4 with its Sanitising Service.
Auckland label manufacturer Rapid Labels is using the service on a daily basis and Operations Manager Terry Campbell says it is important in keeping the site clean and hygienic, while ensuring staff feel safe and protected.
"We've got the standard cleaning service that CrestClean provides every week, regardless of Covid restrictions, but as an additional requirement we reached out for extra cleaning and sanitising of high contact areas across the building," says Terry.
"It lets the team know that as a business we care because we're engaging in extra cleaning and hygiene practices, but it also reinforces the need for them to clean and sanitise the high contact areas on their own equipment. So, together, it's working really well."
CrestClean franchisee Rameshwar Sharma has been providing Rapid Labels with cleaning services for almost four years, including sanitising services during previous lockdowns.
"Rameshwar has always been diligent in what he has executed on site and does a really thorough job," says Terry.
"CrestClean has got good cleaning and PPE practices in place, and we've also asked
Rameshwar to comply with our own onsite hygiene and PPE practices, which he always does."
As a manufacturer of premium self-adhesive labels, Rapid Labels has been busy supplying labels and equipment for the Covid testing and vaccination programmes.
"Obviously, with testing and vaccination being stepped up, that requires extra labels, so we're really busy," says Terry.
Staff working on site have been split into 'bubbles', with different production teams working opposite shifts, to ensure there is no cross-over between shifts.
Rameshwar says he enjoys helping Rapid Label to maintain safe, healthy premises, especially at this time.
"They are good people. It feels good to be doing something to help," he says.
CrestClean's Sanitising Service improves workplace hygiene by first cleaning high-touch surfaces to remove soil and biofilm, which can harbour bacteria and viruses, and then applying an Anti-Viral Sanitiser.
The Anti-Viral Sanitiser used by CrestClean is registered with the US Environmental Protection Agency as a disinfectant qualified for use against SARS-CoV-2, a coronavirus that causes COVID-19. It also has a residual effect, killing pathogens that land on the surface after it has been applied.
"Over the past 18 months we've seen an increase in businesses wanting this service, both during and following Covid lockdowns," says CrestClean's North Harbour Regional Manager Neil Kumar.
"Obviously, under Level 4, hygiene is critical, but regular sanitising of high touch surfaces is also an effective tool in maintaining a clean, healthy workplace on an ongoing basis, especially during the flu season."