High standard of cleaning and cheerful approach appreciated by Dunedin Cancer Society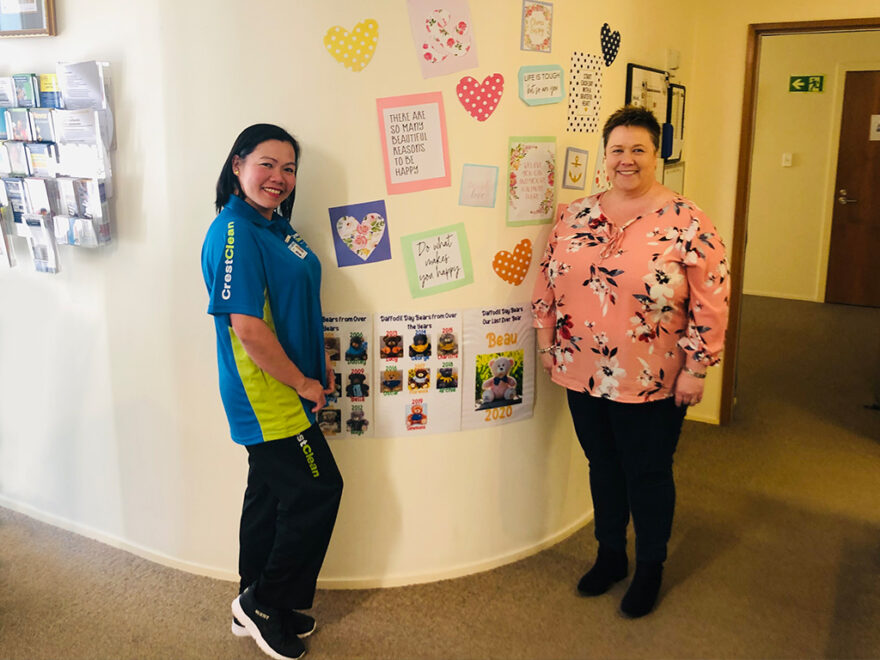 It's not only Melany Baltar's high standard of cleaning that is appreciated by staff and guests at the Dunedin Cancer Society.
"She's so cheerful, she greets everybody with that beautiful smile, and she recognises why people are here which is really important," says Daffodil House and Supportive Care Administrator Fiona Cutler.
"She has compassion for the fact that people that are here are going through some pretty horrible treatments and they're not feeling the best. They just want someone who comes in with a cheery face, who smiles and says 'hello' but also respects their privacy, and that's what we love about Melany."
The CrestClean franchise owner is responsible for cleaning both the Cancer Society offices and communal areas in the adjoining Daffodil House, where people stay while receiving cancer treatments at Dunedin Hospital.
"If Melany comes in and people are preparing food in the kitchen, then she'll go away and do something else so she's not interrupting them. She goes out of her way to plan her time around them," says Fiona.
"We call Daffodil House a 'home away from home' so we want to make it as comfortable as possible for guests whilst they're undergoing their treatment and Melany really gets that. The level of cleanliness in the communal areas is really important, but also just to have that nice friendly person that engages with them."
With a 10-year background in hotel management and housekeeping, and specialised training from CrestClean, Melany's standard of cleaning is particularly high, adds Fiona.
"She's very good. She's very thorough and always goes the extra mile."
Melany says she loves working at the Cancer Society and enjoys putting smiles on people's faces.
"The staff there are lovely, and so are the guests," she says.
"Even if I'm full of problems, I'm still happy when I'm working. I'm an easy person to get along with."
CrestClean's Dunedin Regional Manager Tony Kramers says Melany's infectious personality is very "warming".
"Melany's attention to detail is high, as Fiona mentioned, and we are very glad she joined our Dunedin CrestClean family. She's an absolute pleasure to have and we appreciate the extra mile she goes to accommodate her customers."