CrestClean achieves 25 years!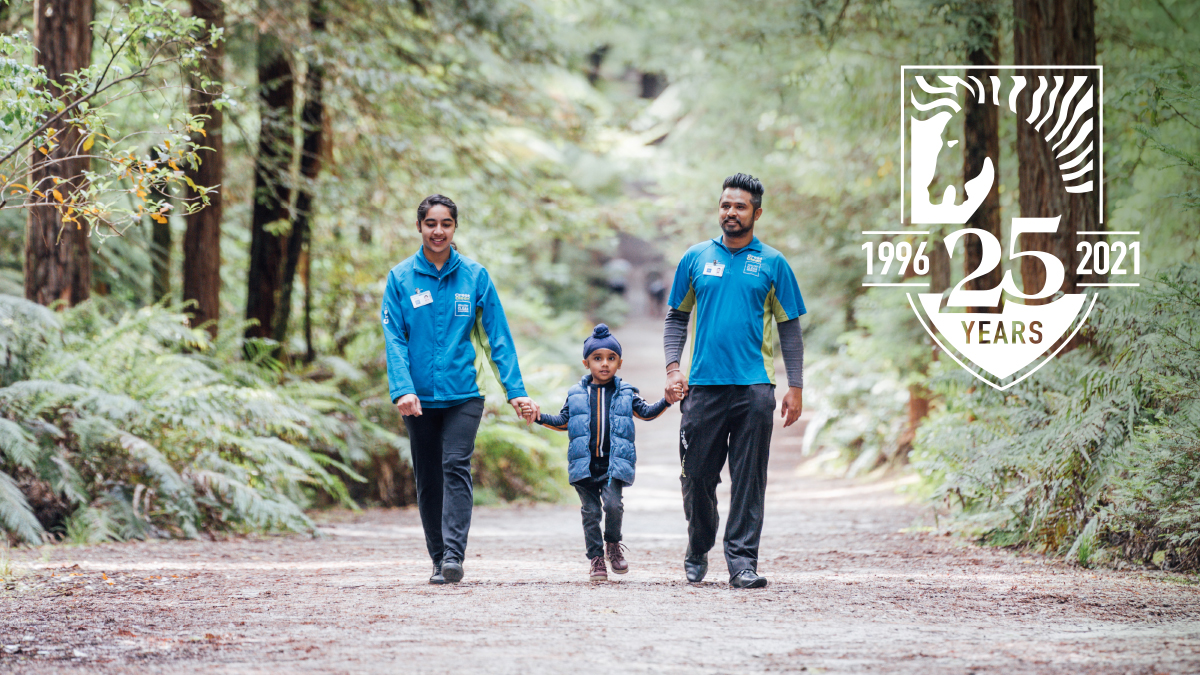 December 16th, 2021, marked an important milestone in the history of CrestClean — our Silver Jubilee!
It has been 25 years since CrestClean was launched, in which time we have grown to become the largest NZ owned cleaning company, involving more than 2,000 people, serving over 5,200 customers.
From humble beginnings of three Dunedin pilot franchises, we now have 672 franchise businesses, the length and breadth of the country, making us the largest franchise group in New Zealand, on a units basis. Our franchise network undertakes around 3 million hours of customer service each year and all have strong and growing businesses.
Our vision was to develop a proprietary franchise system with innovative business processes designed to capture a large market share by enhancing customer service levels. We have remained true to this vision, growing into a well-known brand with a reputation of delivering excellent customer service through continual innovation and upskilling.
We are proud of our people, our systems and our owner-operator culture, which gives Kiwis the chance to grow their own businesses, with the foundation and support of a national company.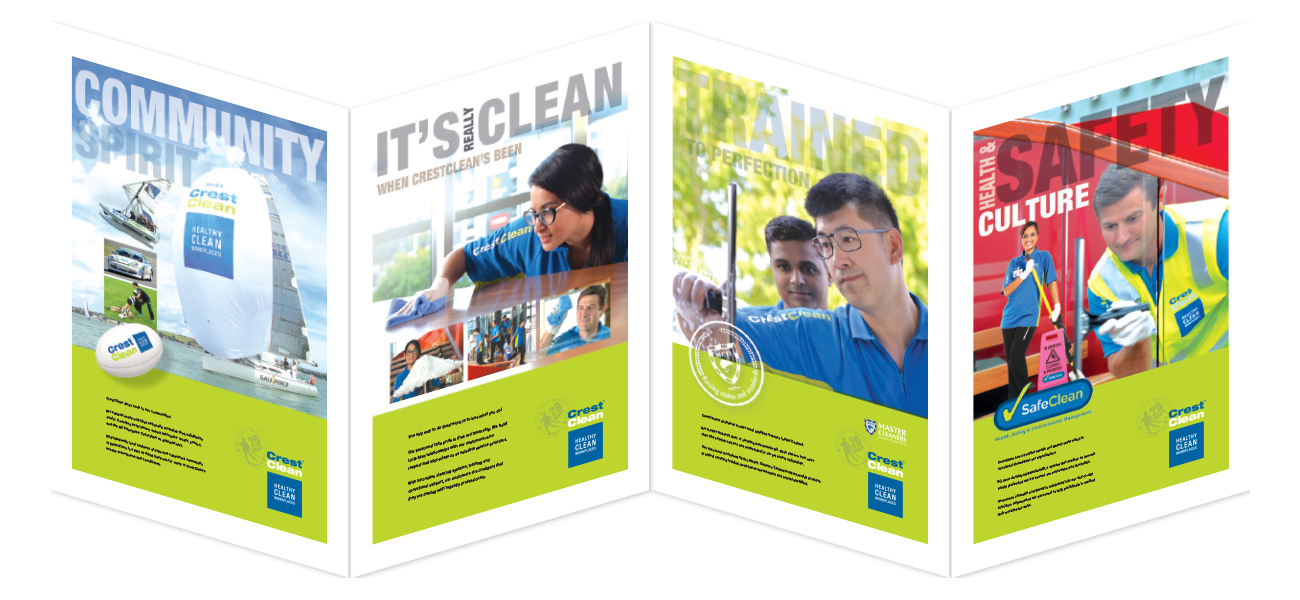 As with any business, our greatest asset is our people and we are grateful to have a diverse and dedicated team, made up of 59 nationalities.


We pride ourselves on the longstanding relationships we maintain with our franchisee owners and are delighted to have 84 franchisees who have celebrated 10+ years' successful trading under the CrestClean banner.

Grant Holland, our respected foundation franchisee from Christchurch heads our list at 22 years, a marvellous achievement! Auckland Master Franchise owner, Dries Mangnus, who has helped many franchisees in the region establish their businesses, follows closely at 20 years, again a great milestone.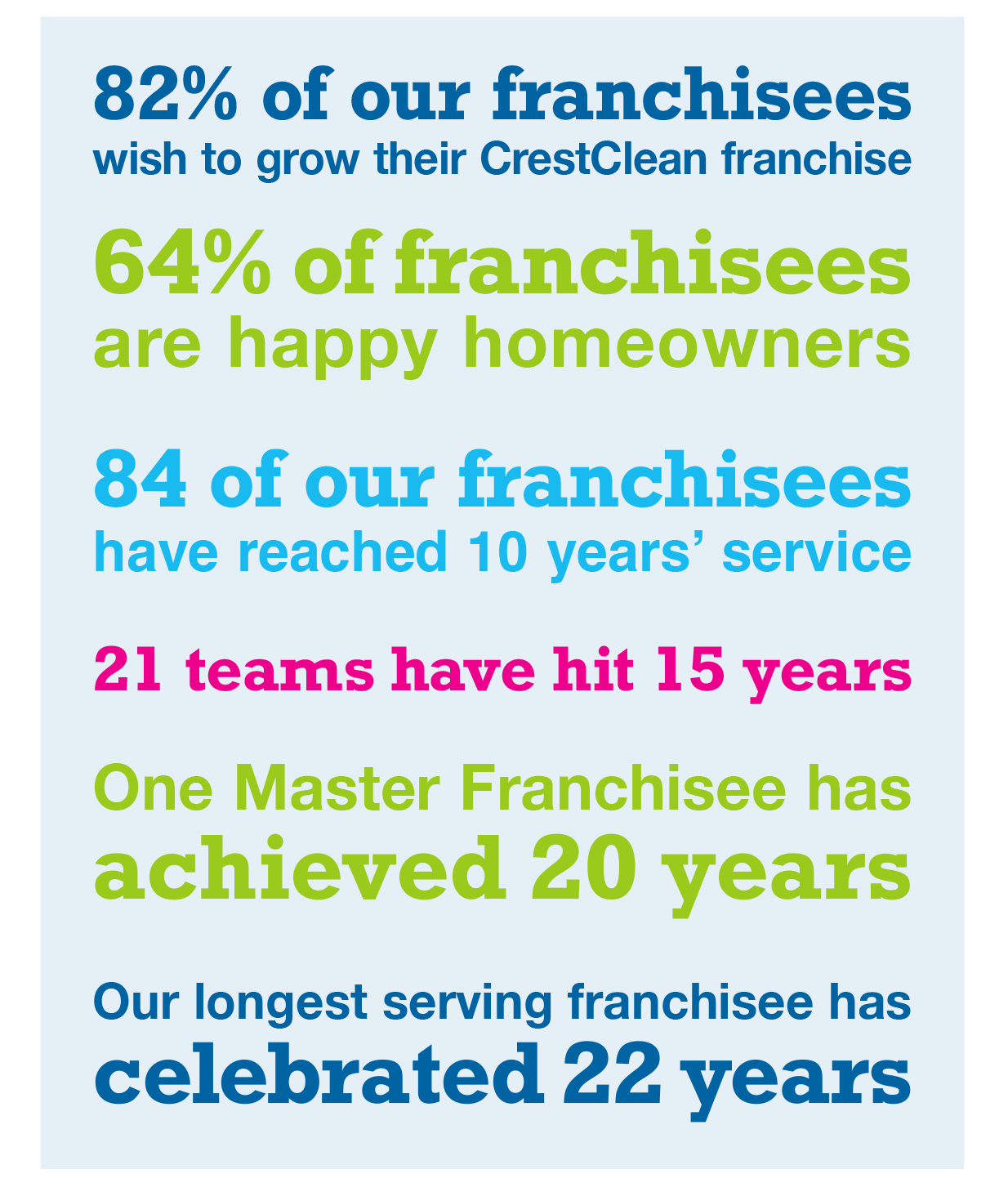 Also of note, is our Financial Controller Sharon Churchill, who has been associated with CrestClean since its inception, and our Marketing Manager Scott Crowley, whose involvement goes back just as far, having helped with the development of the original logo and promotional materials prior to the launch in 1996.
We also enjoy long-standing relationships with many of our customers, with three customers enjoying the services of CrestClean for over 20 years, another 185 for over 15 years and a further 583 for over 10 years. This means a lot to us all.

Our success is underpinned by a commitment to continual training, upskilling and innovation. We pride ourselves on having developed — and continuing to develop — unique systems that will serve our team well into the future.

Since day one CrestClean has operated a Shared Services model, where our support centre provides administrative and transactional services to all franchisees and Master Franchisees, from administration and training to marketing and advertising.

In 2013, we established the Master Cleaners Training Institute, becoming the largest private trainer of commercial cleaning personnel in New Zealand. This year alone, we have trained 1,340 personnel.

Our bespoke Health, Safety and Environmental Management System, SafeClean®, was launched in 2014, to ensure the highest level of protection possible for our personnel, customers and the public.

And in 2016 we became the only nationwide cleaning company in New Zealand to become Environmental Choice licensed, complying with their strict criteria to reduce our environmental impact from day-to-day operations.
We are currently in the process of transitioning our business model to the cloud, a transformation project that will streamline our business and deliver a better overall experience to everyone we engage with.
"CrestClean has been a journey full of challenges, hard work, achievements and successes. I salute the courage, forethought and drive of the directors of this company to grow from such humble beginnings to become the largest New Zealand owned cleaning company, in just 25 years, and I have been privileged to be part of its journey." – Director Martin Perkinson
Our future is very positive. We have maintained strong compounded growth over the first 25 years, and we have full confidence in the continued success of franchising as a business model, and the potential to expand our position in the commercial cleaning, hygiene and property care sectors.
We would like to thank everyone who has been part of our journey so far and invite you to join us in wishing CrestClean a very "Happy 25th Birthday"!
-Grant McLauchlan, Managing Director