Waikato franchise teams complete Module 1 training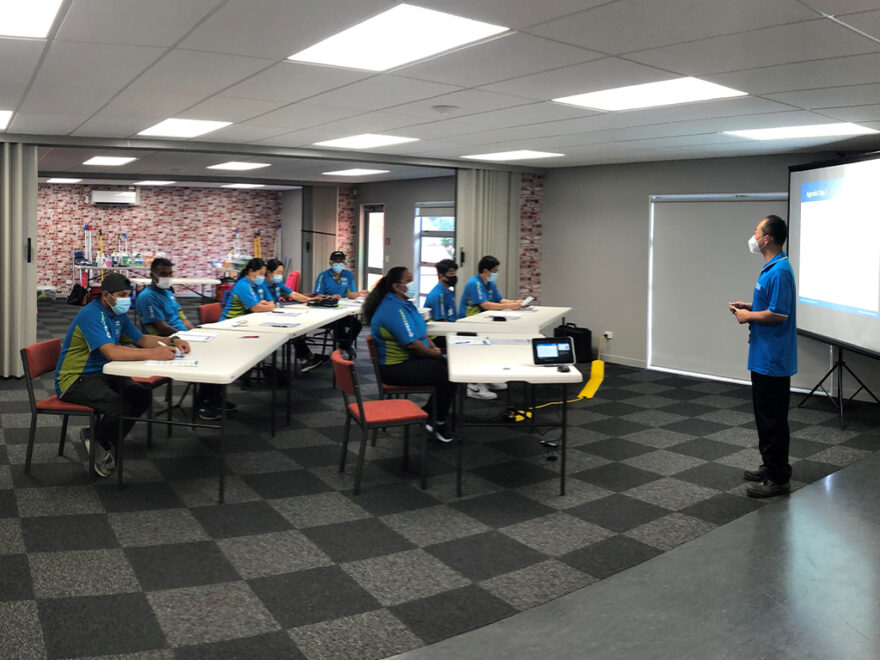 Waikato's newest franchise teams were pleased to be able to meet up and complete their Module 1 training last week.
A total of 17 franchisees and their employees undertook the training, in two intakes, which had been delayed due to Level 2 Covid restrictions.
"It was nice to get everyone together to expand on their knowledge," says CrestClean Waikato Regional Manager Nivitesh Kumar.
"Everyone was really pleased to be there because they had been waiting for a while."
The course, which was run by CrestClean's Master Cleaners Training Institute, covers Health and Safety, chemical preparation, safe use and safe storage of equipment, communications and security, as well as practical task training such as mopping, vacuuming, window and wall washing, damp wiping and polishing.
Module 1 now also includes an introduction on how to carry out a Pandemic Deep Clean — and following the course two franchise teams signed up for the specialist training.
"The management team is very pleased, as we are getting more and more Pandemic Clean callouts. Since the Waikato opened up, we are seeing more Covid locations of interest that require specialised cleaning and sanitising."
Waikato Quality Assurance Co-ordinator Jason Cheng says franchisees would usually complete Module 1 three to four months after starting their business and completing their Induction Training.
"It was supposed to happen the week we went into lockdown, but all of a sudden arrangements had to be changed," says Jason.
"But now they're happy they've done the training, and they have learnt a lot. The Induction Training is very practical, but Module 1 covers more about how to run a successful business. I used to be a franchisee and I enjoy sharing my knowledge and experience, to help them become confident business owners."