Jeffrey is bowled over to be selected for the Special Olympics National Summer Games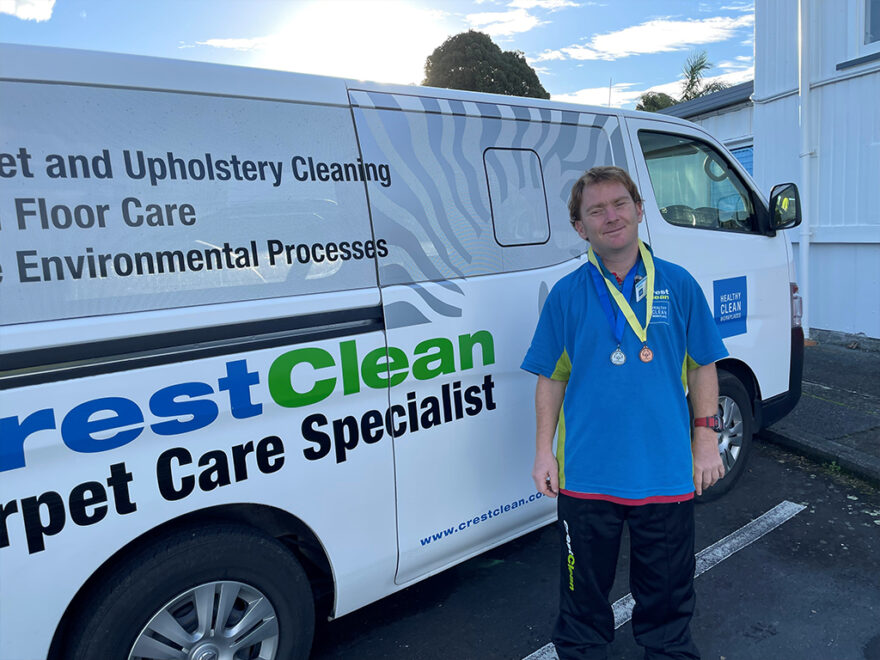 CrestClean's Jeffrey Ganley is excited to have been selected for the Freemasons New Zealand Special Olympics National Summer Games.
Jeffrey will be representing Special Olympics Whangarei in indoor bowls, after his team was placed at regional competitions last year.
One of the country's largest multi-sport events, the games will be held in Hamilton in December, bringing together over 1500 athletes and coaches from around New Zealand to compete in four days of competition.
Like the Olympics and Paralympics, the games follow a four-year cycle, having been postponed last year due to Covid restrictions.
"I'm very excited to be going. It's lots of fun," says Jeffrey.
"I like getting out there and trying something new and making friends."
Jeffrey has been working for CrestClean for almost a year, and Whangarei Regional Manager Kent Wilkinson says he is very popular with customers.
"He's very thorough with his work and all the customers like him," says Kent.
"I'm sure if he applies the same dedication to his sport, he'll do very well at the games."
Martin Barrie, of Special Olympics Whangarei, says Jeffrey is a talented indoor bowls player, who is well-liked by his teammates.
As his team's skip, he is responsible for captaining the team and directing them in the shots that they play.
"He thinks on his feet. He's very intuitive when he's playing and he's really supportive with his team," says Martin.
"Indoor bowls looks really easy until you try it. It's deceptively hard. Trying to keep the ball on that piece of carpet, considering the bias of the ball, is a really a tricky thing to do."
To qualify for the national games, athletes must attend regional events to assess both their sporting ability and resilience.
"It's the barriers they have to overcome to actually get there that we're more interested in, such as the emotional difficulties, the anxieties and everything else that goes along with it. They will be under quite a strict schedule, and they need to be able to cope with being away from home without the usual support around them," says Martin.
"But that doesn't mean they aren't competitive — they still very much want to win!"