Joining CrestClean is a "blessing" says Woodville franchisee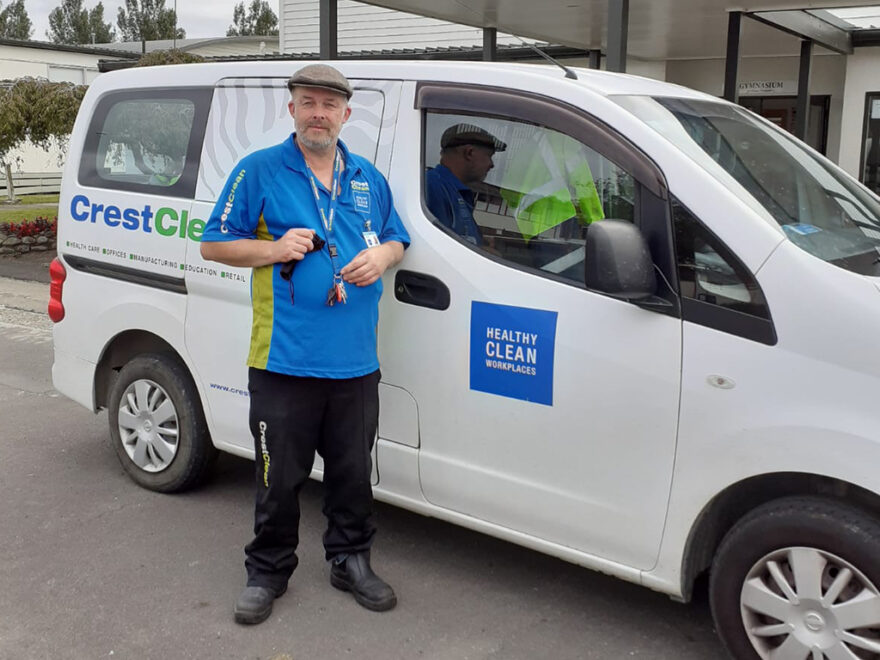 Chris Archer was working a 100-hour week and close to breaking point when a friend suggested he buy a CrestClean franchise.
At first he was hesitant, as he wasn't sure if he could handle a business on his own. But he soon learnt he wasn't on his own — help and support from CrestClean's Franchisee Advisory Service was only ever a phone call away.
Now, he is working shorter days, and his weekends are free to work on his two 1954 Morris Minors, a project he's had since leaving school.
"It's been a blessing to join CrestClean," says Chris.
"I feel a lot less stressed than before. I've got my weekends back which is nice. I've got a couple of classic cars that I'm doing up, so I can spend more time tinkering."
A printer by trade, Chris is not new to the cleaning industry, having dipped in and out of it for the past 15 years.
"I used to be a fulltime printer in Wellington and I had a part-time cleaning job for years. I could see that the printing industry was changing, and the gap between printers' and cleaners' wages was closing. I realised I was enjoying cleaning a lot more than printing, so I decided to work my way towards that."
At one point he owned his own cleaning business and, after moving to the Tararua region, he gravitated back to the industry.
He worked fulltime for a local cleaning company but, with staff thin on the ground, the hours kept on mounting up.
"I was working long hours, seven days a week. I couldn't get any time off and I got to the point where I was on the verge of being burnt out. One day I was driving the company vehicle for the previous cleaning company and I backed into a handrail — I just didn't see it. The damage was only small but it really upset me and I thought 'right that's it'," says Chris.
It was CrestClean franchisees Aroha and William Metuamate, who Chris had also worked for part-time, who encouraged him to explore other options.
"Aroha invited me to the regional CrestClean conference. I met all the senior managers from Dunedin and the local regional manager Shareen. I was really impressed. They had a talk to me and encouraged me to join and I thought 'why not?'."
"I was a bit nervous because it was all new to me, and owning my own business was a big change, but one of the things I liked about CrestClean was the effort they go to, to help you.
"I really appreciate what CrestClean's done for me. I've got a great regional manager and I've met some wonderful people, it's really good. And, at the end of the day, this type of business has got a strong future."
Palmerston North Regional Manager Shareen Raj says Chris is enthusiastic about his work and respected by his customers.
"Chris is highly experienced in cleaning and we are delighted to have him in our CrestClean family. He is a person who deals with situations calmly, respectfully and professionally, and he is always willing to help out whenever needed."