Sharing the load… Wellington franchisees recognised for helping others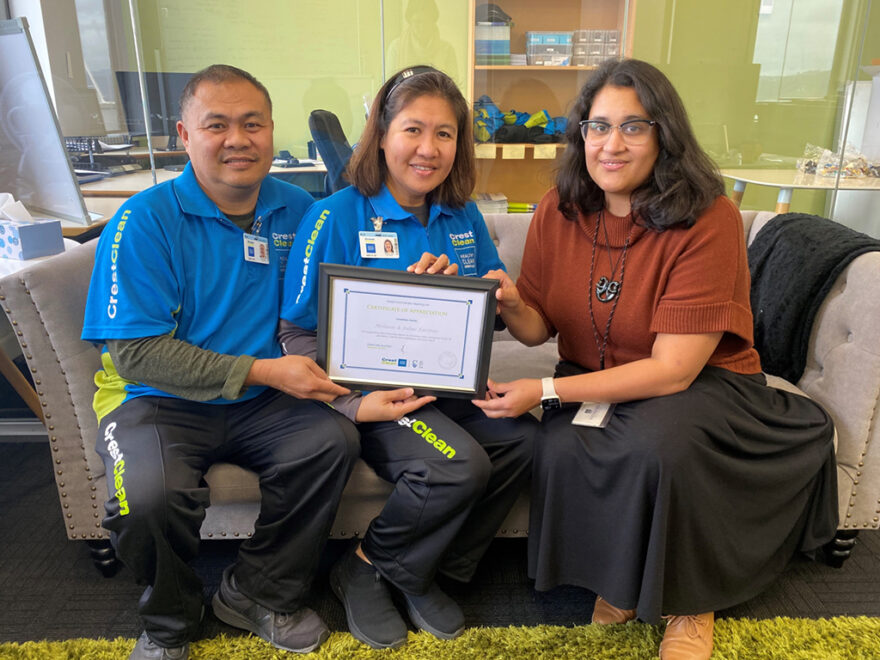 Wellington franchisees Melanie and Julius Farenas' willingness to help others has been recognised with a special CrestClean Certificate of Appreciation.
The couple were presented with the certificate for supporting other franchise teams by providing cover during the Covid-19 pandemic, and for their dedication and team spirit.
"Over the last couple of months as some of our teams have caught Covid they really stepped up to help cover those who have fallen ill. This has meant we have been able to continue to service all our customers during this difficult time and support our teams to have the time to recover and rest while infected with Covid," says Wellington Regional Manager Zainab Ali.

"Without hesitation they have offered and helped more than six franchisees who were affected by Covid. Their attitude and attention to detail means that we were all able to rest easy knowing this team was able to deliver high quality cleaning to our customers. It is a wonderful blessing to have them in our region, and their attitude to life and their business means that they will go far in CrestClean."
Melanie and Julius joined CrestClean in August last year and have already become induction trainers for the company.
They love having their own business and being part of the wider CrestClean team — and believe helping others is what makes the world go round.
"At one point we were cleaning three schools. We did that for a week because the franchisees needed to isolate. Another time, a franchisee's wife had a baby and then after the baby was born he got Covid. That time we had an employee who helped us cover the work," says Melanie.
"We just want to help. If we can do any work to help others, then we are really willing and happy to do so," says Melanie.
"When we had Covid another franchisee covered for us. We managed okay and I hope that next time if we are needed by other franchisees, we can help them again."