Fonterra recognises CrestClean franchisee's 15 years of service
When CrestClean franchisee Samy Goundar casually mentioned he had been cleaning Fonterra's Hamilton site for 15 years, he never expected the fanfare that followed.
Next thing he knew, he was presented with a specially designed certificate and gift cards totalling $300.
Fonterra Team Leader Pokai Morunga says Samy is a role model in what he does and how he conducts his work.
"We wanted to acknowledge the dedication, longevity and fantastic work Samy has done at Crawford Street site He is approachable and friendly with all the staff and considered one of the team," says Pokai.
"The quality of Samy's work sets the standard that the rest of the staff follow and appreciate. Any issues that arise Samy is prompt and efficient in taking care of. Not only has Samy serviced Crawford Street Cool and Dry Stores, he has also picked up the servicing of our Transcend Automation Village. All in all, Samy's work is very much appreciated and is more than deserving of recognition."
Samy says the presentation of the certificate and gift cards came as a complete surprise.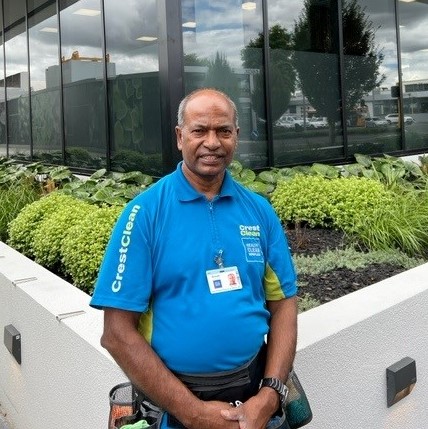 "One day I was talking to the manager and I said, 'Do you know that I've been here for 15 years?', so he went and checked and then they came up with all those things. I was over the moon to get that recognition from them."
Since Samy started servicing the Crawford St site he has seen a lot of changes — it has grown from being a dry store and administration block, to also housing a cool store and now a new automation project is underway.
Samy is responsible for not only the day-to-day cleaning, but also hard floor, carpet and window cleaning, as well as providing a sanitising service.
"I'm a one-stop-shop," he laughs.
"They are really good people, and I've built up some good work relationships with both the workers plus the managers. I've seen a few managers come and go, but they all clicked in really well with me. I am happy that they really appreciate what I do. They know that I do a good job."
He says the Fonterra certificate will take pride of place on the wall of his home office, alongside long service and training certificates that he has received from CrestClean.
CrestClean's Waikato Regional Manager Nivitesh Kumar says Samy has a "positive attitude towards everything".
"He always communicates with his customers with a smile and all his customers know him by his name, which shows the very healthy relationship he creates with all his customers. Fonterra management staff have been very supporting and respectful towards Samy all these years, which is a rare find in this day and age."