South Canterbury franchisees put their best foot forward for team meeting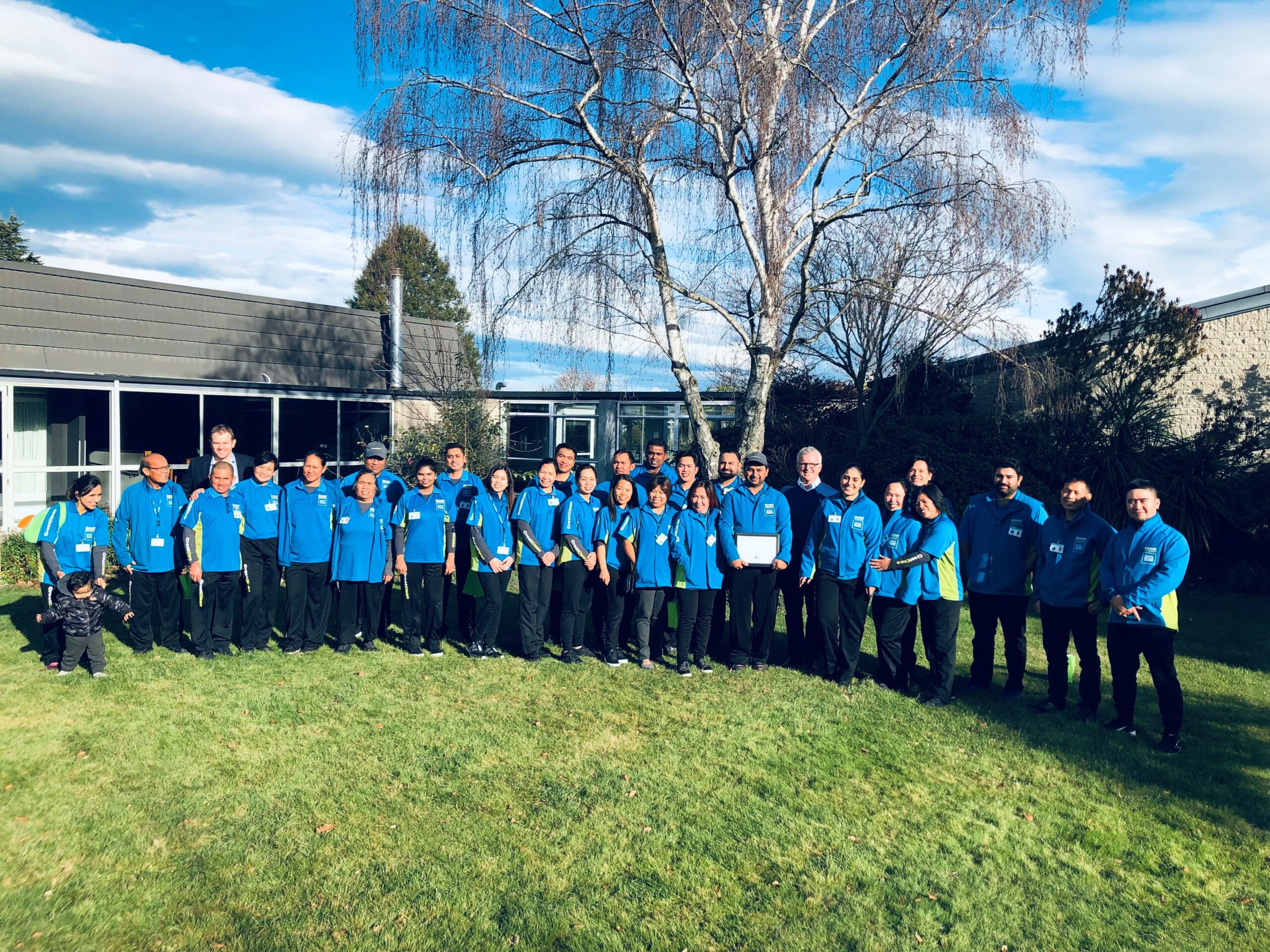 Could these be CrestClean's sharpest dressers?!
In South Canterbury there is an 'unofficial' competition amongst franchisees for best dressed at the annual regional team meeting, and this year they did not disappoint.
All 21 teams who attended the 2022 team meeting took great pride in turning up in their CrestClean uniforms.
"I guess you could call it a self-governing competition!" says South Canterbury Regional Manager Rob Glenie.
"You'll have a very professional looking team one year and the next year you'll see everyone trying to beat that team. It's become a bit of a thing. I almost think they keep one set of shirts just so they can turn up and look good at conference – the shirts always look brand new."
Rob says it's something he reinforces in his twice-monthly emails to franchisees.
"I always let them know how important the uniform is because it's our main form of advertising. It's great to see them taking that on board."
This year's conference was held at the Hotel Ashburton Conference Centre, with franchisees travelling from Waimate, Timaru, Methven and Leeston to attend.
"People made a real commitment to come to the meeting — one team travelled an hour and half to be there," says Rob.
"It was great to see teams chatting to each other and sharing ideas. We had four new teams who have started in the last six months, so it was good opportunity for them to meet everybody."
CrestClean's Managing Director Grant McLauchlan and General Manager of Franchise Services Sam Lewis gave a presentation at the meeting, noting the region's 18% growth, which was three times that of the national average.
And special awards were presented to Michael and Rosa Rigor, who were awarded Franchisees of the Year 2022, Randeep and Kiran Singh, who were named Franchisees of the Year 2021, and Samreen and Tejbir Singh Dhillon, in recognition of 3 Years' Long Service.
"Afterwards, Grant and Sam enjoyed a shared lunch with franchisees. They went and sat at each table and had a chat with everyone. There are not many companies where you get to sit down and talk to the owner. It makes everyone feel part of the team," says Rob.