Successes shared at Christchurch team meeting
CrestClean's Christchurch franchisees enjoyed catching up and sharing their successes with each other at the recent regional team meeting.
Held at the Richmond Club, the meeting was attended by CrestClean Managing Director Grant McLauchlan and General Manager of Franchise Services Sam Lewis, who shared important updates and recognised franchisee achievements with the presentation of special awards, followed by a shared lunch.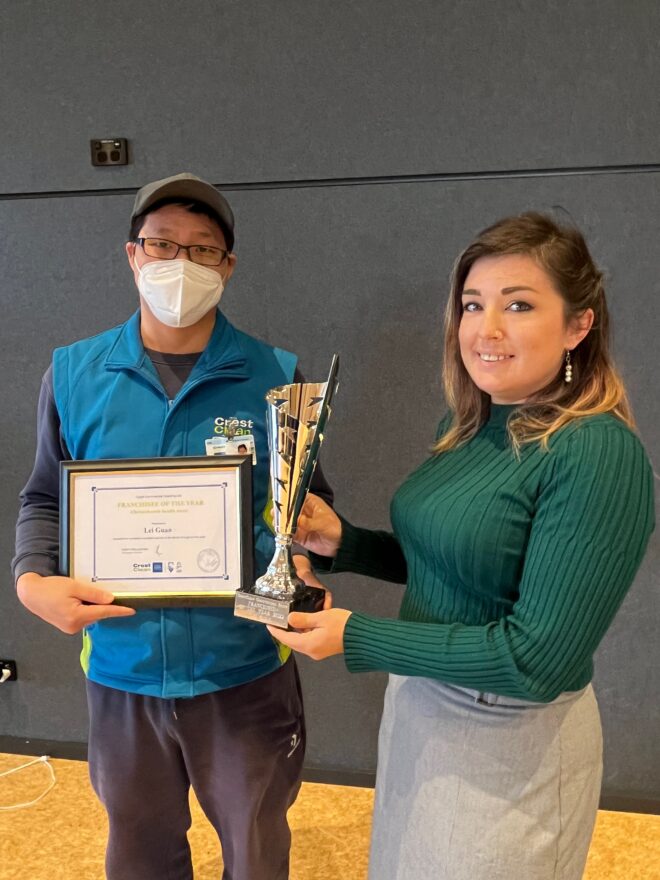 Franchisee of the Year for Christchurch South was awarded to Lei (Carter) Guan, while four franchisees received Long Service Awards — Wei Li (10 Years), Ming Liu (7 Years), Malkit Singh (3 Years) and Fazeel Ali (3 Years).
A Certificate of Excellence was also presented to Puava Fiamalua, Mokian Kani, Tepola Kani and Reupena Alap.
Christchurch South Regional Manager Gina Holland says the team meetings always have a "positive vibe" and this year was no different.
"It's great to see our newest franchisees meeting some of our more established teams, making new connections and building their support system," she says.
"It was wonderful to be able to recognise Carter as our Franchisee of the Year. Carter has quickly established himself as a hero for last-minute jobs and specialised cleans, and his franchise business is going from strength to strength every year.'
Christchurch North Regional Manager Yasa Panagoda says it was a productive and enjoyable meeting, with plenty of positive feedback from franchisees.
"It was great to see people excited. They wanted to know about the company's growth and quite a few people asked how we can support them to grow their franchises to become large, successful business," he says.
"Overall, they were a very happy bunch of people."
Awards and Certificates: Christchurch Regional Team Meeting 2022