Thanks for having us SPANZ!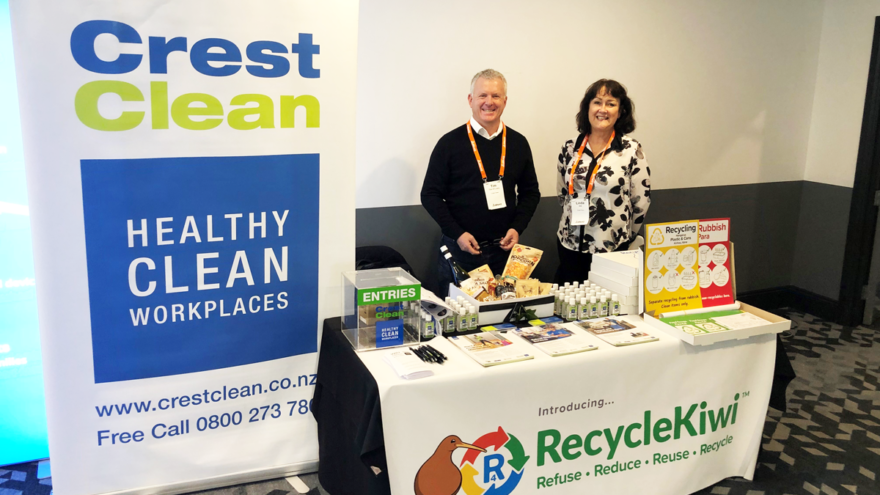 CrestClean had a great time catching up with everyone at the annual Secondary Principals' Association of New Zealand (SPANZ) Conference in Queenstown.
Held at Rydges Lakeland Resort, on the shores of Lake Wakatipu, it was a really positive event, and an opportunity to both catch up with existing customers and foster new relationships.
"Those that we already provide a cleaning service to were really, really happy, with a surprising number of new schools interested in having quotes done for them," says Auckland East Regional Manager Linda Hill, who attended the conference together with Managing Director Grant McLauchlan.
"I was pretty impressed with how many people came and talked to us, how many had positive outcomes from our cleaning services and how many people were interested. It was certainly worth going," says Linda.
CrestClean pens and hand sanitiser giveaways were well received, while information flyers about our services were included in delegate goodie bags.
A gift hamper, containing speciality foods, attracted a lot of entries, with the lucky winner being Botany Downs Secondary College Principal Karen Brinsden.
"The SPANZ Conference is a great opportunity to catch up with sponsors and businesses at the trade stands. It's a wonderful chance to review current suppliers with what potential new suppliers have to offer. Thank you to Crest Clean for their delightful gift hamper of treats," says Karen.
As a Bronze Sponsor of SPANZ since 2017, CrestClean is proud to support what is the only independent organisation representing New Zealand secondary principals. SPANZ's role is to represent the view of secondary principals at the policy development and policy implementation level within Government, the Ministry of Education, the Education Review Office and the Teaching Council.