Cleaner names puppy after Invercargill's newest hotel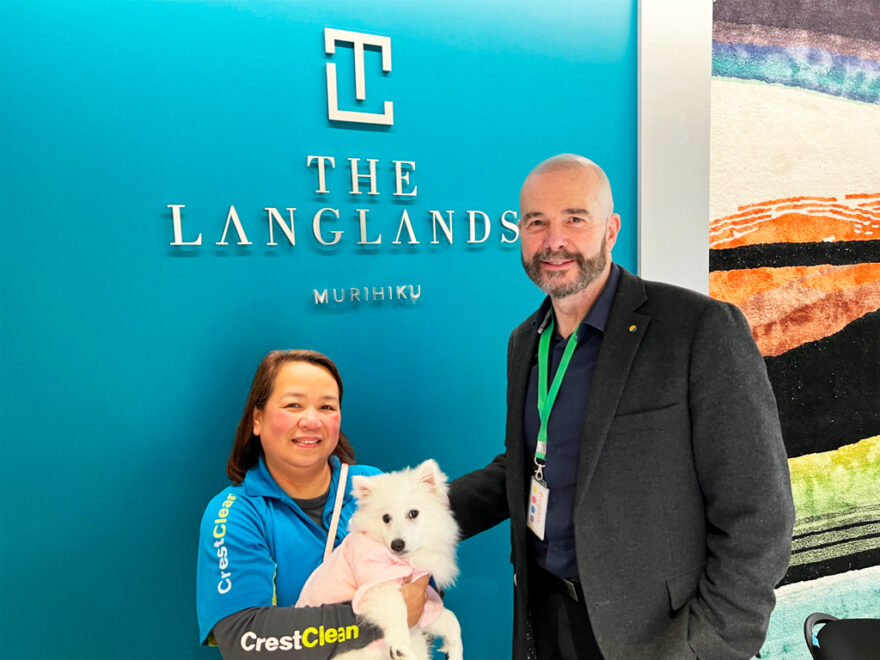 It might have been named after one of the city's forefathers, but Invercargill's soon-to-be-opened The Langlands Hotel now has a new namesake.
After months of cleaning the hotel, section by section as it has progressed, CrestClean franchisee Tess Jabonitalla has named her new puppy 'Langley' — a combination of the hotel's name and that of the construction company Leighs Construction.
The cleaning work at the hotel provided Tess with an additional income above and beyond her usual contracts, which enabled her to buy the much longed-for Japanese Spitz.
"That's where I got the money from, so I thought it would be a good name," says Tess.
"And she was born in April, which is when I started cleaning the hotel."
Tess, who studied animal science and veterinary medicine and worked for the Department of Agriculture for 10 years in the Philippines before moving to New Zealand, lost her one-year-old German Shepherd two years ago in an accident and had been wanting to get another dog.
"Japanese Spitz has been my dream dog since college because it was one of my first patients at veterinary school. She's really cute, she's the perfect size, not too big and not too small," says Tess.
"She's a great stress reliever. When I come home from work she jumps up and gives me cuddles. She's very spoilt."
The hotel is named after Scotsman William Langlands, an architect and Justice of the Peace, who bought and developed the land on which it is situated in the mid-1800s, constructing several buildings.
The Langlands Hotel Executive Manager Bryan Townley says it was a pleasure to meet Tess and Langley in person.
"We are honoured to think that the naming of Tess's dog has such a relevance to The Langlands Hotel. When Tess arrived on site with Langley the team here all melted. As a dog lover myself I feel particularly proud to know there is a dog with a special connection to the hotel," he says.
"We have been so impressed with CrestClean during the preparation process of the hotel and hand over from Leighs Construction. It certainly has been a large undertaking. CrestClean's standards and professionalism have certainly provided my team with a real head start to get the hotel ready for opening."
CrestClean's Invercargill Regional Master Franchisee Glenn Cockroft says he was "tickled pink" when Tess told him what she would be spending her additional income on.
"I lost my own dog a month ago, so I found it particularly heart-warming that she'd bought a puppy and named it after the hotel where she had worked," says Glenn.
"The Langlands has been an extremely large job for all of our teams that have been involved. Invercargill is going through an exciting growth phase, and CrestClean is proud to be supporting developments like this across the city with our services."