Karl is living a much lighter life — in both mind and body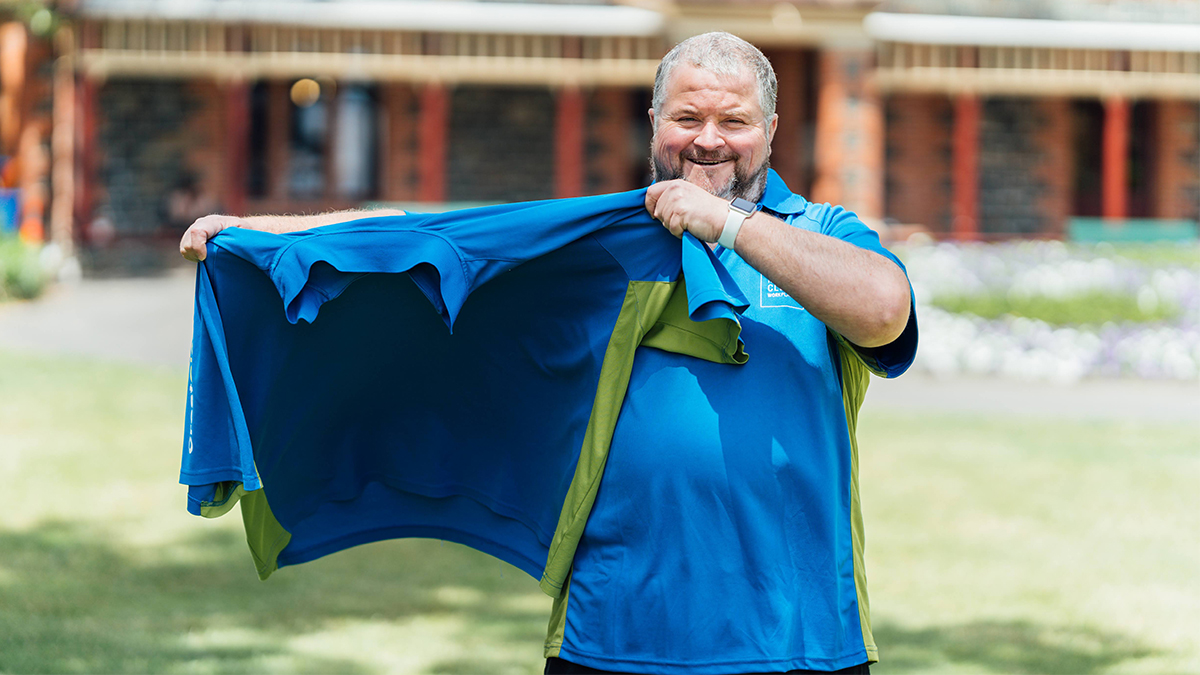 Karl Parker used to have the weight of the world on his shoulders.
Now, as the proud owner of a CrestClean business, he is leading a much lighter life — in both mind and body.
"Coming to CrestClean was the best move I ever made. I'm fitter and healthier and, most importantly, it's given me the confidence to be back out in the world again," says Karl.
Since he started his cleaning business three years ago, he has lost 52kg, dropping in weight from 178kg to 126kg — or as Karl like to put it, "115 blocks of butter".
"You wouldn't believe how much easier it is to work when you're not carrying around all that extra weight," he says.
His secret? Following a healthy diet and approaching his cleaning work with the energy and enthusiasm of an exercise routine.
"I've made it a goal that when I go to work I basically treat it like a workout. I put one headphone in so I can still hear what's going on around me, and I go for it!"
While Karl's weight loss is a huge achievement, there is more to his inspirational story than meets the eye.
Ten years ago, Karl was brutally assaulted by three men on his way to work as a supermarket store manager.
Over the weeks and months following the attack his life started to unravel as unresolved trauma from his childhood came to the surface, leaving him unable to hold down a job.
"My career started to take a big turn for the worse. I knew something was wrong, I started hating being around people and had no trust in anyone. It wasn't like me, I'm usually a very friendly, cheery guy," he recalls.
After suffering a major panic attack, he was diagnosed with post-traumatic stress disorder and depression and spent the next six years getting his life back on track.
"I'd spend days inside my room with the lights off, and each time I tried to go back to work I ended up having another break-down. Going into town shopping was like running a marathon, that's how much it took out of me," he says.
"Then I started seeing an amazing psychologist who gave me a 'tool-box' for my brain. I stopped blaming everyone else, looked at myself in the mirror and realised I was the only one who could change myself. I let go of the past and started looking forward."
When he was ready to go back to work, Karl says a CrestClean franchise "sung out" to him as it enabled him to be his own boss, with flexible hours.
"I figured out for me to beat it, I needed to take that last step and get back into normal life. I needed something that I had to turn up for each day. So, three years ago I brought a CrestClean franchise and have enjoyed it ever since. Being your own boss is awesome. It's not even like working if you love what you do," he says.
"I have a good rapport with my customers and I've got my people skills back. It's good to finally get my confidence back."
Karl was compelled to share his story after attending a CrestClean regional team meeting, at which franchisees were introduced to the company's 'Bouncebackability' website, which provides resources for mental health and wellbeing.
The website talks about building resilience and encourages people to look after not only their own wellbeing but also those around them.
Karl says in the future he would like to work with an appropriate organisation to inspire and encourage young people who are struggling.
"I'm glad it came out because it made me a stronger person. I want to help people face their problems when they're young and there's plenty of help available to them. What I learnt is your mind and brain's a pretty powerful tool and if it's turned against you, it really hurts you, but I turned it around to be my friend instead of my enemy and I've never looked back since."
Meditation, listening to music, writing and reading are just some of the ways in which Karl looks after his own wellbeing.
He sees his weight loss journey as an outward expression of his improved mental health.
"I decided I really needed to work on the one thing I've never really got on top of, my weight. My goal is to be healthy in body and mind."