Queenstown franchisees excited to be building their first home
The Queenstown housing market can be a tough one to crack, but CrestClean franchisees Ronald Prasad and Samantha Prakash have done it!
The couple are excited to be building a brand new 3-bedroom home, with an attached 2-bedroom unit, in a picturesque subdivision at the foot of The Remarkables mountain range.
"We've worked hard for the last 2 and a half years. We had a plan, and as soon as it got traction, we put in even more effort and it really worked well," says Ronald.
"I never thought I'd build my own home, but it's better to try instead of just thinking about it. We really love it here in Queenstown. It's pretty chilled, not too busy."
Ronald and Samantha bought a CrestClean franchise three years ago, which they have since grown by more than 50 per cent.
"We have friends with CrestClean businesses in Queenstown and a few other places as well. They are all happy and have their own houses, and that really motivates me," says Ronald.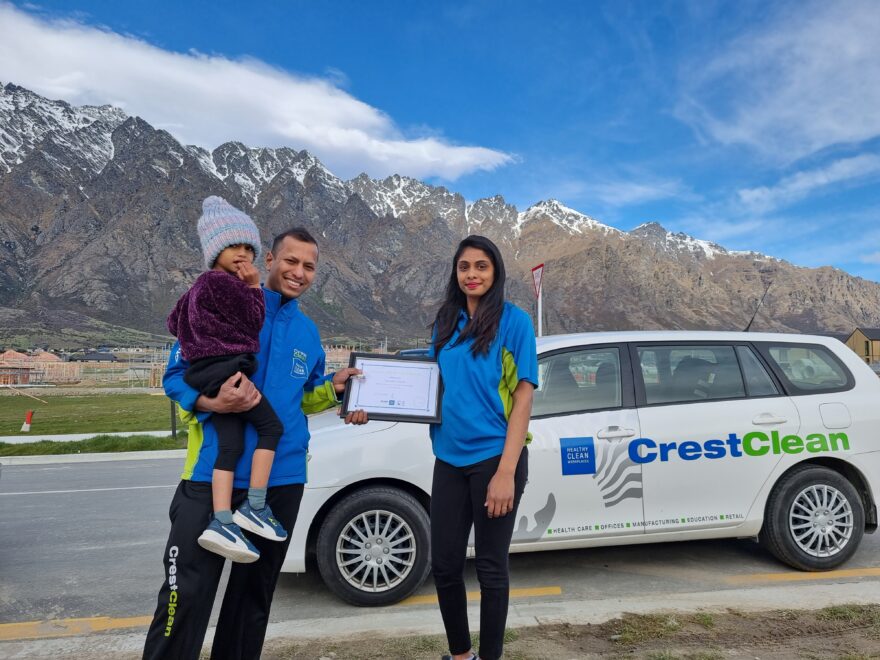 "Since we joined CrestClean everything has changed. I'm really happy with the way our business is going. It's doing really, really well."
Both Ronald and Samantha also have 'day jobs' — she works as an early childhood teacher and he does a few shifts at a hotel as a chef.
"I've been a chef for nine years, four years in New Zealand and five in Fiji. I got this opportunity, so I started doing both, but as our business grows I'm doing less cheffing," says Ronald.
"I moved to New Zealand for better opportunities and to grow my career. I never planned to own my own business but I'm really happy. The biggest thing is the flexibility — there are no fixed times, I can decide when to work."
The couple have a three-year-old daughter, Royalin, and say the flexibility makes a big difference to family life.
"We get to spend more time together, it works well."
Danny Mastroianni, CrestClean's Queenstown Lakes and Central Otago Regional Master Franchisee, says Ronald and Samanatha's home ownership achievement is yet another example of how the opportunities offered by CrestClean can make dreams come true.
"These are the most rewarding moments for me as a Master Franchisee, to see all the business growth and life changing moments of our franchisees.
"Ronald and Samantha are a great example of hard work, responsibility and commitment. When they started three years ago, they wanted to buy a house. They worked very hard and now having it is almost a reality. I am so happy and proud of them. They really deserve it."