Waikato Hard Floor Care graduates a shining example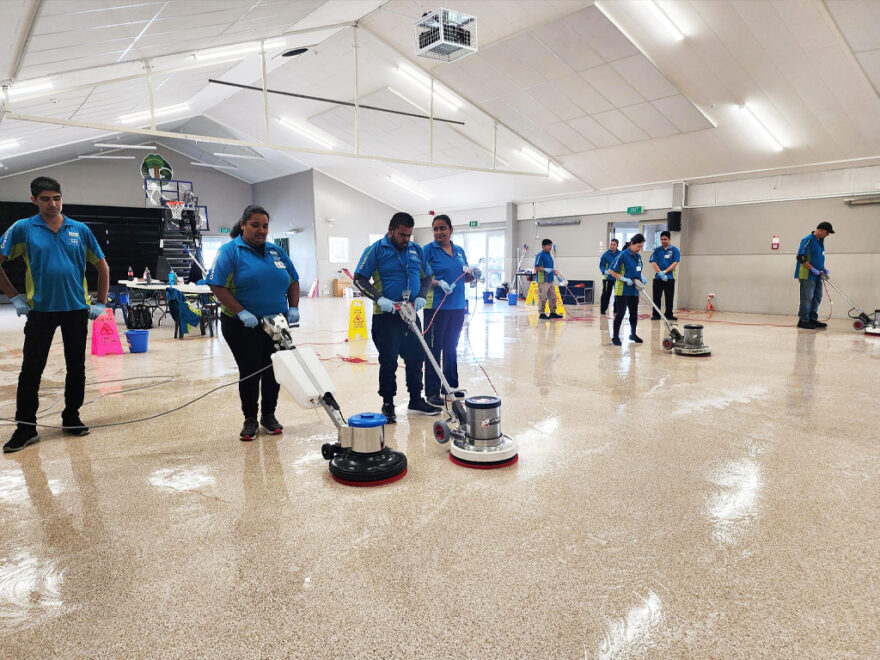 The latest intake of Waikato franchisees to complete their Hard Floor Care training are a shining example to others, says Master Cleaners Training Institute trainer Fiza Rahiman.
"We had 100 per cent attendance and everyone came fully prepared with all the correct equipment, which we really appreciated. The commitment they showed during the course was outstanding."
Ten franchisees from seven teams took part in the three-day course, which was held at Glenview School in Hamilton. The school is a customer of franchisee Bijendra Kathait, who was one of those attending the course.
"Franchisees can't provide a Hard Floor Care service to their customers unless they have completed the training. It's important that they are competent with the machines they are using and that they have a full understanding of the chemicals that are involved," says Fiza.
"There are lots of different floor types and using the wrong chemicals and equipment can ruin a floor and be a costly mistake."
Customers are increasingly choosing more sustainable flooring options, such as bamboo and wood, which need special care, he adds.
"We hold a refresher course every year to ensure our Hard Floor Care specialists are kept up to date with the latest types of flooring and how they should be cared for."
Regular floor care is also important in prolonging the life of a floor, says Fiza.
"If you keep something clean it will last longer, and of course each time it's cleaned the customer gets a nice shiny floor."
All of those franchisees who completed the course to become Hard Floor Care specialists have school customers, who require floor polishing each term.
"It means they are no longer reliant on other franchisees to do the floors in their schools, and they can earn extra income by looking after their schools' hard floor care requirements," says Waikato Regional Master Franchisee Nivitesh Kumar.
"Congratulations to the franchisees in achieving the title of Hard Floor Care Specialist, it's a good title to earn."
Nivitesh says the demand for its Hard Floor Care services is increasing in the region, due to CrestClean's reputation for providing a high-quality service.
"Not only stripping and polishing, but also washing, burnishing and buffing, across lot of different sites. People know that CrestClean offers a full service and can be relied upon."