CrestClean proud to be helping meet high export standards at Silver Fern Farms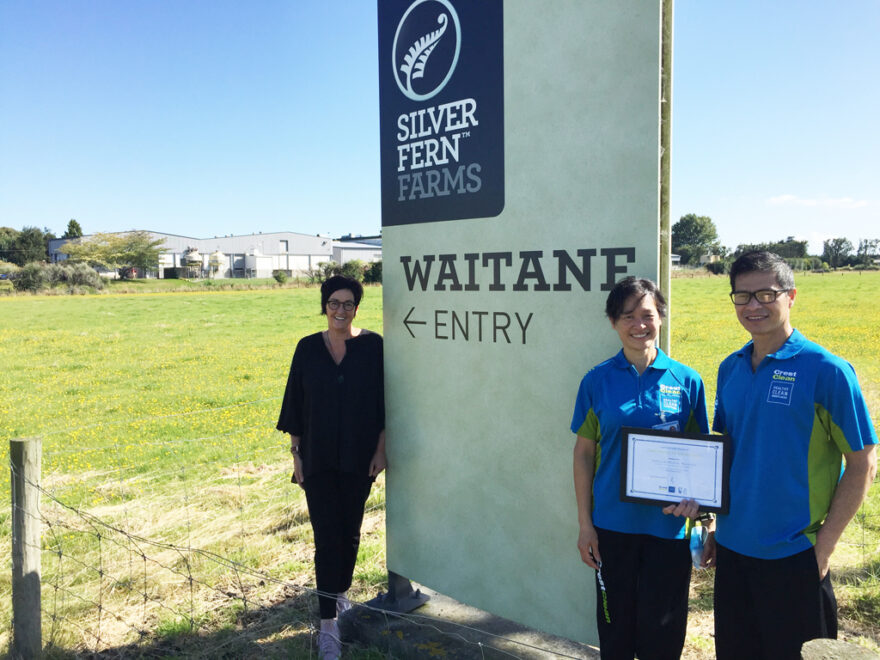 Hygiene is extremely important at the Silver Fern Farms' sheep and beef processing plant near Gore.
The Waitane plant is regularly audited to ensure that it meets strict overseas market access requirements, and CrestClean is proud to be helping meet those standards.
Franchisees Christine and Millard Macairan have been cleaning at the site for the past two years, and Silver Fern Farms Waitane site manager Bronwyn Cairns says, "it's the best thing we've ever done".
"They're amazing. They do all of the office blocks, the dining rooms, the amenities blocks, toilets, showers, all the portacom offices… they're like little fairies, they come in at night when nobody's here and the place is spotless the next morning," says Bronwyn.
Last year, Waitane was named overall winner in Silver Fern Farms' annual site awards, and Bronwyn says Millard and Christine played a big part in the plant's success.
"We are audited for compliance all the time. We have overseas market access requirements that we have to meet, and they help us meet them. Hygiene is really important. All of the areas have to be pre-opped before starting — so they have to follow a cleaning programme and use specified cleaning products."
After winning the award, everyone on site was gifted a bag of meat products, to say thank-you, including Millard and Christine.
"They're as much a part of the team as anyone. We don't see them very often, but they leave very detailed notes, their communication is amazing. They have a really nice relationship with Linda, the office manager, where they can text each other if they need to. It's just really lovely," says Bronwyn.
"And they're so accommodating. Sometimes we do seven-day processing, and sometimes we go until 10pm, and they accommodate us every time. And we've been through Covid and there's never been a day that they've missed.
"From the very first meeting, I knew it was going to be really easy. It's the first time we've contracted out the cleaning and it's worked out really well."
CrestClean's environmental credentials were also an important consideration, with it being the only nationwide cleaning company to comply with the strict licence criteria set by Environmental Choice New Zealand.
"Moving forward as a company, sustainability is very important to us," says Bronwyn.
Millard is familiar with the agricultural industry, having worked on dairy farms for 12 years prior to joining CrestClean, and says he and Christine really enjoy working at Silver Fern Farms.
"They consistently appreciate us, which is a big deal for us. It keeps us doing our best," says Millard.
"We are proud to know that our little contribution has made an impact on the overall success of the plant."
CrestClean's Invercargill Regional Master Franchisee Glenn Cockroft says Christine and Millard are a fantastic couple who work very well together.
"I get continual great feedback from their clients, as they have embraced the CrestClean franchise model since starting with us two years ago," he says.
"They have continued to grow their franchise since the beginning, and it is just great to receive the feedback and comments from Bronwyn and Linda as to the appreciation that they have for them on site at Silver Fern Farms. They are in it for the long haul having also just purchased their first home in the area."