CrestClean Celebrates Success at Indian Business Awards 2022!
CrestClean is once again celebrating success after Viky and Nileshna Narayan, the company's Auckland South Regional Master Franchisees, won the Business Excellence in Marketing award at the Indian Newslink Indian Business Awards.
Viky and Nileshna were also finalists in the Business Excellence in Customer Service and Business Excellence in Innovation awards.
The prestigious black tie event was held in Auckland at the Trusts Arena and attended by more than 800 people, including Prime Minister Jacinda Ardern, National leader Christopher Luxon, Act leader David Seymour and New Zealand First leader Winston Peters.
"It was a great night. I was very proud to be representing such a strong brand in the market," says Viky.
"I would like to acknowledge the support of CrestClean's marketing department in contributing to this award. It's all about focusing on the basic customer touchpoints and getting the correct message out there, and the company as a whole is very good at doing that."
The panel of judges said: "We were impressed by the commitment to marketing principles, and ingenuity, especially with a large staff and mix of backgrounds. The business has continued to use marketing components, social media, handouts and brand marketing to strengthen their presence in the growing market. They continue to research trends and listen to their customers to ensure that the marketing develops to fit the needs of their customers."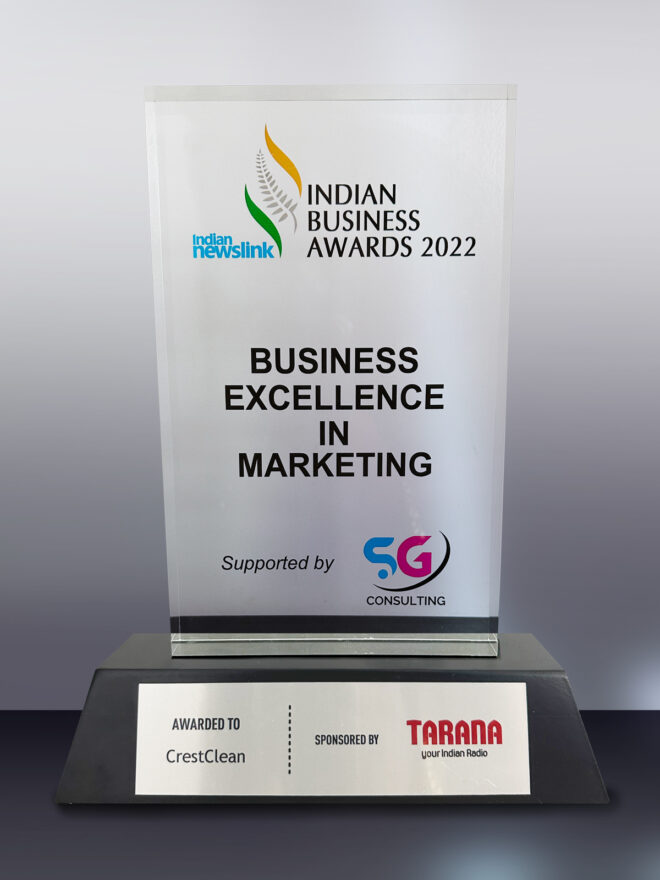 It is the third time that Viky and Nileshna have won the Business Excellence in Marketing award, having also been given the title in 2014 and 2015. They were also awarded Business Excellence in Innovation in 2015 and Business Excellence in Health and Safety in 2019.
The award was presented by Winston Peters and Neeta Bhushan, the High Commissioner of lndia to New Zealand.
CrestClean Marketing Director Rene Mangnus says, right from day one, the company has taken an innovative and forward-thinking approach to its marketing and advertising presence.
"Viky and Nileshna are very deserving of winning this award for Business Excellence in Marketing because over many years they have played their part very well in carrying out the marketing activities of CrestClean," says Rene.
"They have fully deployed all the various programmes and resources that have been produced for use by our master franchisees and franchisees. From promotional giveaways like Anti-Viral Sanitiser and 'Respect your School' posters in English and te reo Māori, through to the very popular RecycleKiwi resources, Viky has always been a strong supporter in his community.
"A chain is only as strong as its weakest link and when the links are strong the chain works very well. CrestClean's marketing team accolades Viky for the way he has participated in all our marketing activities, which in turn has helped him build a very strong business with great community foundations."