CrestClean franchisees celebrate long service with Bunnings
When Ajit and Alka Bhonsle started their CrestClean business, their first customer was Bunnings… so when it came time for them to celebrate seven years' long service it was the perfect location for them to receive their award!
Natalie Masoe, who is the store manager at the Bunnings Avondale Trade Centre, was pleased to hand them a framed certificate to mark the achievement.
Avondale is one of three Bunnings sites that Ajit and Alka provide cleaning services to, having built up a trusted reputation with the hardware chain.
"They are lovely. They're more than just cleaners to us, they're part of the team," says Natalie.
"From a service point of view, they are perfect. They always take the time to have a conversation and get to know our team, so we always know what's going on."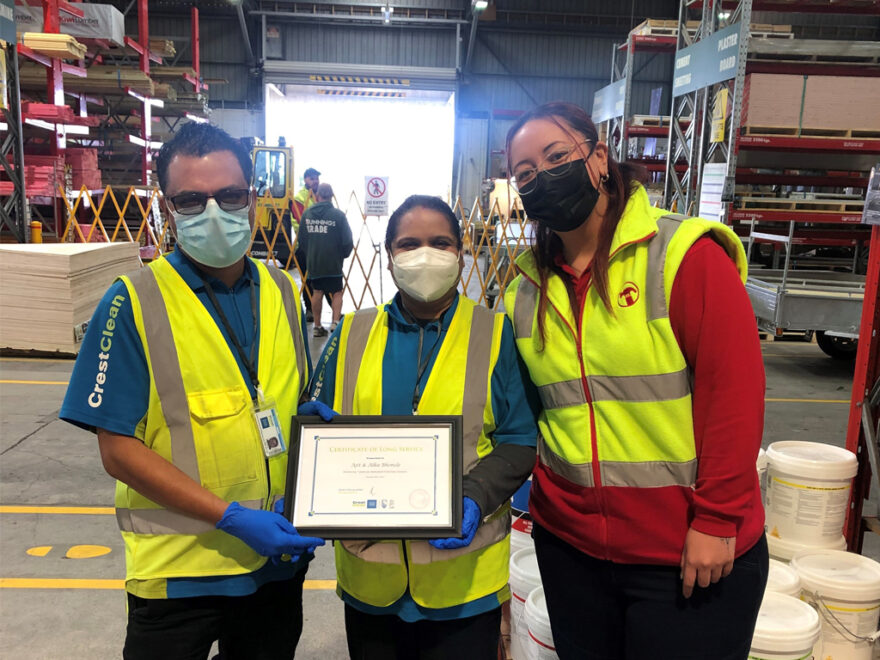 Health and safety is paramount at the busy site, as is the importance of having clean, hygienic facilities for staff to use.
"Here in the Trade Centre you've got to be mindful that you're working in pretty much a trade yard. There's forklifts operating all the time and traffic running right through the middle of the store, but Ajit and Alka know exactly what to do," says Natalie.
"Having a clean, hygienic workplace is very important to us, especially now with Covid being our 'best friend' for the last few years. They help us maintain our integrity around our hygiene in our stores and offices."
Ajit and Alka bought a CrestClean franchise in 2015, after it was recommended by friends. At the time, Ajit was working at a supermarket, where he was a duty manager and an assistant grocery manager.
Starting with a small part-time business, they quickly grew their turnover, and a year later Ajit left his supermarket job to concentrate on his franchise fulltime. Now they both work in the business fulltime, having grown its turnover four-fold — and four years ago they were able to buy their first home.
"We are happier than what we were doing before. CrestClean is like a family, they are very supportive," says Ajit.
"The hours are very suitable for family time. We can drop the kids off at school and pick them up. We are very happy with what we're doing. It has changed our lives."
Caro Wedding, CrestClean's Auckland West Regional Master Franchisee, says Ajit and Alka are "much valued" members of the CrestClean West Auckland franchisee family.
"Their understanding of their customers' needs is outstanding, and their work ethic and commitment to CrestClean and their business is a credit to them."