Danny's officially a Kiwi now!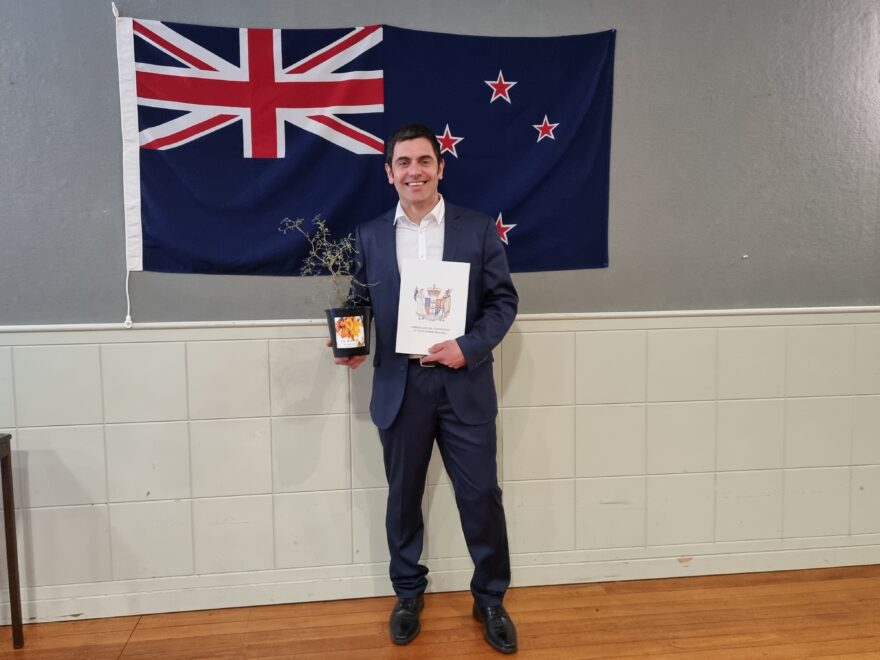 It's official! Fifteen years after deciding to make New Zealand his home, CrestClean's Danny Mastroianni can finally call himself a Kiwi.
Danny, who is the Regional Master Franchisee for Queenstown Lakes and Central Otago, is proud to have become a New Zealand citizen, after attending a special citizenship ceremony at the Central Otago District Council Chambers in Alexandra.
Welcomed with a pōwhiri, Danny was presented with a Certificate of Citizenship by Mayor Tim Cadogan, and gifted a kōwhai tree, to mark the occasion.
His immigration story was shared with attendees, which included 37 other citizenship recipients.
"It was like a movie in my mind, remembering when I first arrived and literally used to work between 90 and 100 hours a week, all the challenges with the language, and suffering some discrimination, but all that helped me to be resilient and to learn and grow," says Danny.
"It was all worth it. I love New Zealand and I love the people. This is my place. I'm so happy and proud. It's a big achievement."
Danny came to New Zealand from Uruguay in 2007 on a working holiday, settling in Wanaka where he found work at a supermarket.
After getting his residency and a year biking around South America, he returned to Wanaka where he purchased a CrestClean franchise in 2016.
Two years later, having built up a successful business, he became the Regional Master Franchisee for the region.
Danny says his early years in New Zealand were tough, and he almost gave up on his citizenship dream, but he's so glad he persevered.
"My breaking point was after about three years. I almost left the country because I was so tired of working so hard and I wanted to continue travelling. And they changed the policy for residency which made it very hard, but at the last minute I changed my mind and I said, okay, I will continue, and I continued a few more years and I got it!" he says.
"I knew from the first week I arrived in Wanaka that I wanted to live here. I met a lot of friendly people from all around the world, and I loved the environment. I thought, this is the place I want to live. Back in Uruguay, you have to work really hard just to survive. Here you can go out and work hard and you can make something."
Community-minded, Danny is a member of both the Queenstown and Wanaka Chambers of Commerce, and the Cromwell Business Network. He is also a founder of the Grow Wanaka community garden and Social Enterprise Southern Lakes. Now he is working on the creation of 'Latinos in Wanaka', a group to support Latinos and promote the Latin American culture in the region while also helping the local communities with different activities.
Now temporarily based in Cromwell, where the CrestClean regional office is located, Danny also runs a printing business and supports many local community groups.
"I joined CrestClean because I liked the fact that I could develop my own business, and now I get to help others achieve their business ownership dreams," says Danny.
"I enjoy being part of the community and the local business movement. The region has so much to offer — the outdoors, the landscape, the peacefulness and the community here are amazing. People support each other and everybody takes care and looks after the environment."