Santa helps CrestClean reward tidy Kiwis at Randwick Park School
At Christmas, children around the world leave cookies and milk out for Santa, but at Randwick Park School it was Santa who treated the kids to a tasty snack.
When CrestClean franchisees Reginald and Shafneez Chand visited the school to reward 'Cleanest Classroom' winners with pizza, Reginald thought it would be fun to surprise them by dressing up as Santa.
The Cleanest Classroom programme is run at many of the over 500 primary and intermediate schools that are cleaned by CrestClean franchisees, with the classrooms that are kept the cleanest in the school awarded a certificate and a prize at the end of the term.
Reginald says it was a decade-long dream to play the role of Santa, but until now he has never had the opportunity.
"It was a happy moment for me. I've been dreaming of doing this since my 20s. Now that I have the costume, I'm going to do it every year and make it a culture for me while I am with CrestClean," he says.
"The school agreed and was also happy and proud about it. We gave pizza to three classes – a junior and a senior class tied, and the junior class was joined to another class so we gave them pizza too."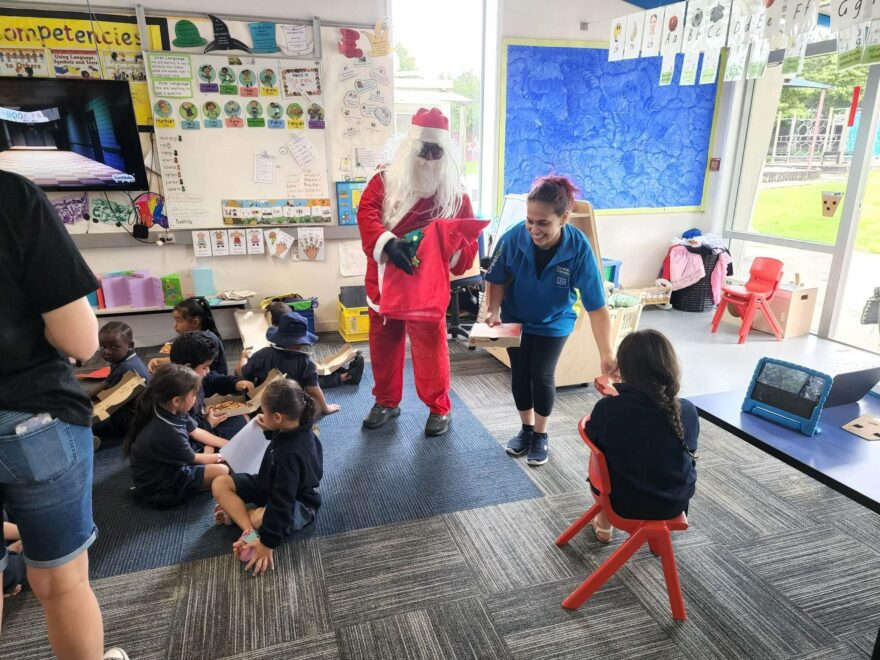 The senior pupils clocked that it was Reginald but the juniors were convinced it was Santa who was helping Shafneez hand out the pizzas.
"They were running towards me and hugging me. My most emotional moment was when one of the girls invited me to sit beside her and share her pizza with her.
"The funny thing is after I had finished and had changed back into my CrestClean uniform, I saw the kids running around in the playground looking for Santa, yelling 'Santa, Santa where are you?' So not everyone knew it was me!"
Reginald and Shafneez joined CrestClean a year ago and Randwick Park School was their first customer.
"Now we clean six sites, and we are really enjoying it. I can't wait to be Santa again next year, but next time I would like to get a CrestClean badge made to wear on my costume!"