Tauranga and Whakatāne teams celebrated at annual party
Congratulations to all the Tauranga and Whakatāne franchise teams who have received annual regional awards for 2022.
Due to the growth of the region and high calibre of franchisees, it was difficult to choose just one recipient for each of the awards so, in some cases, Regional Master Franchisee Jan Lichtwark chose two!
"There are over 70 teams in the region and it was hard to differentiate between many of them. It felt like more than one team needed to be recognised for the great work that they are doing," says Jan.
The awards were presented at the annual regional Christmas party, to those recipients who were able to attend.
"We had over 100 people turn up; it was the largest Christmas party ever! We didn't have one the previous year because of Covid, so everyone really enjoyed getting together and catching up."
Franchisees enjoyed a delicious buffet meal and at one point they even broke into song to sing an impromptu 'Happy Birthday' to Jan, who had recently celebrated a milestone birthday.
"To sum it up, all my teams are awesome," says Jan.
Tauranga Franchise of the Year 2022 Winners
Tauranga Franchise of the Year 2022 was awarded jointly to Aizel Diaz and Aileen Fernando, and Gurbaj Sidhu and Balwinder Sharma.
"Aizel and Aileen have grown their business into a very large business in a short space of time. The feedback we get from their customers is that they are a joy to work with, nothing's ever a problem and they get everything done," says Jan.
Aizel Diaz, left, and Aileen and Alvin Fernando were proud to receive their award from Tauranga and Whakātane Regional Master Franchisee Jan Lichtwark.
Gurbaj and Balwinder are also outstanding franchisees, says Jan.
"They have more than doubled the size of their business. They are good communicators and they never get any complaints. They are easy to deal with and they keep their customers happy."
Tauranga Rookie of the Year 2022 Winners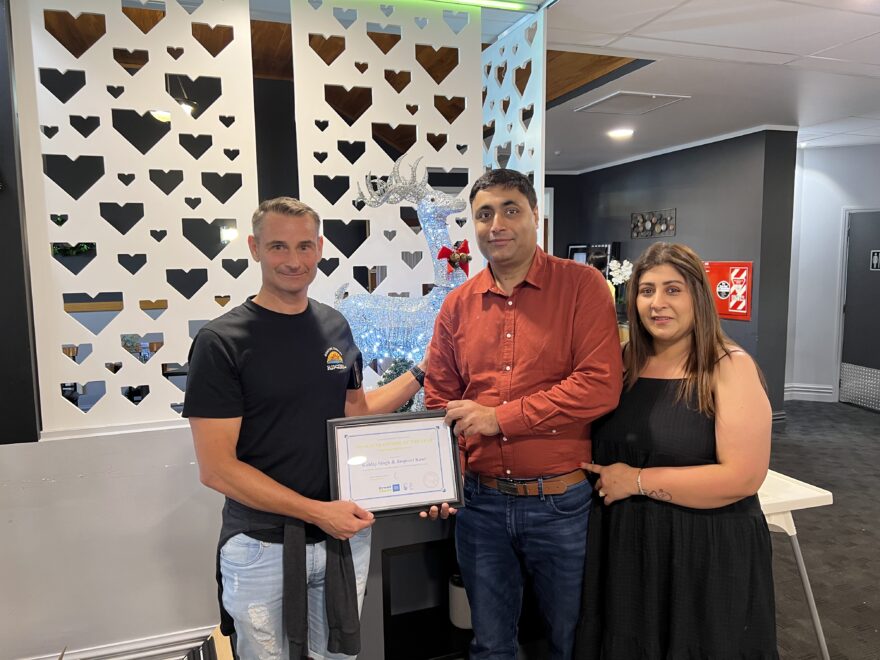 Tauranga Rookie Franchise of the Year went to Kuldip Singh and Jaspreet Kaur, and Kawalpreet and Sharanjeet Singh.
"Kuldip and Jaspreet bought their franchise less than a year ago and have already doubled it. They do the job well and their customers are happy, which makes it easier for them to get more work. They see the bigger picture and if there are any problems they look for their own solutions and fix them, which is great," says Jan.
"Kawalpreet and Sharanjeet have also done well, almost doubling the size of their business. They are very appreciative, always get their additionals in on time, are great to deal with and nothings ever a problem."
Sixteen new franchise teams joined CrestClean in Tauranga and Whakatāne in 2022, says Jan.
"They're all good, but it's nice to appreciate those who've gone out of their way to take all the advice and opportunities we've given them in their first year to be better business owners."
Whakatāne Franchise of the Year 2022 was awarded to Jerlyn and Lance Vermon.
"Jerlyn and Lance moved over to Whakatāne from Tauranga, and used their skills and great communication to impress all their customers. They accepted all challenges put in front of them, which is a credit to them and the goals they have for themselves and their family. They are always willing to help and work with the other teams in the area, and very quickly stood out as the Franchise of the Year," says Jan.
Whakatāne Rookie Franchise of the Year 2022 was awarded to Kulwinder Kaur and Aamandeep Sandhu.
"Within the first few weeks of their training we could tell Kulwinder and Amandeep would be great business owners and franchisees. Their attention to detail and willingness to learn about this industry helped them to become the Rookie Franchisee of the Year. I know they will continue this way and next year Jerlyn and Lance will have a fight on their hands for Franchisee of the Year!"