A valuable schools partnership for cleaning excellence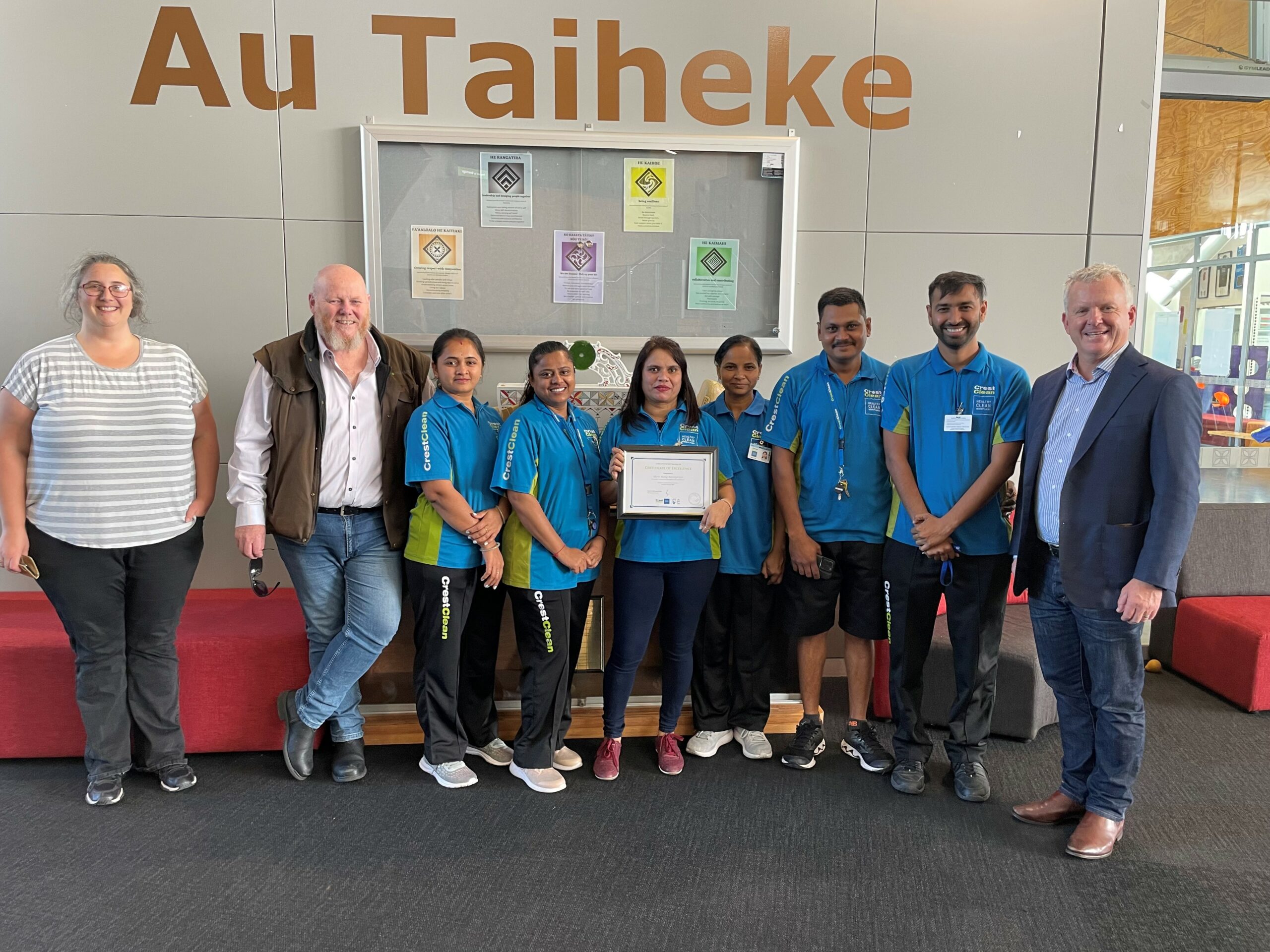 CrestClean is proud to provide cleaning services to six schools which are overseen by Programmed Facilities Management, in partnership with the Ministry of Education.
One of those schools is Haeata Community Campus in Christchurch, where the cleaning services are provided by CrestClean franchisee Smita Vaghela and her team.
After receiving glowing feedback from Programmed, CrestClean's Christchurch North Regional Master Franchisee, Yasa Panagoda, arranged for Smita and her team to receive a Certificate of Excellence, and gift vouchers so they could all enjoy a meal together.
Programmed was very supportive of the award, and attended the presentation by CrestClean's Managing Director Grant McLauchlan, which was held at the campus.
"It was a great pleasure to be present when the certificate was presented. This award recognises the hard work, pride and dedication that Smita and her team show every day," says Programmed Facilities Coordinator Suzie Mcbeth Rowe.
"The entire team is a pleasure to work with. Thank you for all your hard work. This award is well deserved."
Smita, who has one of the largest CrestClean franchises in Christchurch and whose team has been cleaning the school for the past five years, says receiving the award was really motivating for her employees.
"Programmed is really supportive and we appreciate the positive feedback. It's nice to know that they are happy with the service we are providing," she says.
"Everyone at the school is really friendly and helpful, it's an enjoyable environment to work in."
Programmed is the site facility management partner for a consortium that is in partnership with the Ministry of Education, as part of the Schools 1 & 2 Public Private Partnerships. The consortium (private funding groups) built the schools and Programmed manages the assets, facilities and maintenance, including cleaning services, under the guidelines of the agreement with the Ministry.
CrestClean provides various cleaning services to the schools including regular day-to-day cleaning, detailed sanitising of high touch areas as required, along with high dusting, pure water window cleaning, carpet cleaning, machine floor scrubbing every term – and the stripping and sealing of hard floor surfaces on request.
Before partnering with CrestClean, Programmed faced several challenges with their previous cleaning contractors, including staff retention and communication issues.
"Having previously had over 30 years management experience in the service industry including the cleaning and hygiene sector, I have a better understanding than most people of the challenges that come with running a cleaning operation — and staff retention and communication are generally the two big factors that cause issues," says Craig Stewart, Programmed Contract Manager Schools PPP.
"CrestClean's communication with Programmed was excellent, and they were responsive to any issues that arose. They were doing a really good job in Auckland, so we contracted them across our remaining four schools in Christchurch and Queenstown," says Craig.
Programmed's cleaning requirements were unique in that their sites were schools that needed to be cleaned regularly, while accommodating for outside-of-hours usage. CrestClean was able to provide the flexibility that Programmed needed to clean their schools without disrupting daily operations.
"Because of the size and nature of schools, and the associated challenges, we also have numerous special cleans and emergency callouts including floods. While these are a part of their contract, CrestClean's responsiveness to these requests is very good. It's well above normal standards, especially given some of the cleaning tasks are not 'normal and fair' duties. They never complain, they just get on and do it."
Programmed has "a horribly rigorous procurement and health and safety process for selecting service providers," says Craig. With cleaning having a high KPI profile with the Ministry of Education, CrestClean's performance was critical to Programmed.
"CrestClean provide cleaning services to such a level that it ticks our KPI box," he says.
Another big challenge that Programmed faced was managing security on their six school sites.
"CrestClean has a higher level of security management and they do better than most we have dealt with. Their staff wear uniforms with photo IDs, and they always introduce new staff onsite," says Craig.
Sustainability was also important, with the Ministry of Education looking to Programmed to lead in this area. They appreciated that CrestClean's services were licensed by Environmental Choice — and their commitment to environmentally responsible cleaning products.
"CrestClean's team has become a part of our team, we all get along great, and they work together to achieve Programmed's goals," says Craig.
"I would recommend CrestClean to other businesses and organisations. We are a people company and it's all about having the right people in the right place. CrestClean fits in with our team from their Senior Management team through to their cleaning teams – the relationship has been very positive."
CrestClean's Managing Director Grant McLauchlan says, "We are proud to work with Craig and an organisation that values our working relationship as a synergistic partnership, one that succeeds because we are all working together to achieve a common goal. Together with Craig's extensive industry experience, and CrestClean's high standards, we have been able to collaborate as a team to achieve an excellent standard across all of their sites."