CrestClean launches new programme to help franchisees get ahead in business and life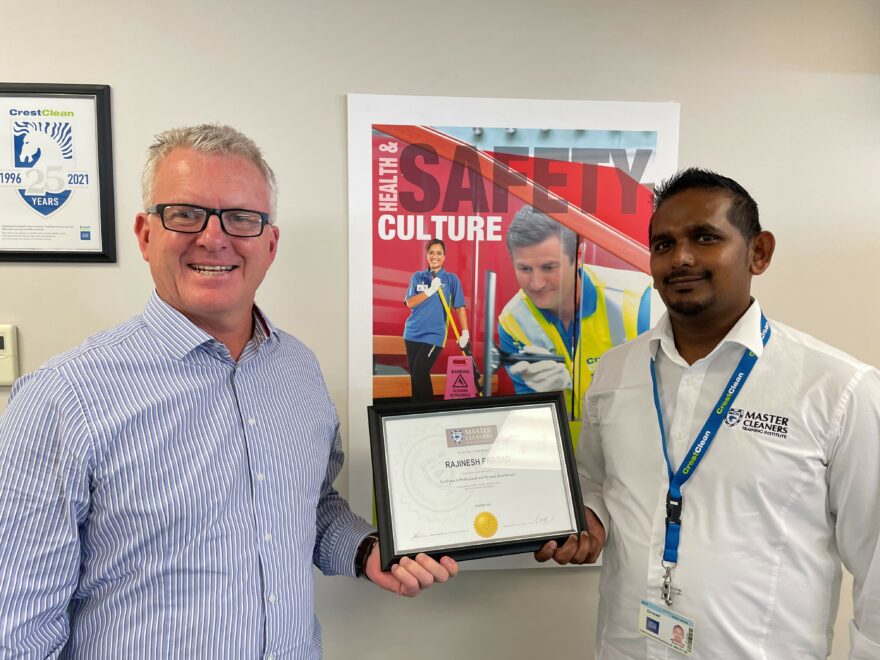 CrestClean has introduced a new business development training programme, aimed at improving the professional and personal success of its franchisees.
The Certificate in Professional and Personal Development is being offered by the Master Cleaners Training Institute (MCTI), CrestClean's dedicated training organisation that delivers industry leading, internationally recognised programmes to its franchisees.
The first CrestClean business owners to complete the programme, Rajinesh Prasad and Dan and Madhu Pariachi, were presented with framed certificates by the company's Managing Director Grant McLauchlan, who is encouraging other franchisees to take advantage of the free programme.
"At CrestClean we strive to help all our franchisees to not only become successful businesspeople, but to be successful in life as well," says Grant.
"This is a highly valuable course that has been developed by academic professionals. It covers a wide range of topics designed to improve business skills, as well as helping franchisees in their personal and family lives."
The programme covers personal goal setting, time management, managing stress and fatigue, assertiveness, listening skills, email protocol, budgeting, staying healthy, choosing and managing a business structure, and retirement planning, as well as advice around buying property.
Rajinesh, who has had a CrestClean franchise in Christchurch for almost eight years, and is an Induction and Module 2 Trainer with MCTI, says the course was really worthwhile and recommended it to others.
"It goes from start-up right through to retirement. It talks about your needs and wants, and long and short-term goals. There is a lot of good information about how to carry out your business and what happens during a recession," he says.
"A lot of it I have already been using in my business, which has helped me to achieve my goals, like buying a house. Now I'm thinking of investing in another property, when the time is right.
"I've already recommended the course to a few friends — I told them, if you want to be successful in your business and your life, you should do it."
Dunedin franchise owners Dan and Madhu say they also got a lot out of the course.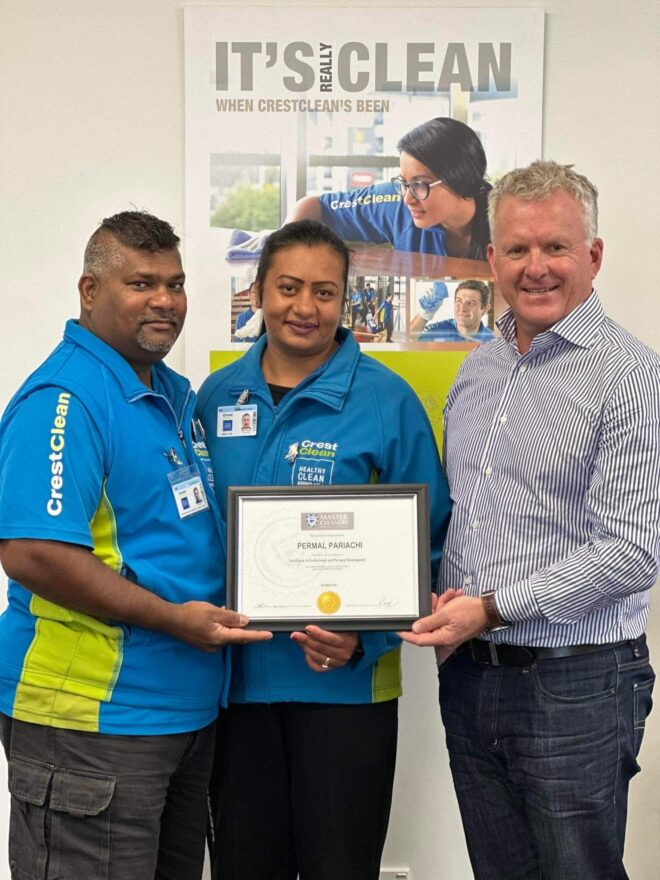 "It's really easy to understand and nicely laid out," says Madhu.
"Every franchisee should do this course. Many people don't set goals, they just buy a business to make money. The course really helps you to plan ahead," says Dan.
Dan and Madhu have had their business for eight years, and employ four staff. They are both Induction Trainers with MCTI, and Dan is also a Module 1, Module 2, Hard Floor Care, Carpet Cleaning and Pure Water Window Cleaning Trainer. In 2017 were national winners in the Business Services category of the Westpac New Zealand Franchise Awards.
"The Certificate of Professional and Personal Development was really interesting. There were lots of things you don't think about, like retirement. That caught our interest because we have already accomplished goals like buying investment properties, and now we are looking towards our retirement goals," says Madhu.
"For people who haven't reached the goal of buying property yet, it's very educational. There's a lot of ideas and budgeting plans to help you buy your first home."
MCTI general Manager of Training, Liezl Foxcroft, says CrestClean prides itself on its training programme.
"When I joined MCTI I listened and asked questions to see where I could improve and grow our training offering and many of the franchisees said they would love training on professional development," she says.
"The Certificate of Professional and Personal Development was developed by Marty Perkinson, a former lecturer at the University of Auckland Business School, and is available online to all CrestClean franchisees.
"It's a great resource to help them improve their business management skills, and set and achieve personal goals, as well as achieve their investment goals, such as planning for retirement. And once they have completed it, they receive a certificate to celebrate their achievement."