It's full steam ahead for Sri with new cleaning machine!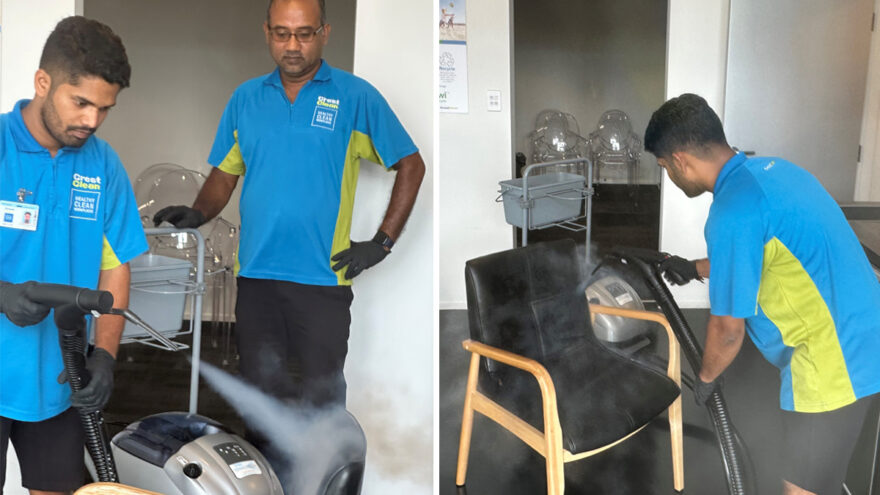 As one of CrestClean's most enterprising franchisees, Sri Gunasingam is always looking for new ways to increase his service offering to customers.
The Auckland franchisee's latest innovation is a leading-edge, dry steam cleaning machine, or 'steam vacuum', which uses high-temperature steam to clean and sanitise surfaces.
The Italian-made machine provides a comprehensive cleaning solution by integrating both steam cleaning and suction capabilities in a single device.
Dirt, grime and stains are loosened by the steam, while the vacuum function simultaneously pulls the debris and moisture into a collection tank, leaving the surface both clean and dry.
Generating 170 ºC steam, 99.99% of bacteria and viral agents are killed in the cleaning process. Dry steam cleaning is also an environmentally-friendly option, as it is chemical-free, uses minimal water and does not produce harmful fumes into the air.
"You can really see the difference, and my customers are very happy with the results," says Sri.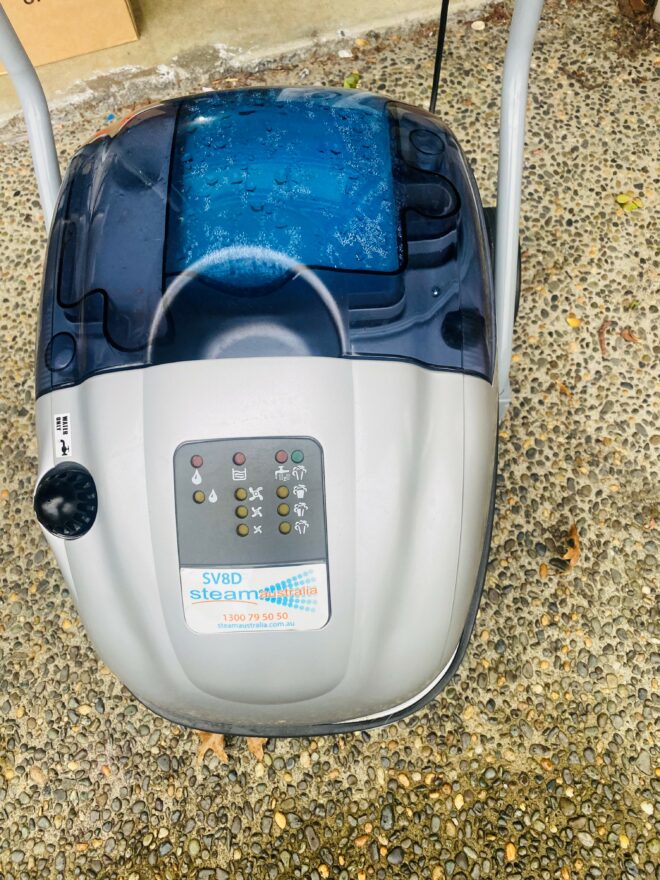 "It's particularly good for removing calcium build-up in bathrooms and getting stains out of carpets. I also use it to clean office chairs, which look like new afterwards."
Sri is offering steam cleaning as an additional service to his customers, to give a 'deep clean' to areas that need it.
"I recommend a deep steam clean for bathrooms at least every six months. It makes a massive difference, especially for cleaning showers, toilets, urinals, grouting and around taps and plugholes," he says.
Sri owns CrestClean's largest franchise, and his team also does a lot of 'one-off' initial and exit cleans.
"The dry steam machine is very effective for these more intensive jobs, and when customers see the quality of the work they are happy to pay for the additional service," he says.
"It's good for someone like me who does a lot of extra cleaning and I would recommend it to other large franchises."
Before purchasing the steam machine, a demonstration was given at a customer site, where a set of white, plastic chairs was cleaned.
The customer had intended to throw the chairs away as they couldn't get them clean with traditional cleaning methods, but after the steam clean they looked like new again.

"Steam cleaning can rejuvenate your assets and make then last longer, which saves you money in the long run," says Sri.
"And it's safe to use on almost all surfaces. I've used it to remove grease and tar from carpets, and it's very good on leather chairs, which we polish and buff afterwards."
It was CrestClean's general Manager of Training, Liezl Foxcroft, who introduced Sri to the steam machine, after seeing it at an International Sanitary Supply Association (ISSA) conference in Sydney.
"I had been looking for a steam machine that does hospital grade cleaning. They did a demonstration and it was fantastic. I came back home and found a supplier, and got them to show it to some of our trainers," says Liezl.
"Bacteria is becoming more and more resistant to chemicals. We need to be prepared for the future, particularly when it comes to healthcare cleaning, which is one of CrestClean's specialist services."