CrestClean shines at Taranaki Chamber of Commerce Business Showcase 2023
CrestClean enjoyed networking with the local business community at the recent Taranaki Chamber of Commerce 2023 Business Showcase.
More than 250 people attended the event, which was held at the Plymouth International, and attracted 60 exhibitors.
The CrestClean stand was popular, with Taranaki Regional Master Franchisees Naresh and Radhna Mani on hand to provide information about the company's cleaning services.
Those who visited the stand had the opportunity to go into a business card draw, with the winner receiving a gift hamper.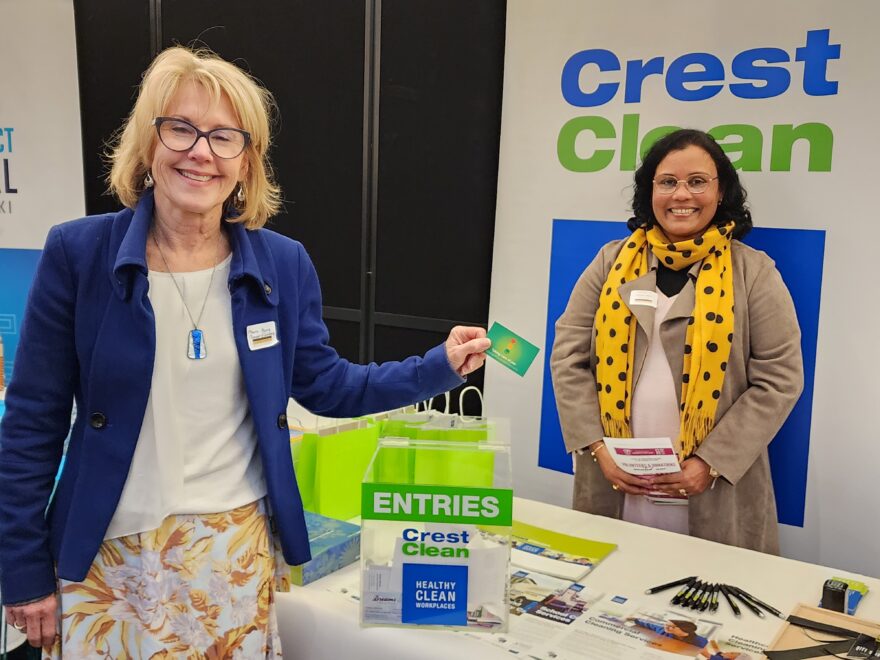 Maura Young, the Partnership Manager for the Taranaki Chamber of Commerce, did the honours, by drawing out the winning card, belonging to Jeff Engels, a Senior Broker with Greenlight Insurance.
Naresh described the showcase as "a real hit" and congratulated Jeff on winning the prize draw.
"A wide variety of businesses from across the region took the opportunity to showcase and promote their services. This event is always a great opportunity for CrestClean to be able to present our services to the multitude of attendees and exhibitors, putting us at the forefront of the Taranaki Business Community," says Naresh.
"We really enjoyed meeting everyone who stopped by our stand. Thanks to Maura for drawing our lucky winner and congratulations to Jeff on his prize! Overall, it was a very successful evening."