Record numbers at Queenstown Lakes and Central Otago Regional Team Meeting
This year's CrestClean Queenstown Lakes and Central Otago Regional Team Meeting was a huge success, with a record 45 franchisees attending.
"It was our largest team meeting yet! That's a big increase from just a few years ago when we used to have less than 10 people attending. This shows just how much growth the region is experiencing," says Regional Master Franchisee Danny Mastroianni.
The meeting was held at the Sudima Queenstown Five Mile, and attended by CrestClean's Managing Director Grant McLauchlan, General Manager of Franchise Services Sam Lewis and Finance Manager Olly Boss.
From franchisees with more than a decade's experience, to teams who had just started their businesses a few week prior, and those still in training, it was a great opportunity for everyone to gain and share knowledge, says Danny.
It was also an opportunity for everyone to meet Gabriela Texeira, who is Danny's new administration assistant.
"It was a very nice and positive day, where everyone was actively part of it, networking and making the most of the opportunity to meet with other colleagues, as well as catching up with Ollie, Sam and Grant," he says.
"Some teams stayed up to two hours after the meeting finished, for informal meetings, networking and chatting with other franchisees, which was also a first."
Success was celebrated, with a number of awards and certificates presented at the meeting, including Franchise of the Year, Rookie Franchise of the Year, Long Service Awards and Certificates in Commercial Cleaning Level 2.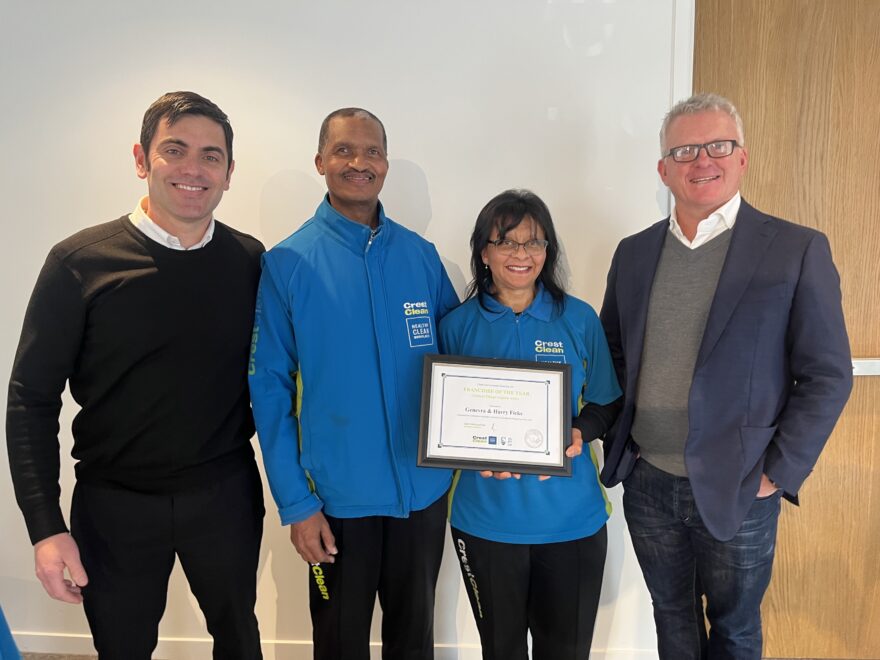 Central Otago Franchise of the Year was awarded to Genevra and Harry Ficks, who have sold their CrestClean franchise after almost 14 years.
"Harry and Genevra have been in our region for almost four years, but with CrestClean for much longer. They have consistently been amongst the region's best performing franchisees, with an outstanding level of customer service. They are always happy to help everyone, from customers, to other franchisees and anyone who needs a hand or some advice. They will be highly missed, and this certificate was a small recognition for the fantastic job they have done during all those years," says Danny.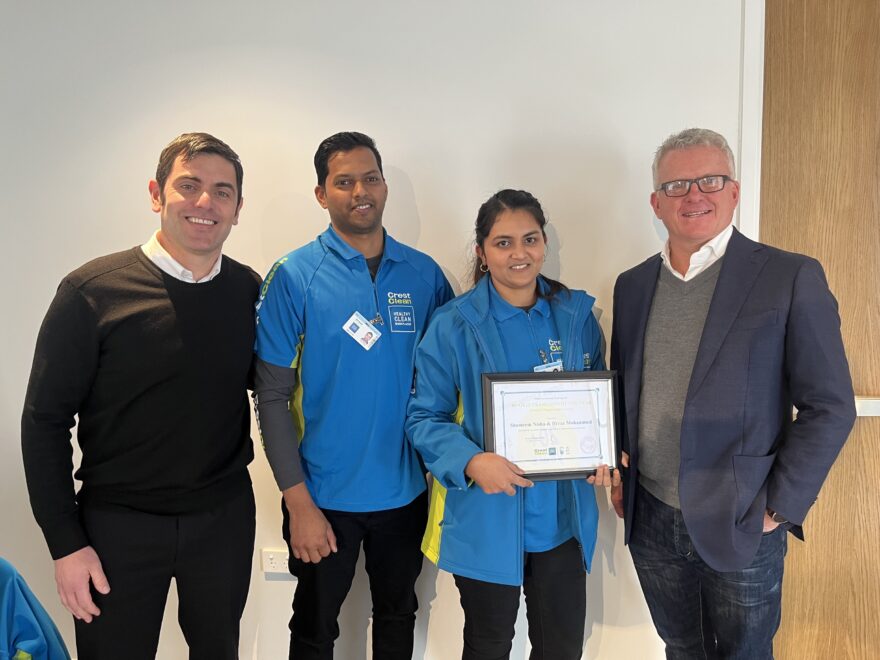 Rookie Franchise of the Year for the region was awarded to family team, Rizwaan and Sofina Mohammed, and Shameem Nisha.
"They are an experienced team but 'rookie' in our region. They moved from Christchurch, first to Wanaka, where they did a great job for a few months, before relocating finally to their new own home in Cromwell, where they have been delivering excellent customer service to all their clients," says Danny.
"Rizwaan started working with his mum, Shameem, in Wanaka, while Sofina was looking after their newborn baby. But after relocating to Cromwell, Sofina has joined Rizwaan and Shameem now only casually, so she can look after her granddaughter."
Rizwaan also received a framed Certificate in Commercial Cleaning Level 2, as did Manjeet Sindhed, Gagandeep Grewal and Oshin Walia, Karina Loloy and Shu-Chun Ma, and Nir Kala and Lila Singh.
Long Service Awards were presented to Bernadette Brown and Rajinder Dhaliwal, to celebrate five year and three years with CrestClean, respectively.
"I would like to congratulate everyone for both their individual achievements, and what we have achieved collectively as a region. We can all look forward to continued growth and success in the future."