Wellington franchisees prove they are polished professionals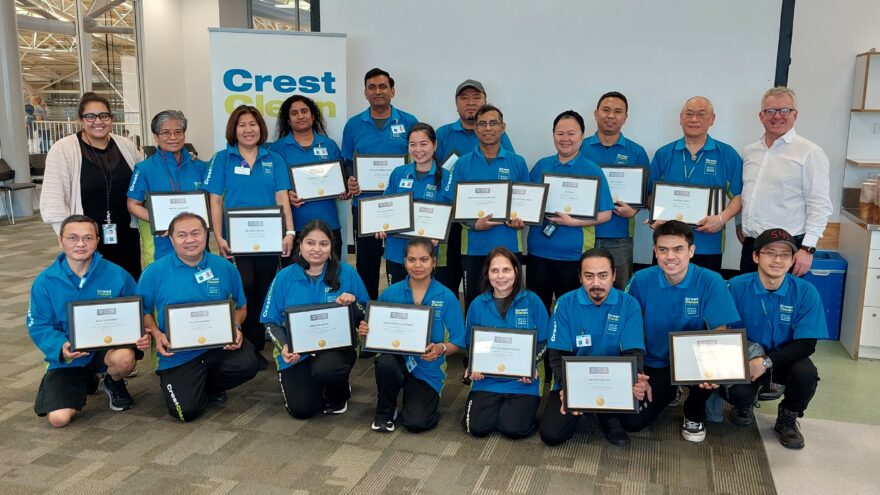 When it comes to Hard Floor Care, CrestClean's Wellington franchisees are sweeping up the competition!
The number of specialist Hard Floor Care teams in the region, which includes the Hutt Valley and Wairarapa, has more than doubled, after 18 franchisees completed their training with CrestClean's Master Cleaners Training Institute.
The franchisees were each presented with a framed Hard Floor Care certificate at the Wellington Regional Team Meeting, which was held recently at the Ākau Tangi Sports Centre.
Pictured are, back from left, Regional Master Franchisee Zainab Ali, Maria Nagrampa, Melanie Farenas, Rajini Nimmagada, Srinivas Nimmagada, Puka Malaitia, Rose Anne Sales Corpuz, Wadduwage Thusitha Priyanga Rathnayake, Jo Elbao, Roy Elbao, Erin Torio, and CrestClean Managing Director Grant McLauchlan; and front from left, Alex Nagrampa, Julius Farenas, Sakeena Shaik, Jayachitra Kalaruban, Lakshika Batuwanthudawe, Rayon Robles, Christian Patria De Jesus and Juan Medalla.
The MCTI training covers the proper and safe use of machinery in scrubbing, buffing, stripping, polishing and sealing floor surfaces.
Wellington Quality Assurance Co-ordinator Manu Somanath says all franchisees in the region are encouraged to complete Hard Floor Care training, so they can provide this service to their customers — particularly schools, where floors are buffed at the end of Terms 1, 2 and 3, and given a strip and polish over the summer holidays.
"Having the same team meet all of a customer's cleaning needs results in better efficiencies and greater overall customer satisfaction," says Manu.
"Franchisees are equipped with specialist knowledge and skills to handle a variety of flooring, providing optimal care and maintenance. They are also able to provide floor care services in a timely manner, by including it as part of the customer's ongoing cleaning schedule."
The advantage to franchisees is that they have the ability to increase their income, by offering Hard Floor Care as an additional service, either to existing customers, or to new customers as one-offs, he adds.
Franchisees who have recently completed their Certificates in Commercial Cleaning, Levels 1 and 2, were also presented with framed certificates at the Regional Team Meeting.
And a special 'Certificate of Appreciation' was awarded to franchisees Jennifer and Leo Galang for supporting other franchisees and providing exceptional cover, and for their dedication and team spirit. They also received a 3-Year Long Service Award.
Wellington Regional Master Franchisee Zainab Ali says the team meeting was a huge success, with the largest turnout of teams yet.
"It really was a showcase of the growing skills, professionalism and size of the region's teams," says Zainab.