Jezka is on the road to homeownership after completing CrestClean training programme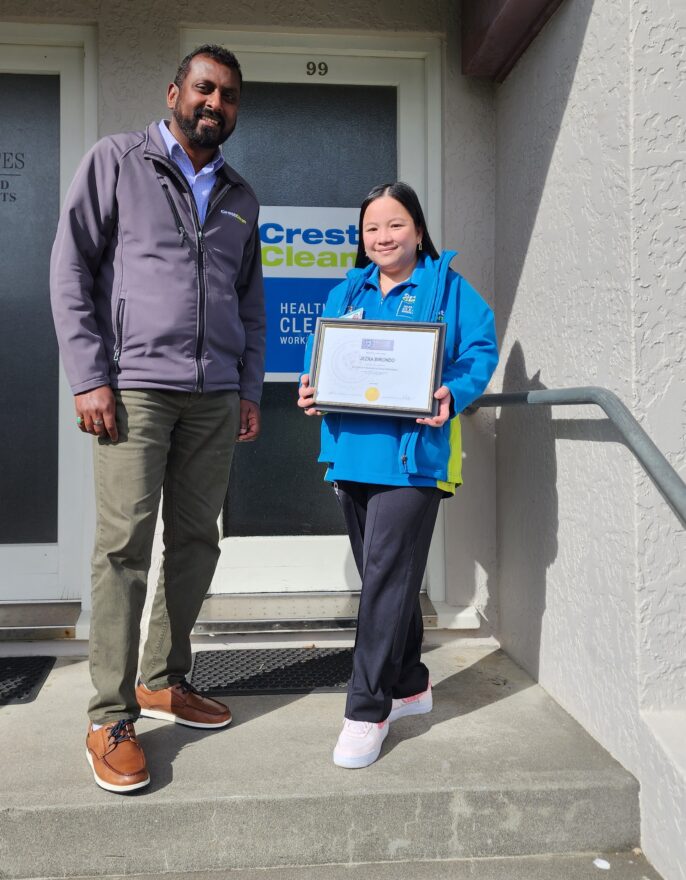 Taranaki franchisee Jezka Birondo dreams of one day owning her own home — now that dream is one step closer after being awarded a Certificate in Professional and Personal Development.
The qualification is offered to all CrestClean franchisees through the company's Master Cleaners Training Institute (MCTI), and Jezka is the first in Taranaki to complete it.
"One of the topics in the course is about buying a home. It gives us an idea of what the process is like and what things we need to do to prepare. I'm also very interested in investing in real estate, which is in the course as well," says Jezka.
"I am so happy and grateful for the training that CrestClean provides. Not only do they help you look after your CrestClean business, but you are also given the opportunity to learn and be in the loop as to what other options you have in growing or investing in other businesses. I am so proud to be part of this amazing team."
Jezka and her husband John joined CrestClean earlier this year, becoming the company's first franchisees to be based in Stratford.
John gave up his fulltime job as a nurse, while Jezka has continued to work as a registered diversional therapist at a rest-home during the day, helping John with the cleaning work in the evenings.
"I decided to do the Certificate in Professional and Personal Development because I wanted to focus on ways to better myself. It has motivated me and helped me with my self-esteem, goal-setting and fulfilling my aspirations," says Jezka.
Both Jezka and John also recently completed MCTI's new Certificate in HealthCare Cleaning.
"We did it because it is good when you're fully equipped with knowledge and skills, especially now that we have a customer in the healthcare sector. For us to excel in what we do, we need to be able to meet the standards of work based on the customer's expectations and needs," says Jezka.
"When we undergo training, it improves our skills, knowledge of the job and builds confidence in our abilities. This will also enhance our performance and enable us to work more efficiently and effectively."
Taranaki Regional Master Franchisee Naresh Mani says, "Congratulations to Jezka for completing the Certificate in Professional and Personal Development. I am confident that John and Jezka will be homeowners soon. They are hardworking and dedicated CrestClean franchise owners, who are always motivated to explore what is available in the market near the Stratford area. I wish them all the best."