South Canterbury Regional Team Meeting 2023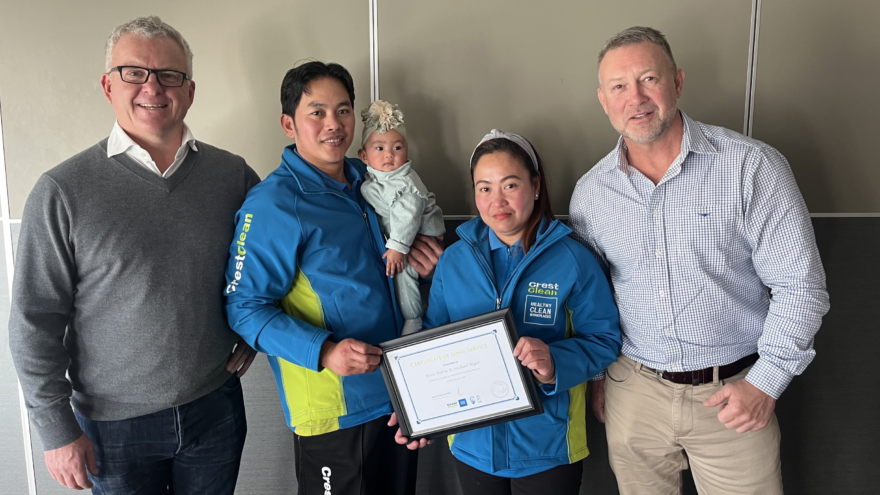 100% uniform compliance ✔️
100% smiling faces ✔️
100% good time had by all ✔️
This year's South Canterbury Regional Team meeting ticked all the boxes, says Regional Master Franchisee Rob Glenie.
"It's a great time for all the franchises from our large geographical region to come together and chat about not only their business but their families and adventures," says Rob.
"We had a buffet lunch which was amazing and the food this year was the best we have had so far, so next year's venue has a lot to live up to!" says Rob.
Held at the Ashburton Trust Event Centre, the Regional Team Meeting was attended by CrestClean's General Manager of Franchise Services Sam Lewis and Managing Director Grant McLauchlan, who gave an informative presentation about company updates.
Several awards and certificates were presented at the meeting — Randeep Singh received a 7-Year Long Service Award, while 3-Year Long Services Awards were presented to Rosa Maria and Michael Rigor, and Ian Abuyabor and Vivian Sabijon.
Certificates in Commercial Cleaning Level 2 were presented to Avtar Dhaliwal, Amanpreet Singh, Helen Lubos, Lloyd Lubos, and Danny Fritz.
"The teams are so surprised that they get to meet and chat to Grant and Sam. They are encouraged to speak openly and honestly which makes them really feel part of the company.
"We try and keep the event pretty light-hearted, and with lots of Filipino teams there is guaranteed to be lots of laughs!
"Quite a few teams contacted me over the following days and said it was the best team meeting so far, with Grant's presentation being very engaging with lots of regional information and statistics."