CrestClean celebrates a 15-year partnership with the NZ Principals' Federation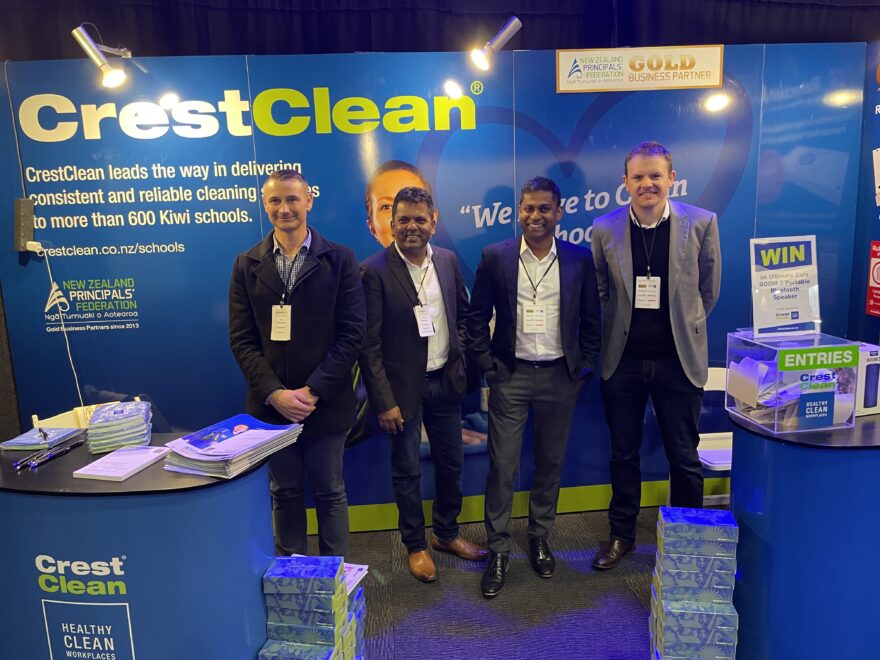 CrestClean was honoured to be presented with a special certificate at the annual New Zealand Principals' Federation Conference, to acknowledge a successful 15-year partnership.
CrestClean has supported NZPF since 2008, first as a Bronze Business Partner, progressing to Gold Business Partner six years later.
The certificate was presented by NZPF President Leanne Otene, who described the longstanding relationship as a "true partnership", and one that she was proud to celebrate.
"We were delighted to welcome the company into our gold group because they are such a good fit for the schools we serve and share business values which we respect. Their franchise model enables a wide range of people to manage their own business and at the same time have company sponsored ongoing support, professional development and access to cleaning products supplied by the company," says Leanne.
"The professional development and approved training provided for franchise owners sets this firm apart. The company has a very supportive culture which allows franchisees to realise their own personal goals and to thrive in a culture where people and families matter.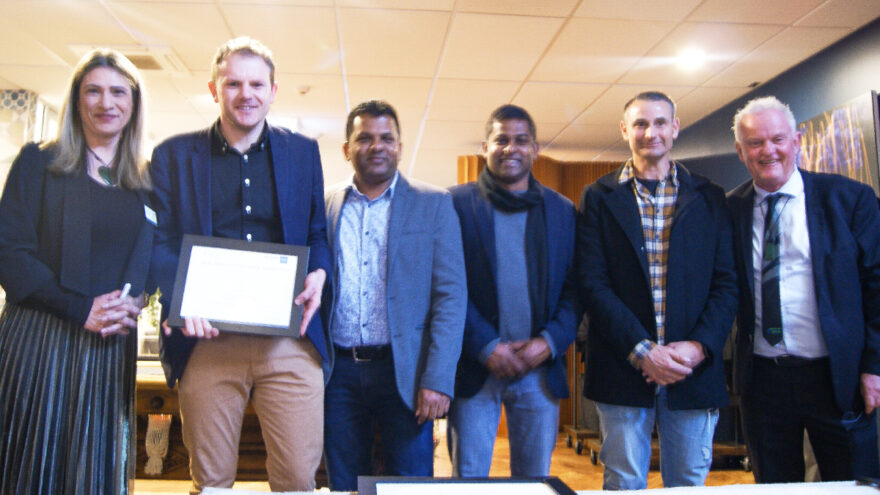 "Customers, including schools, benefit from this culture and they can be assured that under a CrestClean contract their school will be cleaned to the highest hygiene standards. This was especially evident during the COVID-19 pandemic when CrestClean became the trusted company for deep cleaning schools and other businesses. Their standards were second to none.
"We share similar values and appreciate the importance of leadership for both successful schools and successful businesses."
Held at the Queenstown Events Centre, the conference was attended by principals and school leaders from throughout New Zealand, with this year's theme being 'Reimagine Remarkable; Kia whakatōmuri te haere whakamua'.
Representing CrestClean were General Manager of Franchise Services Sam Lewis and Regional Master Franchisees Jan Lichtwark, Yasa Panagoda and Viky Narayan.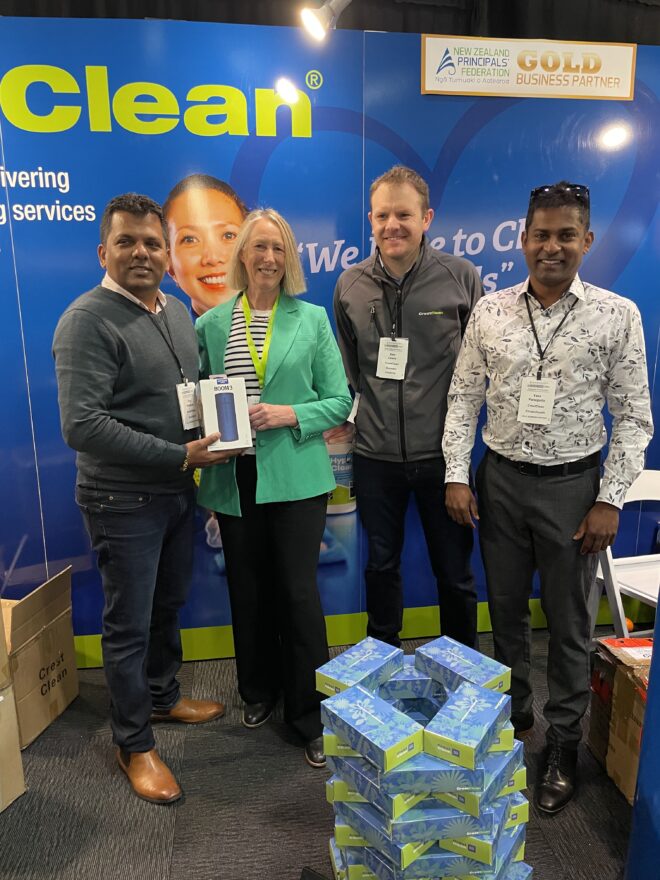 They were kept busy at the CrestClean booth, where a prize draw for a UE Boom portable speaker proved popular — the lucky winner being Andersons Bay School Principal Pauline Simpson.
"Our stand was busy throughout the event, and we had many opportunities to talk to our current and prospective school customers. Lots of school principals stopped by to acknowledge the hard work done by our amazing franchisees at their schools. Once again it proves what a strong bond we have with the school sector," says Viky.
"I really enjoyed the conference. It was a well-run and organised event, from the venue to the activities. It was great to meet so many principals from around New Zealand, some who already use CrestClean, and listen to their positive stories about the franchisees who clean their schools — and also to meet other principals and assist them with any questions they had," says Jan.
"The NZPF conference is one of the best places to network with principals. You get to meet and hang out with your customers as well as customers from all the other regions. We had a great team to represent CrestClean this year. We enjoyed introducing CrestClean to prospective customers and building a stronger relationship with our current customers," says Yasa.