CrestClean helps Zespri achieve sustainability goals
CrestClean is proud to be helping Zespri to reduce its waste, through Tauranga City Council's Resource Wise Programme.
Zespri was recently presented with a 'Stage 5 – Green Award', the highest possible in the programme, with special mention given to CrestClean franchisee Aileen Fernando Caballero for her contribution.
Aileen, who has owned a CrestClean franchise with family members for the past three years, is contracted to provide an on-site cleaning service at Zespri from Monday to Friday during working hours, and also helps with cleaning after hours.
As an integral part of the Zespri team, Aileen, was invited to attend a special morning tea at which Sarahann du Plooy, Tauranga City Council Programme Officer Sustainability and Waste, presented Zespri with the award.
"We do a waste audit where we go there that day, we look through all the waste that comes out of the rubbish and we come up with the waste streams that are most prevalent in that company. Then we come up with an action plan in order to either reduce that waste, get it out of the waste completely, like smart procurement, or we can also come up with plans to reduce that specific waste or divert it in some way," explains Sarahann.
"Green Certificate is the highest stage you can achieve in the Resource Wise programme, so it really is a great achievement. Zespri has done an amazing job in not just diverting waste but avoiding it in the first place and they've had a lot of help on the way.
"Obviously the staff have been amazing in implementing these actions and really just getting on board. They've got a fantastic cleaning company that really supports that and takes the waste streams where they need to go in order to get processed in a way where we can capture it."
Zespri Administration Assistant Amanda Hohneck says Zespri is "stoked" to be one of just three Bay of Plenty businesses to achieve the award.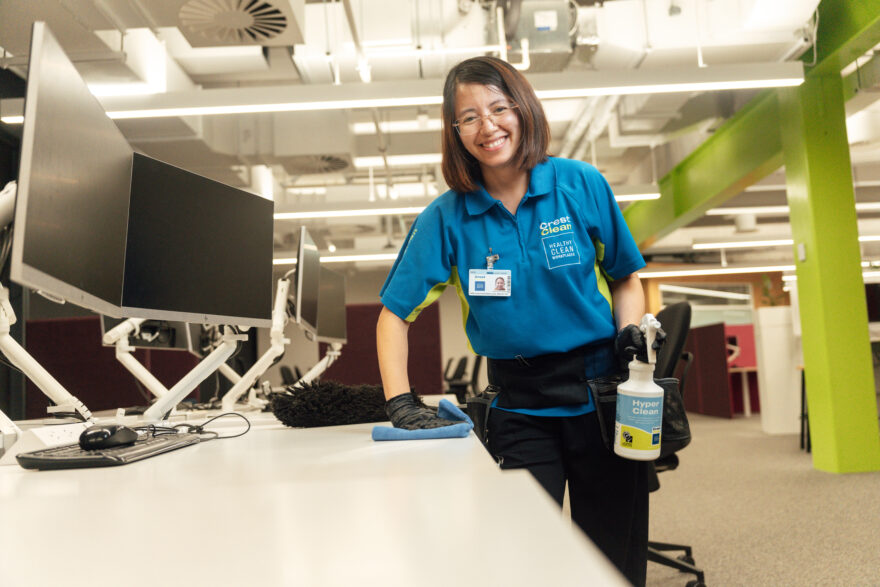 "It's the top award, which means that we divert 85% (of waste) from landfill, which is a huge achievement, and it couldn't have been done without Aileen and her family's support," says Amanda.
"Everyone knows Aileen, she's an integral, positive, chirpy person to have in our office. She's got a phenomenal attitude… she's willing to help you out with anything at all."
Aileen says Zespri is a friendly and welcoming environment to work in and she is honoured to be recognised for her contribution to the company's sustainability journey.
"It's a wonderful place to work, the people are really nice and they treat me like I am part of the team," says Aileen.
Jan Lichtwark, CrestClean's Tauranga Regional Master Franchisee, congratulated Zespri on their "outstanding achievement", which he says aligns with the cleaning company's sustainability ethos — CrestClean being the only nationwide, commercial cleaning company to be licensed with Environmental Choice New Zealand, which involves an annual audit to maintain compliance with their strict licence criteria.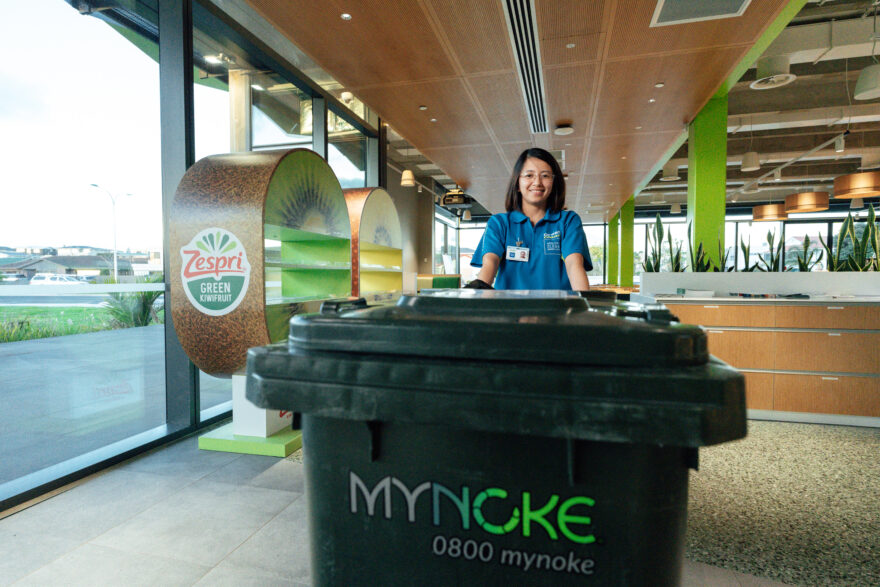 "As a cleaning company, we play a crucial role in supporting businesses like Zespri in their sustainability journey. Aileen and her family's dedication to providing high-quality cleaning services while actively participating in waste reduction efforts is commendable," says Jan.
"We are proud to be associated with Zespri's achievement, and we look forward to continuing our partnership in promoting sustainability and responsible waste management in our community."