Hawke's Bay couple win NZ Franchisee of the Year – Business to Business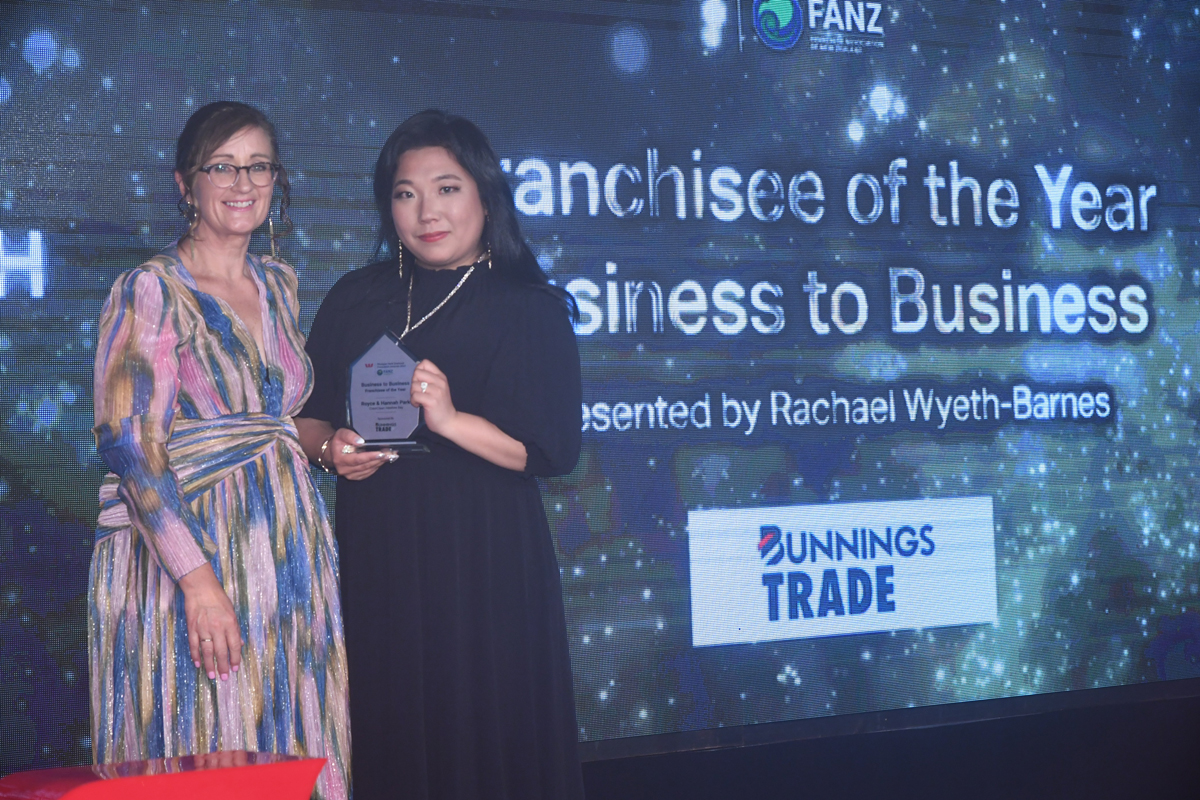 CrestClean Napier franchisees Royce and Hannah Park have won 'Franchisee of the Year — Business to Business' at the Westpac New Zealand Franchise Awards.
This prestigious award was presented at a gala dinner in Auckland on Saturday night and recognises excellence in growing and running a franchise business.

CrestClean Managing Director Grant McLauchlan says the Business to Business award is a significant achievement of which Royce and Hannah can be very proud.
"The Westpac New Zealand Franchise Awards are a platform for celebrating the best of the best in the franchising industry and we are honoured to have Royce and Hannah recognised," says Grant.
"At CrestClean we take immense pride in our franchisees' accomplishments and a relatively new team top their category is outstanding."
---
From Dollar King to 'Franchise King'
Royce and Hannah Park started their business five years ago — in which time they have grown it sevenfold to become the largest CrestClean franchise in Hawke's Bay.
JUDGES COMMENTS
"Royce and Hannah demonstrate that hard work, staff investment, customer connection, community engagement and adhering to the franchisor's systems is a great formula for achieving goals."
Originally from Korea, Royce moved to Auckland with his parents as a teenager, picking up a cleaning job part-time while still at school. After leaving school, he became a supervisor, overseeing 20 staff and six cleaning contracts.
He and Hannah moved to the Hawke's Bay when their first child was due, where he initially worked as the manager of Dollar King Napier, before joining CrestClean.
"With a growing young family, Hannah and I wanted to become our own bosses and to take charge of our own destiny. We are proud to say that since then we have grown our business significantly to include eight wonderful staff members, with cleaning contracts throughout the Hawke's Bay," says Royce.
"We are grateful and humbled to have achieved our biggest personal goal of purchasing a home for our family of four beautiful young children in 2022. This has been a dream come true for us and has been the most rewarding aspect of investing in our franchise business."
However, their path to success has not been without its challenges, says Royce.
"The hurdles we faced with the Covid pandemic, and the recent impact of Cyclone Gabrielle had a significant effect on our business.
"But through resilience, determination, and our strong relationship with CrestClean's Hawkes Bay Regional Master Franchisee Tim O'Leary, and by leveraging our relationships with our loyal customers, we have now managed to regain our lost revenue. We are proud to say that we are now in a stronger position than ever before."
To support their business growth, Royce and Hannah became accredited employers with Immigration New Zealand, allowing them to bring family and friends from their church in Korea.
They also opened a Korean language school and were part of the regional Korean leadership hub, during Cyclone Gabrielle and the Covid pandemic. Their commitment and dedication were acknowledged by the Korean Embassy, which shipped emergency supplies directly to them for distribution.
"Being part of the CrestClean team fills us with pride and gratitude. We are humbled by the journey we've taken, the growth we've achieved, and the impact we've made. We wholeheartedly believe that by continuing to focus on growing our business we can improve our lives, and create more opportunities to improve the lives of the people around us," says Royce.
---
Check out some of the press gallery images!