The name's Crest… CrestClean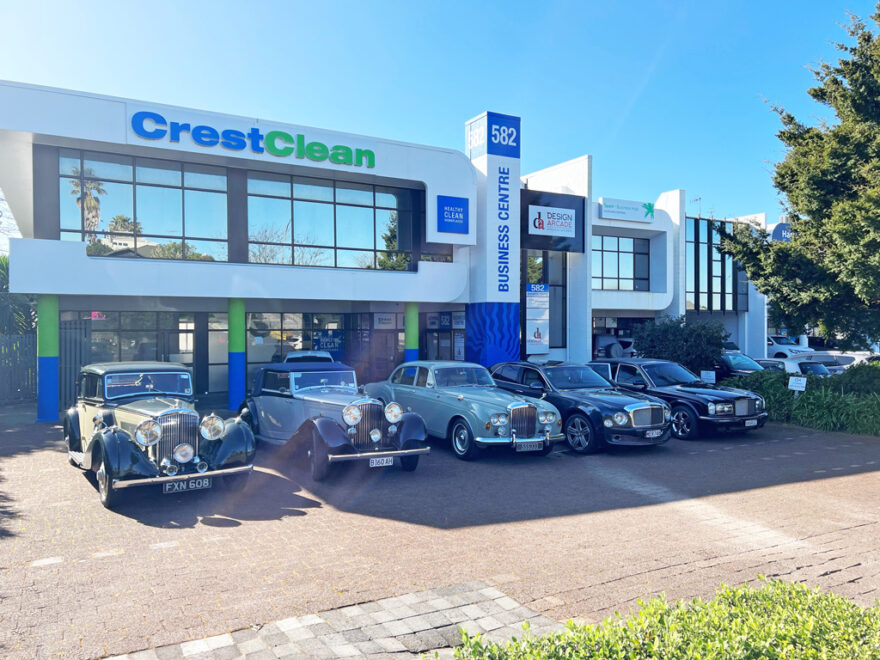 If you had passed by this impressive line-up of Bentleys outside CrestClean's Auckland office, you could be forgiven for thinking you had stepped into a Bond movie.
The luxury vehicles, ranging in age from the 1930s to the 2000s, were parked up, ready to embark on the New Zealand Rolls Royce and Bentley Club's annual Scavenger Hunt.
CrestClean was offered as starting-off point by Auckland Regional Master Franchisee Dries Mangnus, who is a Bentley enthusiast and the National Membership Registrar of the club.
Featured in the line-up were a 1935 Bentley Convertible, 1948 Bentley, 1964 Bentley Continental, 2011 Bentley Mulsanne and 2001 Bentley Arnage.
The scavenger hunt started with a trip to Bentley Auckland in Grey Lynn to note what cars and models were in the new car showroom, and finished with a photo outside the Warriors office in Penrose.
Participants also had to collect a napkin from The Beer Spot in Panmure, photograph their cars at the Parnell Rose Gardens, take a team photo at the dog park in Onehunga and donate a supermarket item to charity.
"It was fun day out, and everyone really enjoyed themselves," says Dries.
"Taking a photo outside the CrestClean offices wasn't part of the scavenger hunt, but I couldn't resist snapping the two premium brands side by side!"