Seven years of happy customers for North Harbour franchisee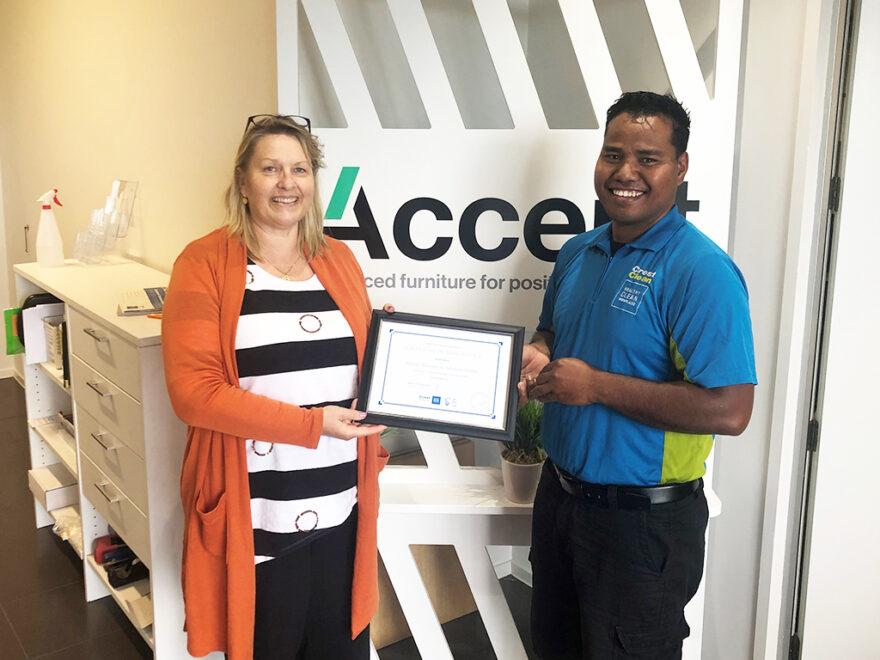 When Uraura Unaia was looking for a business opportunity to support his family, he turned to his father-in-law Francis Nawaia for advice.
As a successful CrestClean franchisee, Francise knew just which direction to steer him in!
He introduced Uraura to CrestClean, and soon he was following in his footsteps!
Recently awarded a Seven Years Long Service Award, Uraura says he is now trying to convince his brother to become a franchisee too.
"The work is easy and I can make more money. I told my brother he should do it too… maybe he will one day," says Uraura.
Originally from Kiribati, Uraura and his wife Maria Louise met when they were in high school and married in 2011 after moving to New Zealand.
Five years ago, thanks to the success of their CrestClean business, they were able to buy their first home.
"When I joined CrestClean I knew we would be able to save money. We were lucky to be able to afford a house," says Uraura.
Maria Louise is a fulltime mum to their three children, Toaua, 8, Terema 6 and Koriri, 3, while Uraura works on a capsicum farm during the day — and in the evenings they clean together.
Since buying the North Harbour franchise Uraura has increased the turnover of his business fivefold, while retaining the customers he started out with.
One of those customers is Auckland workspace furniture company, Accent, where he not only cleans the 200sqm+ office, but also trades up capsicums for chilli sauce.
"I leave capsicums and they make chilli sauce and give me some, they are my best customer!" says Uraura.
When it was time to present his long service certificate, CrestClean's North Harbour Regional Manager Neil Kumar invited Accent's Helena Richardson to do the honours.
"Uraura is a lovely person and tries very hard to provide a good service and please his customers. If something is not to our standard he is quick to come and rectify this," says Helena.
Neil says Uraura is a respectful, hardworking franchisee, who is very responsive to his customers' requirements.
"It is great to have a person like Uraura as part of the North Harbour team."