CrestClean franchisee celebrates 20 years in business!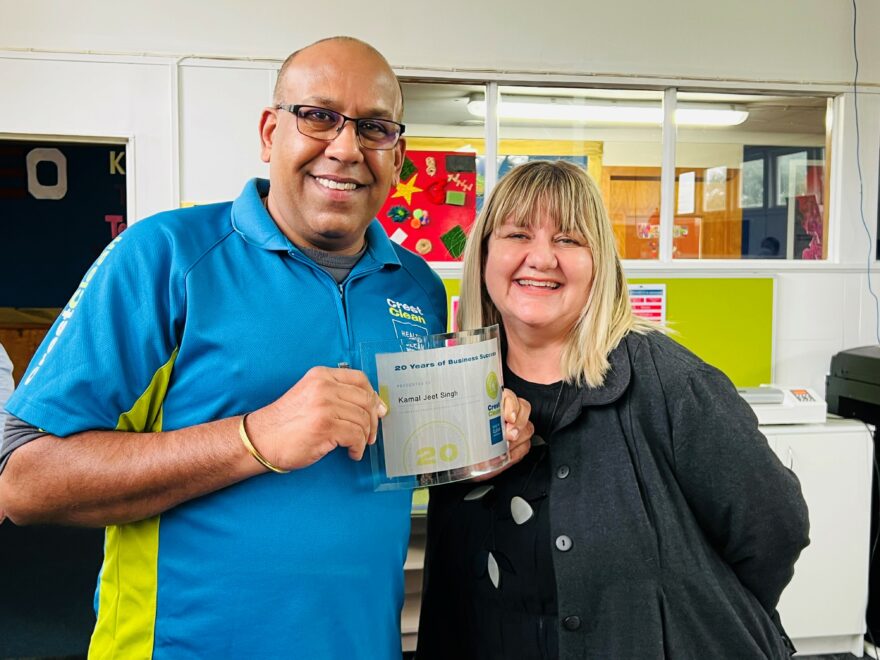 Kamal Jeet Singh arrived in New Zealand with just $50 in his pocket — now he owns a successful business with a turnover of more than $400,000.
The accomplished business owner recently clocked up 20 years with CrestClean, making him the company's longest-standing Auckland franchisee.
To celebrate the impressive milestone, Auckland Central Regional Master Franchisee Dries Mangnus surprised Kamal with a Long Service Award at a morning tea held at one of his customer sites, Sommerville School.
"Kamal has been a fantastic leader and example to many others on how to be a very successful CrestClean franchisee and business owner," says Dries.
"I enjoy working with him and he has been a real part of the success and growth of the Auckland CrestClean team."
Sommerville School principal Belinda Johnston says she was "privileged" to be invited to present Kamal with the award.
"Kamal's worked with many, many customers over the years and being the ones to celebrate that with him definitely felt really special," says Belinda.
"Since the day he started, our school looks better and smells better than it has for decades. It's made a huge difference to our staff because it makes them feel better about coming to work. Also, our students all have intellectual disabilities, so employing someone like Kamal who's doing the very best job for them, is showing them greater respect. They deserve to be in a clean, safe environment and before Kamal came along they didn't have that. We all feel like we've got the best person in the world looking after us."
Previously a bus conductor in Fiji, Kamal first came to New Zealand in 2001 to visit relatives. Not long after his arrival, he was introduced to CrestClean and started the process of applying for what was then known as a Long Term Business Visa.
His application was successful and, with help from his aunt, he purchased a franchise with a $40,000 turnover. Since then, he has grown his business more than tenfold, now employing six full and part-time staff.
Kamal is also an induction trainer, helping new franchisees launch their businesses, and holds hard floor care and carpet cleaning qualifications.
"When I started it was very different. There wasn't all the training there is today. We used tea towels to clean everything, there were no microfibre cloths or anything! And there wasn't much health and safety in place, but now it plays a major part in the business and workplaces," says Kamal.
"I'm very proud of what I've achieved. It's a good business — the cashflow is good and the hours suit me. I couldn't work for anyone else now."
Kamal still provides a cleaning service to his very first customer, RFD Limited, where he worked as a machinist before joining CrestClean, and has lots of other long-term sites.
Sommerville School is one of his newer customers, which he shares with another franchisee due to its size.
"I did a one-off job at the school during lockdown. They loved the high standard and gave me the contract. I really enjoy working at the school, they are really nice people. It's all about building relationships and good communication. These things matter a lot in business."
Married, with three children, Kamal says owning a CrestClean business has enabled him to buy his own home and travel the world.
He's been so impressed with the company that he's recommended it to more than 10 friends and family members who have gone on to own their own franchises.
"I've achieved a lot more than I ever imagined."